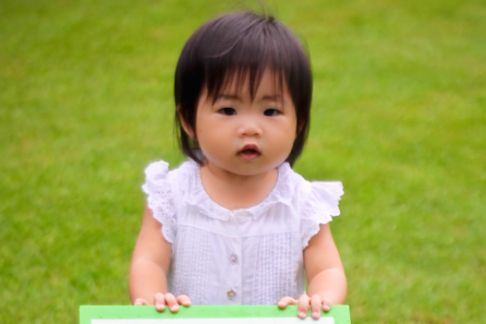 Today, baby girl and I made plans to go school shopping, which was every bit as difficult as I remembered it to be. I keep making all these lists of why I should go with each school and I got more confused than ever.
Halfway through, we decided that getting all uptight about education at this point wasn't doing anyone any good so we ditched it and went to the park instead. The way I see it, if she starts playgroup in January, I'm going to miss all these girly moments where it's just me and my princess, so the school hunting can wait.
I got more important things to do today, like tumble around and pluck grass out of each others' hair. Or rather have her put grass in my hair and laugh hysterically while I pluck it out.
PS. Give me a holler if you have a school in the Tampines/Simei area to recommend. I can go all the way up to East Coast area but if I can find something near home it'd be great. Also, I need a place that takes in 18-month-old kids, with great teachers and hopefully some Mandarin exposure. I can't believe I'm having to do this all over again.
PPS. Yes, the photo with the bambi eyes was intentional. To translate, it means "Pretty please, I'd like to find a good school so I can get an education and all."
Updated: This is going to be longish so I thought I'd reply the comments here instead. I did consider keeping baby girl at home with me till she was older or even home-schooling the kids for now but after seeing Tru adjust so well in school, I do feel that there are tremendous benefits of learning in a group setting, with socialization, following instructions, dealing with peer pressure among the top reasons.
Tru comes home telling me about his best friends and the things he learnt in school (I was surprised he knows caterpillars become butterflies). His teachers update me on his progress regularly and I love that he loves going to school. These days, Kirsten sees him going to school and she points to herself saying "school, school!"
I was hoping to put her in the same school as Tru but the bad news is that they're not going to continue with their playgroup program next year so I now have to find a place that will take in the both of them. Also, I'm not really looking for a full-day or half-day childcare but just a 2-3 hour program in the morning. It's mostly for the exposure and I'd like them to come back for their lunch, showers and naps, plus I get to spend the afternoons with them.
In my research, most kindergarten-style programs only take in kids turning 3, which is just right for Tru. Emmanuel playgroup would have been the perfect place but now that they're closing, I'm scrambling to find somewhere that will take in Kirsten as well. If they won't take her at 18 months, I don't mind if they can take her in July after she turns 2.
On another note, I'm thinking of taking on more writing projects next year so it would be real nice to have 3 hours in the morning to get that done instead of having to start work at 10pm at night.