We're in Bali for a holiday with the entire family and by entire, I mean the whole gang. The husband, the kids, my mom, my sister, my brother and sister-in-law. It's rare that all our schedules coincided and my sister's back from Melbourne so we decided that a family trip was in order. And seeing how it's the first time we're traveling with all 3 kids, it was important to maintain a 2:1 adult to kid ratio.
Can I just say that traveling with 3 kids is quite insane? To be fair, Truett and Kirsten are great travelers and they're super quiet on plane rides but all that holiday dust gives them an adrenaline high and they're like on speed the whole time. They seem to feed off each others' excitement and with a baby thrown into the mix, it's really quite a handful.
With our headcount, it made sense to rent a villa instead of regular hotel rooms. So for the first 2 nights, we settled on a 4-bedroom villa that comes with 2 private pools, a huge patio, private open-air bath areas, a maid, a cook, a driver and a security guard.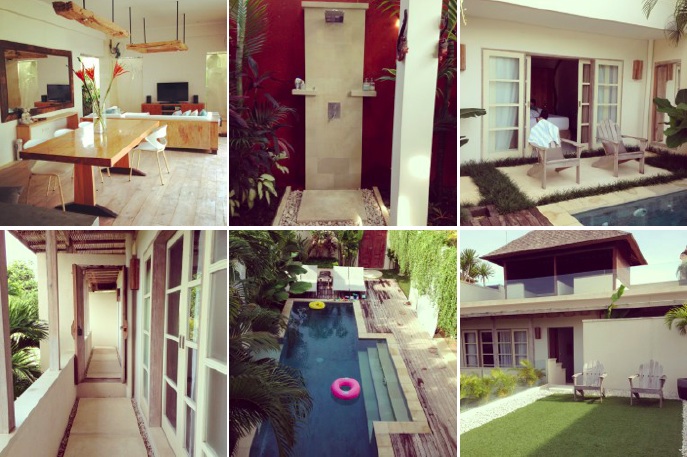 The kids would be in the pool, come up for a drink, jump back into the pool, run around the villa compound, back in the pool, Kirsten would stop for a manicure, more pool time, and so on.
Quite the life.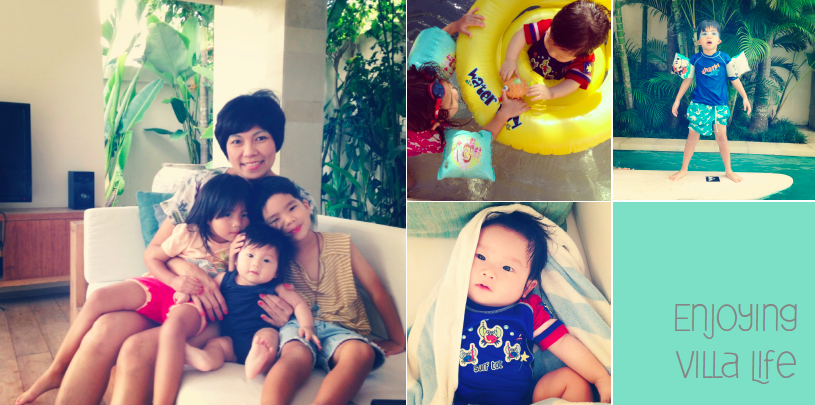 I daresay I'm enjoying Balinese villa life with the huge space and lush greenery. In the daytime, it's paradise.
But then nighttime comes and my inner sheltered city girl freaks the hell out. The first evening, we were chilling out at the patio playing Monopoly with the kids and I start to hear a cacophony of unknown animal sounds. I know some people find the sound of a rainforest gentle and soothing but I'm not some people. Weird animal sounds make me think that there are scary animals lying in wait to attack me. Then out of the corner of my eye, I spotted a lizard. Which was making that annoying lizard call to its creepy lizard friends. Moments later, I spotted a second one. Then a third.
The whole time I was doling out fake Monopoly money, I kept a mental count of the number of lizards in my immediate vicinity and the available route of escape should they decide to advance.
For the record, I hate lizards, but you know what I hate more? That's right, frogs.
The husband was getting a drink from the fridge and suddenly, he said, "babe, don't panic but there's a frog near the sink." Basically, whenever the husband says "don't panic", whatever follows usually means that I should immediately panic. Sure enough, there was a frog. Crawling up the decorative glass backing behind the sink. I didn't even know frogs could crawl on walls but there it was, defying gravity and looking all smug with its smug beady frog eyes.
And to all the people who claim that frogs are harmless and cute, I only have one thing to say. Pfffft. There's a reason why God sent frogs as one of the 10 plagues to the Egyptians. I bet the Egyptians wouldn't have minded if God sent them a bunch of furry little bunny rabbits but no, they got frogs, aight? Frogs are icky and slimy and ewww so gross.
So I hastily retired to our enclosed air-conditioned room, the one place I thought was safe. Except it wasn't. I made the husband do a perimeter sweep of the room and sure enough, there was a baby lizard on the ceiling, which he valiantly caught.
Later today, we'll be heading to another villa where we'll spend the next two days. On the bright side, there's an infinity pool overlooking the ocean. On the considerably dimmer side, I hear there are monkeys.