Hey Theo, my squishy snugglebums,
We made it through our first 4 weeks, you and I. I know it's all been so new and strange and scary but I hope you've been happy to be part of this little family. We're all really, really glad to have you. Truett says you've got his eyes, Kirsten says you've got her chubby char siew bao cheeks, and Finn, well, he doesn't care much about finding resemblance but you've certainly got his debonair boyish charm.
After spending 4 weeks with you, you're like a little piece of my heart that's beating outside my chest. I'm so glad I get a chance to love you.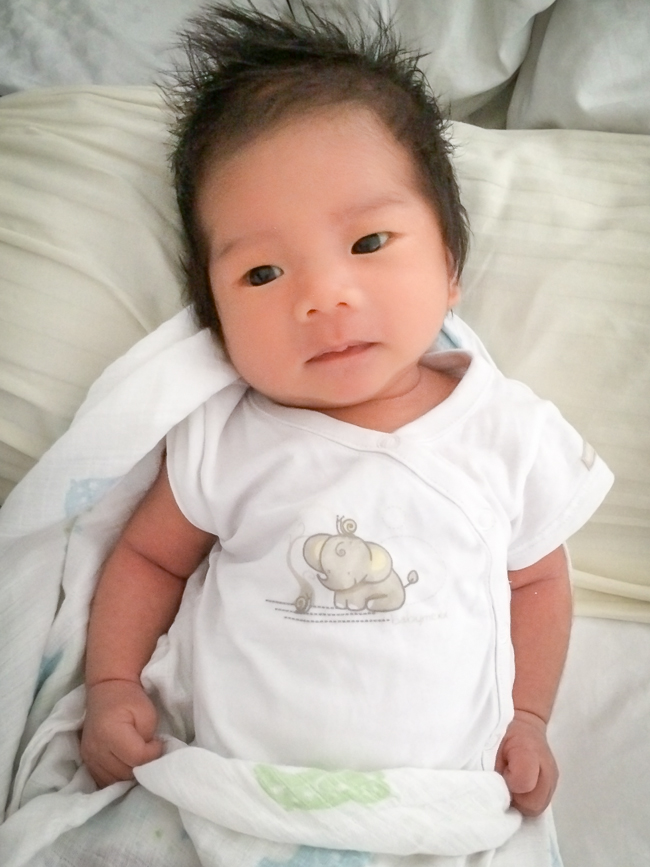 Y'know, they say that the first 3 months are usually the hardest. It's true and I know because I've done this 3 times before. But don't you worry, we've already survived the first so just 2 more to go.
I won't lie, we've had some really rough days (and nights!) these past few weeks, probably the roughest I've ever had with a newborn. I've never had a baby look and feel this miserable – you'd grunt and strain and shriek all day like you were giving birth. None of your siblings had it this bad. The doctor says it's just gas and it's normal (??!!! ) but it makes me hurt to see you in such awful pain. You couldn't sleep more than 15 minutes at a stretch before the whole grunting/straining/shrieking cycle would start again. I'd try burping, carrying, the sling, the swing, the hammock, none of it would work. Sometimes, nursing would calm you down, but only if I carried you and danced and sang to you at the same time. I was happy to hold you till I lost all feeling in my arms but right after the nursing, it was back to the loud, painful grunts.
During those many hours where nothing I did could make you feel better, I sometimes wondered if maybe you needed a better momma than I could possibly be. But then I remembered that God gave you to us so that means we're going to make it no matter how bad it gets.
You and me, we're a team now.
This morning, you couldn't get comfy in any position and finally, I put you on the bed next to me for a few seconds while I tried to get some blood flow back into my arms. Putting you down usually drives you nuts but then you settled down almost immediately and your eyes started rolling back into your head. (YES!!!) Slowly, you gave a little smile, which got wider and wider until it became a proper full-bodied laugh. Like an actual hur hur hur kind of goofy giggle. You're too small to be laughing but you did. And then I laughed because that was the cutest thing I've ever seen. That little baby laugh just made my morning beautiful.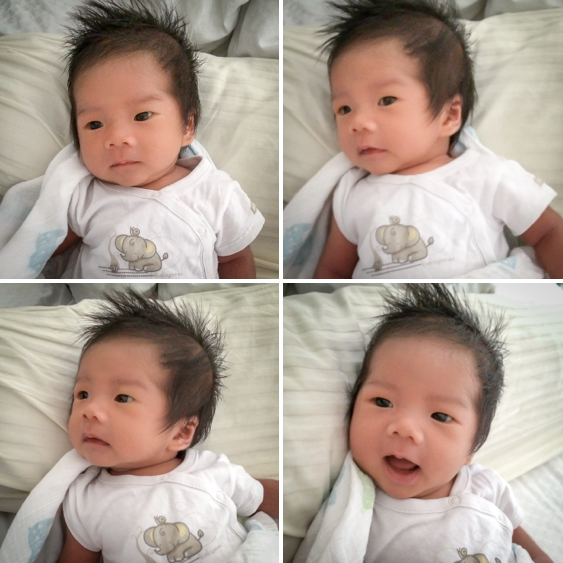 I'm sorry it's been tough couple of weeks for you and mommy doesn't always know how to make you feel better. But I'll always be here to love you and hold you until it gets better.
And it will get better, I promise.
Love,
Momma.