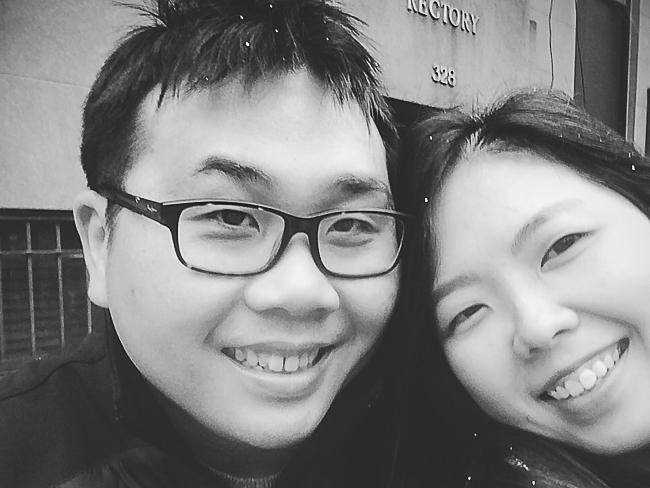 It's our anniversary today and I meant to write something about being married for 8 years. Except that it's already 11:37 at night and I only just managed to sit down with my laptop. And you know what I'm thinking? I don't have a secret sauce recipe for this. There's no magic formula to dealing with all the curve balls that life sends our way.
I don't know, I think marriage is like a dance and we've been making up the moves as we go. Sometimes we're in sync and it's beautiful. Sometimes I step on his toes and sometimes he steps on mine. Sometimes he attempts to throw me up in the air and I fall spectacularly on my ass. But then we just get right back up and keep on dancing.
This morning, the husband kissed me before leaving for work like he usually does and from the time he got back, we've been on autopilot, hustling to get the kids settled and ready for bed. It's an elaborate system. He hosts game time while I nurse Theo, then he takes the baby and the big kids while I get Finn into bed, then he settles Tru and Kirsten while I nurse the baby some more. This goes on for a while until all the kids are down for the night and we finally exchange an exhausted hi-5.
We did manage to carve out some time for a super special anniversary edition supper – seaweed chicken and leftover ngoh hiang that I popped into the air fryer.
I don't have any marriage advice to give but here's what I think about being married for 8 years.
1. Boring is ok.
Before we got married, we were nerds who read self-help books about relationships so we were prepared for the big things like in-laws, raising babies and money management. But there was one thing that we weren't prepared for: how truly mundane marriage can be.
Being married is basically having to do the same things with the same person every day for the rest of your life. That's the epitome of boring.
Do the same chores, put kids to bed, run errands, stress about work, clear laundry, more chores, run after babies. Urgh, bo-ring.
We had one off-night a few weeks ago when all the kids had a sleepover at my mom's place and guess what we spent our night of freedom doing? Buying groceries at Giant till 1 in the morning. I know, right? What is happening to my street cred? But I liked it though. I like that we can be boring together and still have a good time.
2. But not too boring. 
I'm going with the 80/20 rule here. 80% boring responsible adult: 20% silly and spontaneous. Sometimes we operate at 90/10, maybe even 95/5 but never 100/0.
Just the other day, we snuck out for a late night bubble tea run at the airport and as we walked past NTUC on the way back, there was an auntie closing the shutters for the outlet. The husband pretended to duck under the shutters just for kicks and the little old lady almost lunged towards him with a flying tackle. When she realised he was just fooling around, she feigned disapproval and said "会心脏病的, 老兄". I laughed till I had tears.
3. Laugh often. 
Marriage is hard. It really is. In the past 8 years, we've gone though some tough times and it helps to be able to laugh during those moments.
We like to send each other funny youtube videos, we laugh at our own lame inside jokes, we laugh at all the ridiculous things the kids get up to, we laugh at ourselves, we laugh at each other and we even laugh at how bad things are when they can't possibly get any worse. It's true, laughter is the best medicine.
4. Let it go.
In the wise melodious words of Queen Elsa of Arendelle, let. it. go. It took me a long time to learn this because I do not believe in letting things go. I am what some might call an expert dead-horse-flogger. If I see a horse that's decapitated and dead for three days, I'll be all like "I think I see it twitching. 40 more lashes!!"
When we used to disagree on matters, I would literally not rest until it was resolved in a satisfactory manner, with satisfactory being a full and total surrender on his part. We absolutely had to talk it out some more, even though it was 3 in the morning and we've already been talking it out for 5 hours straight.
I'm still working on it but these days when we're at an impasse, after we've talked about it sufficiently, we'll stop talking and just take a break for some perspective. Then we have to figure out a way to agree to disagree.
"But we're not dealing with the issue! We need to talk about it some more," my head screams.
Sometimes, we do not. It's not a big deal. Just let it go.
5. Take the wins.
In marriage, there are a lot of downs, so when the ups come around, no matter how small, we take the wins. A disagreement almost went nuclear but phew, crisis averted, that's a win. We made it through a rough week, that's a win. Kids went to bed early without any drama, that's a win.
And we try to make it to the next win. And the next. And the next.
***
Happy anniversary, baby. I love you and I like you.