Last week was a bit of a whirlwind. There was the SG Blog Awards on Saturday and the day before that, I was invited to attend a lunch with Dr Tony Tan. And I'm not referring to my general practitioner who happens to share the same name as The Dr Tony Tan.
Apparently, I was there because I wrote this piece on the General Elections that went viral and almost 5,000 people liked it on Facebook. They said that according to several sources, I was some sort of a trailblazer in the online world in Singapore. So not making that up.
From the invite, the purpose of the lunch was to discuss how digital channels are transforming discourse and opinions locally and internationally. I had to read it many times because I have no idea what many of those words meant and the only transforming I'm good at has to do with Optimus Prime and his gang of Autobots. But then I couldn't pass up a chance to get up close with The Dr Tony Tan, so I turned to my good friends, Google and Wikipedia for help.
I figured there'd be lots of important people there and I could sneak in behind to blend in with the wallpaper but when I reached, I was brought to a room with a round table and 12 chairs. 12 chairs. Plus, there wasn't even wallpaper for me to do the blending with. Or there was, but I couldn't be sure because I had a mild panic attack and things got a little fuzzy by then. It was a good thing I arrived 15 minutes early so I had plenty of time to sneak off to the bathroom to throw up a little.
And then people started arriving. People who were like the biggest shots in the digital media scene, all of whom I stalk on a regular basis. People like Alvin Lim, Ravi Philemon, Pat Law, Mr Miyagi, Cherian George, Alex Au, Mr Brown and Kien M Lee.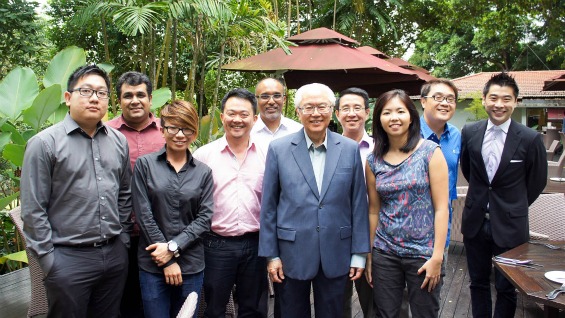 They all looked like they came from very important meetings so I tried my best not to look like I came from a very important diaper change. Next to the table with 12 seats was an important chart with names and designated seats, which meant that I couldn't skulk away and pick the least conspicuous seat. Not that there is such a thing as an inconspicuous seat at a round table anyway.
During the lunch, I wrote a mental journal in my head so I'm just going to post excerpts from said journal.
I'm supposed to choose between salmon carpaccio and goose liver. I'm not a fan of liver but I've always been taught not to order food I can't pronounce. Is it kar-pa-chio or ker-pay-chio? What is carpaccio anyway? I'm going to be the dork that makes a wrong order. I'm just going to say salmon and hope for the best. Oh wait, Alex said kar-pa-chio. Guess I was 50% right.
Dr Tony Tan has arrived. I'm so close I can actually touch The Hair. Must. Resist. Temptation. Now's not a good time to get myself incarcerated.
Oh, oh, oh, round table introduction time. Now's the perfect time to start panicking.
Why are there so many forks and knives? I should casually stall for time and pretend to drink my water so I can observe what the others are using. I knew I should have paid more attention when I googled fine dining cutlery. All these tiny forks are so confusing.
Did Dr Tan just direct a question at me? I think that's why all these people are looking at me. I generally don't throw my hands up and shriek but I think this is one of those moments in life when one is allowed to. OK THINK, WOMAN, THINK.
Crisis averted. They are now looking at someone else.
I'm fairly certain I didn't silence my phone. There is no discreet way to do this with my bag on the floor. Maybe if I step on it hard enough, it will disable the ring function.
Why is it that everyone else here is insanely smart? They are all taking turns to say things that I don't understand. Now I'm torn between nodding thoughtfully or raising a questioning eyebrow. They may just see right through too much nodding. I'll go with the eyebrow to mix things up a bit.
I really need to pee but nobody is moving. Hopefully this violent shaking of my legs will make it go away.
I actually came prepared with a question but it has to do with Dr Tony Tan's hair and Mr Brown beat me to it.
I think I made it out from the lunch unscathed. As a reward, I totally managed to score a photo with Dr Tony Tan. Which I'm going to frame up and hang in my living room.