Everyone knows that newborns aren't very much fun. They're tiny and fragile and frankly, kind of boring.
With Finn, I do my super-enthusiastic baby talk like "HEYYYYYY, HOW'S MOMMA'S HANDSOME LITTLE BOY DOING TODAY?"  and he just stares at me briefly before stifling a yawn. At least when I do that to the bigger kids, they bother to patronize me with a "I'm playing toys, ok bye."
So after having spent so much time with staring at a tiny baby (there are only so many times I can make googly eyes before losing my mind), I've came up with some fun stuff to do. Fun for me, at least.
1. Reenact the head-flopping scene of Marion Cotillard in The Dark Knight Rises. (also known as the worst death ever – ok see 1:55 of this video).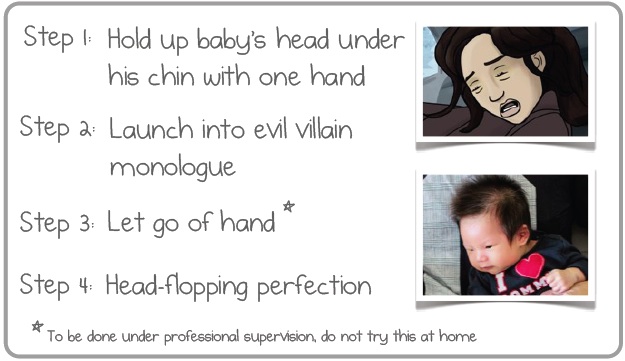 2. Do the kissy-kissy.
This is the only time they'll let you kiss them for as long as you want – make the most of it. Once they gain mobility, they'll be off and running after 3 kisses.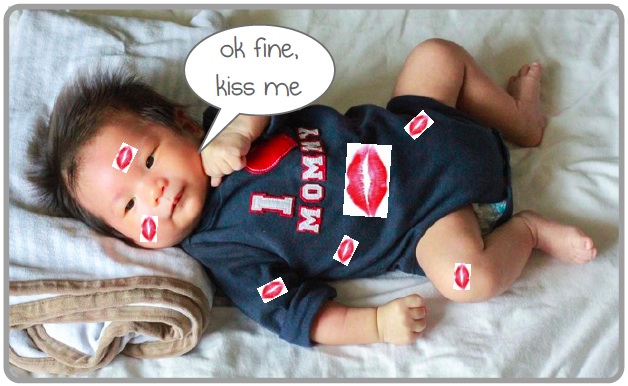 3. Make them really tired. Like crazy kind of tired.
Why? Because it's funny when they're trying hard not to fall asleep and their eyes start to roll back into their head while you're like "WAKEY WAKEY SWEETHEART!!" Also, it's payback for all the nights he kept me up wanting to play.
And as a bonus, if you do this right, they'll sleep like a baby in the middle of the night.