It's the Mid-autumn festival today, I think. I've got to take a look at the moon tonight to be sure but then again, as far as the moon goes, I can only identify it as crescent or full, so anything in between can only be described with those two terms like thin crescent, fat crescent, half full, almost full, full-ish, you get the point.
Which I suppose is not a big deal unless I'm a werewolf, then I'd be a really bad one. As in lousy, not evil.
The kids have been having a lot of fun with lanterns and I'm not surprised though, with all that flashing lights and tacky ching-chong music. For the past week, my house has been like an awful 90's daytime disco gone horribly wrong. Initially, I wanted to get them those conventional paper lanterns with real candles but the husband said they would set themselves on fire and I said they weren't that dumb (and besides, the whole point of lantern festival is setting fire to stuff) but apparently, he's the perceptive one around here so we stuck to getting them the battery-operated ones.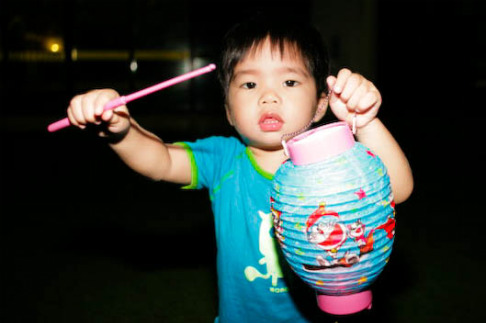 A couple of nights back, we brought them to Hort Park for a bit of fun in the dark and it's official, their favorite festival is now the Mid-autumn festival. On the way there, we were telling them about how we're heading out to play with lanterns and Tru was all like "YAYYYY YANTERNS!!" without having any idea what they were so after a while he was looking at me like "What are these lanterns that you speak of momma?"
When we actually brought out the lanterns, they were um, over the moon.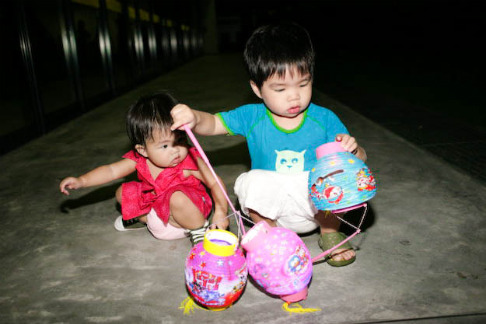 Even Kirsten, who's usually nonchalant about such things started pointing to herself and saying "mine, mine, mine" when she saw the lanterns. Way too cute.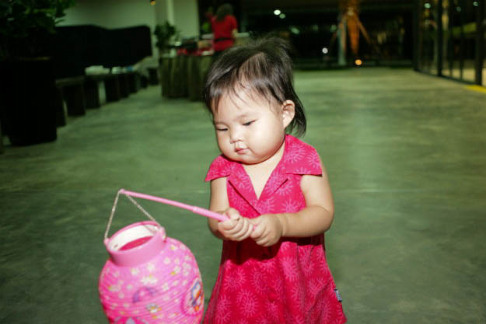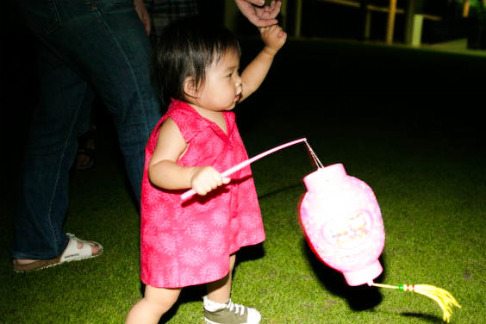 The great thing about kids is that they don't need a lot to be happy. A bunch of $2 lanterns, some quality time with daddy and mommy and they're happy campers. Maybe tonight we'll bring out the sparklers then they'll really go crazy.