Day 5 postpartum.
I'm in the twilight zone – my days and nights have fused into one giant ball of sleeplessness.
I've forgotten how exhausting it is to take care of a newborn. I keep hearing infant-crying noises in my head, and it turns out that 90% of them are real, which at this point is possibly worse than hearing imaginary crying sounds.
The postnatal blues is not helping either. It's not nearly as bad as the first 2 kids and I was mentally prepared for it but it's still tough to deal with sometimes.
Days like these, I get through each day by reminding myself to be thankful. And not just a perfunctory "ok, let's be thankful" but to spend time focusing on all the things I've got to be grateful for.
1. Finn is healthy and growing well. Every time he cries, it's a reminder that God gave him to us and he's everything that we could have asked for.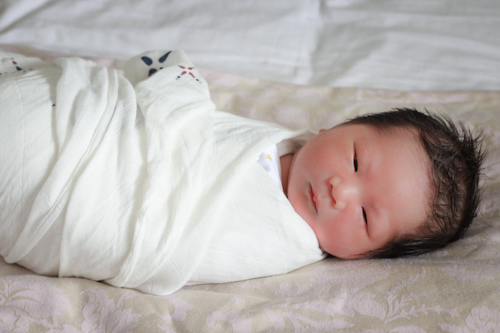 2. Truett and Kirsten are amazing older siblings. They kiss him and pat him and cuddle him whenever he's awake. It's a real joy to watch.
3. The return of Superdad. He's always been super but with the new baby, he seems to have leveled up his powers. He takes the 2 bigger kids off my hands, helps out with Finn, does the chores and spends whatever time he has left doing actual work. Then at the end of every day, he gives me a hug and tells me that everything is going to be ok.
4. My mom and my mom-in-law have been a tremendous help, taking care of the cooking, cleaning, and being around to watch the kids.
5. The benefit of experience. Knowing that the madness is temporary and things will get better in a couple of weeks.