I've discovered the key to surviving an attack of HFMD and unfortunately, it's not morphine. It's distraction. Or as magicians like to call it, misdirection.
So this is pretty much how Tru's brain looks like now.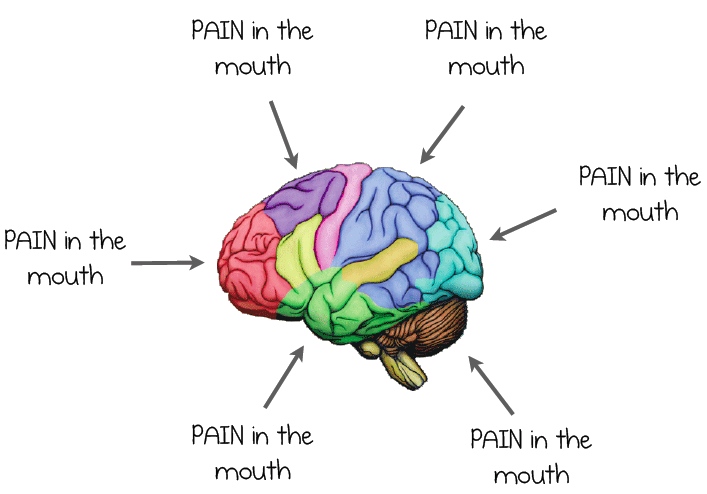 The pain in his mouth is so immense that it's hijacking all the other signals being sent to his brain. As a result, he doesn't eat, he doesn't talk, he doesn't laugh and he doesn't want to do anything at all. When he's not crying, he just walks around in a pain-induced stupor.
And so my mission is to hijack those pain signals before it gets to his brain. That's where the distraction comes in. Hopefully in the process, all the pain signals gets misdirected to say, his left butt cheek.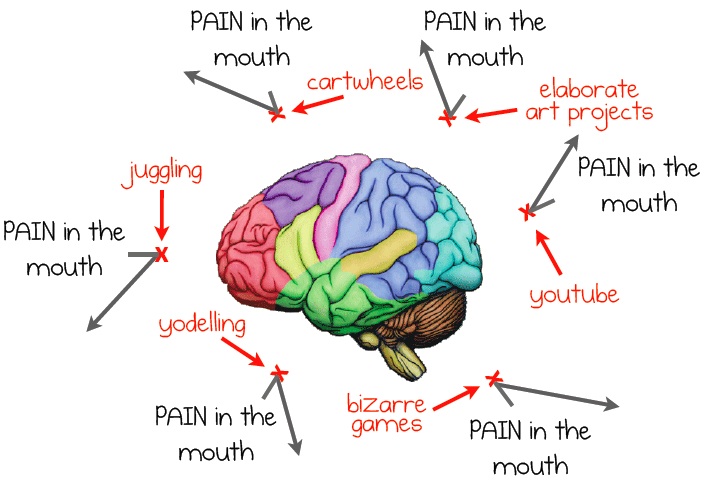 The thing with distraction is that it's got to be interesting enough to direct his attention away from the pain, which means that I can't just stick him in front of the TV or make him play with the same bunch of old toys.
It's got to be fun, fresh and sufficiently engaging so that he momentarily forgets about the pain.
The other thing with distraction is that it doesn't last for very long. The novelty wears off and his mind inevitably wanders back to "OMG MY MOUTH IS ON FIRE I'M GOING TO SIT HERE AND SCREAM."
Which basically makes me a state of the art entertainment centre that's supposed to come up with new activities to keep him occupied.
By mid afternoon, I got so desperate that I sat the kids down and performed a live magic show in my living room. One of the acts was to pretend to swallow a coin. Ok, it was the only act I knew but it worked so well that the kids spent the next 20 minutes trying to shove handfuls of coins into my mouth. And nose. And ears.
Tomorrow, I'm going to eat fire.