It finally happened.
We all went to bed at 12.05 last night and the next time I opened my eyes to check the clock, it was 6.38 am. I couldn't believe it, so I put on my specs, drew the curtains and it was true. I could see the faint streaks of daybreak making its way across the morning sky.
I thought maybe the lack of sleep was getting to me. That maybe I did wake up in the middle of the night for a feed and forgot about it. But then again, having to haul my ass out of bed in the middle of the night is the kind of wretched feeling I'm not likely to forget.
So I guess that means one thing: Finn has made it through his first night without waking up for a feed.
Oh, what's that sound? It's my sleep-deprived mommy brain doing a victory dance after sleeping 6 hours and 33 minutes.
UNINTERRUPTED, y'all!
And right on cue too, because he turns 8 weeks old today. Not that we're having a competition or anything, but Kirsten did start sleeping through the night at 8 weeks old so it's the record to beat around here.
Suddenly my life seems so much more beautiful.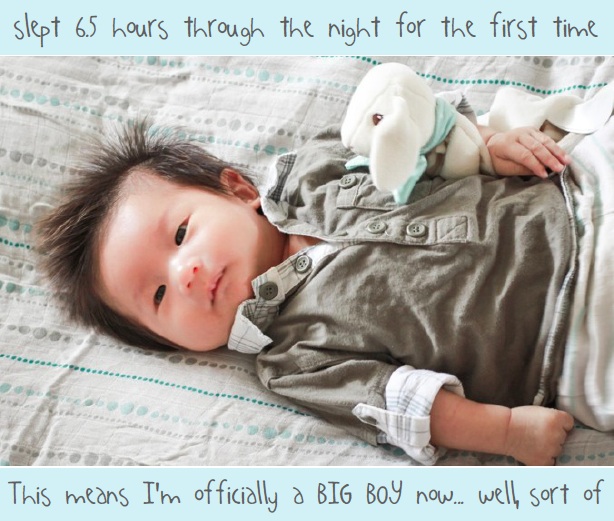 PS. From experience, I fully expect him to regress over the next couple of weeks, but there is finally light at the end of my dark and sleepless tunnel.
PPS. Hang on, I'm going to pour myself a glass bubbly to celebrate.
PPPS. A glass of bubbly bubble tea, I mean.