Speaking of learning, we're on the hunt for schools again. The last time we did it was stressful to say the least. I called up every childcare centre near my place and visited quite a few until we finally found Emmanuel Playgroup, where Tru is attending now.
It fit everything we were looking for. They took Tru in at 18 months, which is admittedly a little young to start going to school (most places start at 24 months), but the great thing is that it doesn't feel like an institution. The classes are small and cosy. The teachers are friendly and warm and awesome with kids. Plus, they really adore the kids, which in my books, is the most important thing I'm looking for.
Tru's loving going to school, and he comes home with stories about his raisin adventure with Aunty Shirley. It would also be the perfect place to start Kirsten, who turns 18 months next Jan.
Thing is, they're not going to continue the playgroup next year, so we're back to school shopping again. This time, I'm starting early because some places have a waiting list for almost an entire year. It's not fun to be desperately knocking on doors in December.
First off, here's what we're looking for.
1. Something for the 18-month old
Lots of the places I called only take in kids who are at least 2. Kirsten now looks on longingly as we drop Tru off at school every morning, wondering about all the fun that goes on beyond the bright red door and colorful walkway. And how incredible would it be to finally have 3 hours ALL TO MYSELF every morning? I'm already making a list of all the things I could do, like roller blading at East Coast, spa sessions, morning movies where I'll be the only one in the whole cinema, real shopping…
2. Teachers that care
During the orientation tour, it's hard to tell if the teachers are just doing it as job. Most of them will at least try to look like they care. So I get Tru to have a complete meltdown halfway through the tour just to see how they react. Some look genuinely appalled, others make a hasty getaway and then we find those that remain unfazed as they whip out a raisin to calm him down while proceeding with the tour. Also, I like to drop by when a class is in session to see how they interact with the other kids.
3. Decent enough environment
Ambience counts for a lot, actually. Kids seem to have an instinct for nicely decorated places. Ideally, there should be bright colors everywhere, with a place for water play and sand play. Tru's only criteria is a nice playground (generally, the bigger, the better). He sees a playground and he goes ballistic because it's his happy place. Which means I will make sure I find him a very happy place, if it's the last thing I do.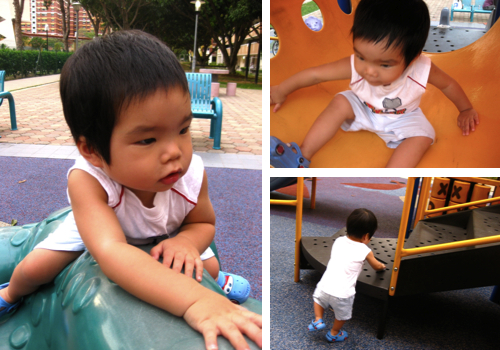 4. Reasonable distance from my place
I don't need to find a place at my doorstep but I'd prefer not to travel halfway across town just to drop them off at school. I've found some really great places but they are a good 30 minute drive away and coupled with morning traffic, I'd end up spending a lot of time in the car. I could perhaps go for somewhere near the husband's office since I do drop him off in the morning so that would probably give me more options.
5. Not too pricey
If I just had one kid, I might even consider selling a kidney to fund his education (that's how awesome of a mom I am), but with two kids, I can't possibly sell both my kidneys. I hear that you need at least one to survive. And if I eventually have another two kids like I plan to do, I'd have no more organs left by the time I'm 35. Not a good plan at all.
There are several other things on our list but they're not dealbreakers. Like how it would be nice to find a Christian place so that they learn to say grace and sing Jesus loves me. But we can teach them all that at home so it's not that big a deal.
If you have any places to recommend, I would be much obliged. Then I can also buy you a cup of coffee and we can chill out while waiting for our kids to finish school. You can also drop me an email if you're shy.