I started this year intent on homeschooling the kids. Never mind that it was born out of necessity instead of an epiphanic revelation about the merits of homeschooling. Along the way, I got inducted into the elite homeschooling club and wore it like a badge of honor. Ok, not exactly but the important thing was that I was determined to last the year without relying on an institution.
The first 2 months, I diligently googled homeschooling, printed out worksheets, drew alphabets by hand (surely I deserve some kind of award for this) and spent half of my designated Grey's Anatomy time preparing lessons. Which they completely ignored, by the way. They were more interested in crumpling my lesson plans into tiny balls and trying to see how many they could fit in my shirt (23, if you must know).
Until I got smart and reinvested my time more wisely back on the far more entertaining lives of McDreamy and McSteamy. Lesson time became a game of let's-see-what-mommy-can-find-in-the-art-box.
So you guys probably know that on top of watching the kids, I also work from home on several projects because I'm compulsively masochistic. In recent months, work started getting crazy and before I knew it, I was operating on 4-hour sleeps a night.
You know those supermoms who do everything? Turns out, I'm so not one of them.
These days, even my impromptu lesson plans have completely gone to pieces and lesson time has become a game of let's-see-what's-on-tv. True story.
After long discussions with the husband, I've finally decided to call it quits on the homeschooling thing. I'm doing the school-schooling thing instead so I can do the home-chilling out thing. Now I can really focus on the extra-curricular activities like how to burp an entire song and the proper way to hold a PS3 controller, which to be honest, I'm so much better at.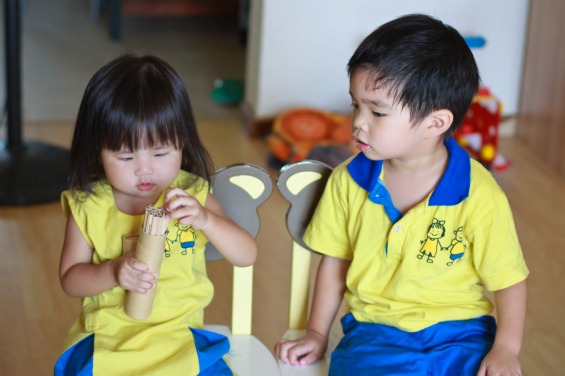 I asked them what they learnt today and they said counting, so I gave them a little test. Kirsten went "2, 3, 6, 8, 9, 10!" and Tru was all "No, mei mei, it's wrong, I teach you." He counted right up to 17 and didn't know when to stop but I'm giving them points for effort at least.
UPDATED: Results for the Pinnacle Wall Arts giveaway are out! Congrats to our 2 winners!