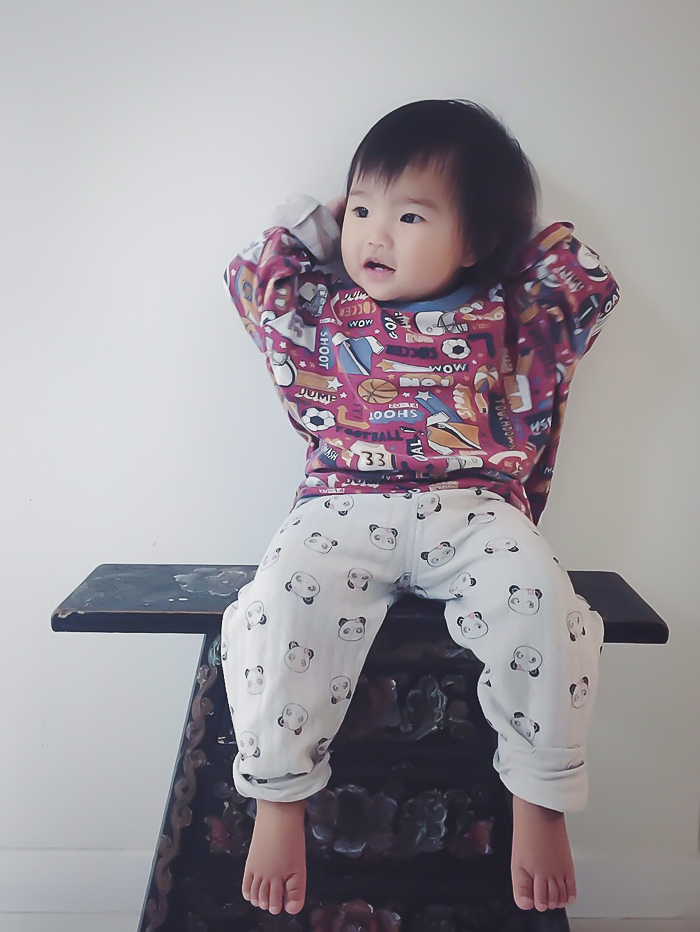 As part of the move to the new place, the plan was for baby Hayley to transit out of of co-sleeping with us. She's been sleeping on our bed since she was 3 months old, right around the time where she decided that she was having none of that baby cot nonsense. And I let her. Because a sleep-deprived parent always takes the path of least resistance, however misguided that path might be.
Since then, I've grown fond of having her sleep on our bed.
For months, this baby slept like a tyrant who would immediately wake up if I breathed too loudly, but she has since realised that it takes too much effort to get all screamy. Now, she just scrunches her face into a pout to communicate her displeasure. Sometimes, she starts to pout but then decides that even pouting takes too much effort, so she gives up halfway and flops back onto the bed. It's adorable.
I like being able to inhale those chubby cheeks as I drift off to sleep. Even though she's all warm and snug in her jammies + blanket, her squishy cheeks get super cold because of the aircon and by the time I get into bed, it's at the perfect temperature for munching. Falling asleep as you munch on deliciously cold baby cheeks is as close as it gets to a taste of heaven.
Technically, baby Hayley can go a whole night without milk and she'll be fine, but she still nurses 2-3 times a night. I've been planning to wean her since 3 months ago but we couldn't quite get there and I'm starting to think that it's because I'm enjoying this sleep nursing sessions as much as she does.
//
Last week, we transitioned her out of our room and I was totally hovering, all ready to swoop in and take her back if she showed any signs of distress.
She didn't. She adjusted like a champ so for the first time in a long time, I went to bed without having to tiptoe in or regulate my breathing. I could turn on the lights to read in bed if I wanted to. I could watch the latest episode of GoT without having to whoop into my pillow. My brain was telling me that I should celebrate. This is a good thing, my baby is growing up and I'm getting my freedom back.
That night, I didn't do any of those things. I went to bed feeling sad, much sadder than I was prepared for. I was full on going to cry big ugly tears level kind of sad.
Just writing this makes me sound insane. My baby was literally in the next room, just a few steps away. I could go in to kiss her anytime I wanted – she's still here and she's ok, but I felt this deep and profound sense of loss.
I think I'm slowly having to come to terms with the knowledge that this is the end of baby road for me. I mean, the ligation was a big moment, but it doesn't hit you then because there's this beautiful baby and you're just basking in the newborn baby glow. But now that Hayley is getting bigger, it's starting to sink in that this is my last baby. After this, I'm done. No more sleepy cheek munches. No more night nursings. No more middle of the night scrunchy baby pouts.
It's such a cliche and I've spent 14 months trying to prepare my brain to deal with this but still, I cannot. I took the baby back to my bed on the second night and we're easing into this with alternate-night transitions because mommy can't adjust.
I'm going to be such a mess when this last baby turns 3, or 4, or 5, or 18. :(