It's now day 4 of Truett's head injury and he's doing much better. He finally let us wash his hair last night after refusing to let us go near his head for 3 days. He tried running his fingers through his hair and got grossed out at how oily and clumpy it was so he came up to me and said "ok, you can wash my hair now."
I may or may not have said that lice were going to have babies in his hair.
Anyway, I thought about it and I am going to talk about our visit to the dentist. Because I'm embracing the mundane. Right after this, I'm going to have a cup of coffee with the mundane and talk about mundane stuff for the rest of the day.
First, here are all the things I know about dentists.
1. I'm really bad at dental visits.
2. I'm really, really bad at dental visits.
3. Dentists have lots of sharp pointy things that make pain in the mouth.
4. I really don't like pain. Or sharp pointy things.
5. But I like my teeth and dentists make sure I keep them in my mouth.
All this while, dental visits for the kids have been on the list of things we know we should probably get around to doing at some point but just not now. We do the basics like brushing and from time to time, I check their teeth for signs of obvious decay. So far, it looks like their pearly whites are still pretty pearly.
Besides, aren't these teeth supposed to come off in a couple of years? Worst case scenario is that they lose all their teeth and voila, they'll get a set of brand new ones, right?
Ok turns out, wrong. As I found out from Dr Chin from T32 Junior Dental Centre, messed up baby teeth will likely result in messed up adult teeth so the whole adage about prevention being better than cure – well, it's true.
We finally brought the kids for their first dental visit at T32 Junior, which is at Camden Medical Centre. I was amazed at how painless the experience was. The place was incredibly kid-friendly it was and I don't just mean the decor. Lots of dental places do the bright cheery themed walls to distract you from the pointy things, but the staff at T32 were also great with putting the kids at ease.
Dr Chin was a natural with the kids, making a balloon from a surgical glove and teaching them proper brushing techniques. He believes in helping kids combat dental phobias by creating a non-threatening environment and making sure they feel comfortable in the treatment room.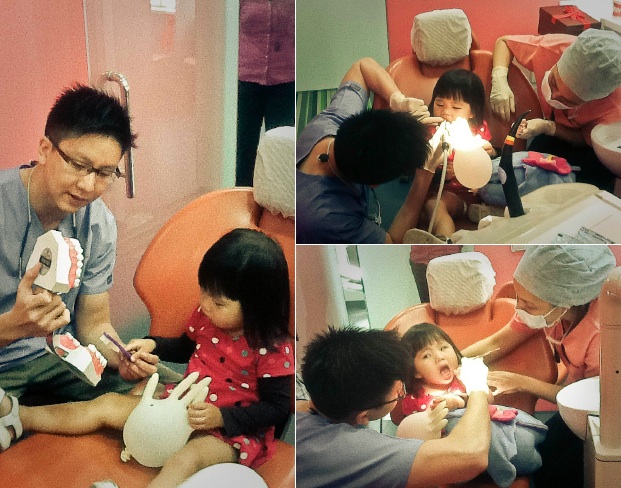 In fact, it was so convincing that the next time I go check my teeth, I'm going to request for a princess room at T32.