It's 9 o'clock and time to shop, shop, shop. I'm talking about online shopping here, which you can technically do at anytime but old school infomercial taglines are so much more fun, don't you think?
I was recently introduced to a new local online shopping site 12buy.sg during their launch event at the Goodstuph studio. Ever since the kids were born, I've stopped buying their stuff from department stores and turned instead to the cyberspace for all their shopping needs. It's true, I have turned into one of those die-hard online shoppers and here's why.
1. Lower prices.
Stuff at online shops are usually cheaper than your regular department stores, because they don't have to work in those exorbitant staffing and logistical overheads. So even with shipping costs included, it's still 20-30% cheaper.
2. Convenience.
It's ridiculous trying to get any shopping done with 2 unstoppable kids in tow. Instead, I shop when they take their naps, right in the comfort of my bedroom. I used to think that online shopping was impractical because it's better to touch the product and try it before purchase but websites have very detailed descriptions and dimensions for the products so you can make an informed decision before you buy.
3. Free delivery.
I can't imagine having to carry a truckload of shopping bags on top of the kids and their bag of necessities. When I shop online, I don't have to because all I have to do is click a few pages and the stuff gets delivered right to my doorstep.
4. You have access to items not found in local shops.
The beauty of online shopping is that you're not limited to the items that are brought in by local stores. I don't have to wait for friends to travel before I can get my hands on some of those American, Brit or Aussie products.
5. Shopping for kids stuff is a good way to start.
There's a lot more flexibility buying kids clothes online because the sizes are pretty standard and I don't have to worry about getting items that don't fit. When in doubt, I get one size up so they can grow into the new clothes. It's tougher when I'm getting clothes for myself because it sucks to get something that's too small and I certainly do not intend to grow into a bigger size, thankyouverymuch.
So back to 12buy.sg. They specialize in bringing in lifestyle, IT and kids products that we don't get in our local shops. The great thing is that these are all ready stock so you don't have to wait for weeks to get your items and they've already paid for the shipping costs so you don't have to factor those in. I had a lot of fun browsing their kid's selections, which include some cute as a button apparels, organic products and even green toys (made only from recycled plastics – the safest kind).
Last week, they sent over this deuter backpack for Tru to try out, which he picked out himself. I was introducing my son to the wonderful world of online shopping and he pointed to the bag (he even chose the color) and said that's the one he wanted. When it arrived, he stuffed his blankie inside, strapped it on and refused to take it off for the entire afternoon.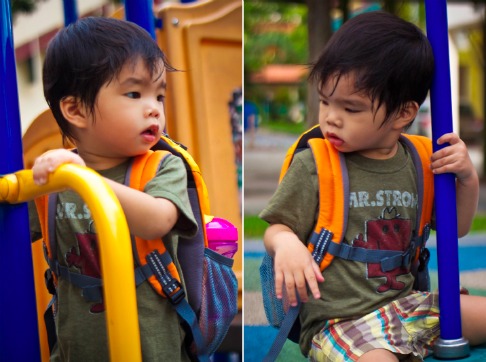 I love the comfortable padded back and shoulder straps, the added chest strap, the ample space, the extra hidden zipped pocket to stuff my iPhone, the safety reflectors, the name tags and Tru, I think he just loves how it makes him feel like a big boy. I've bought 6 different backpacks for Tru and this is by far his favorite. I think he's not taking it off ever.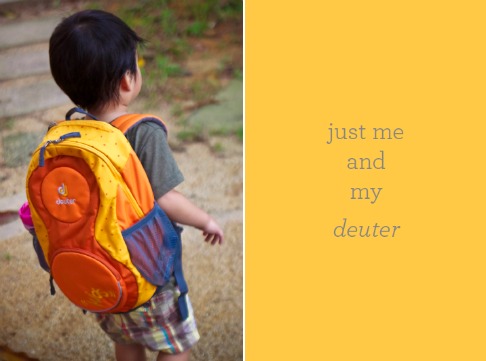 Now while we're on the topic of social media marketing, it's been a breath of fresh air to work with folks who understand social media, as opposed to uninformed PR companies who think that blog advertising is about sending over a box of $3 cereal or tickets to a movie premiere and expecting bloggers to rave about how it's more awesome than a thousand babies in fluffy white clouds. They get their panties all in a bunch when you make the slightest constructive suggestion on how to make it better.
But I like it when companies are secure enough in the awesomeness of their products or services that they are open to suggestions on how to make it more awesome. They send over a product to review and it doesn't come with strings attached. They don't ask to vet your post. They don't freak out when you are not in love with their products. In short, they get social media marketing and I respect that.
Ok, here's the fun part. The people at 12buy.sg are giving away 2 more deuter bags (1 in orange and 1 in red) to 2 readers of the blog. If you'd like to win one of these lovely bags, simply leave a comment about "What you love most about your kid(s)".
2 winners will be picked by having my babies grab random numbers out of a bag. Contest ends at 12 midnight on Friday (19 November).
Update: Congrats to Kless (comment #7 – orange) and Yen (comment #10 – red) who won the 2 deuter bags. An email is coming your way shortly.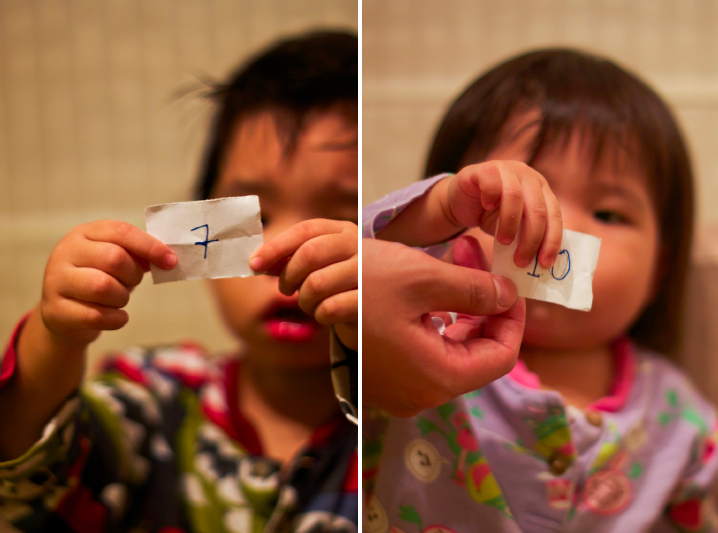 To see the random selection process, here's a look at what went on behind the scenes.
httpv://www.youtube.com/watch?v=JH_5AtBiLXY