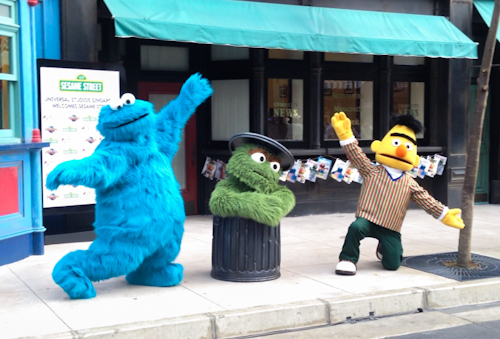 Those aren't really my favorite things but they happen to be the favorite things of Bert, Cookie Monster and Oscar. And I know this because those guys just sang a really cute song about it during the press conference at Universal Studios Singapore yesterday.
Here, I even managed to catch it on video for you guys.
You know what this means right?
Uh huh. Sesame Street has landed in USS.
Starting next Monday, the characters from Sesame Street will be performing live shows like these along the streets of New York in USS. On top of that, there will also be character breakfasts as well as meet and greets so you can get up close with your favorite character.
During the preview breakfast yesterday, we got to meet Oscar, Cookie, Bert and Ernie.
This looks like a picture of calm but it took several tries to get it because the first time we attempted to take a group photo, Kirsten went ballistic when Oscar reached out to hug her. In between shrieks, she was all "I DON'T LIKE THE GREEN ONE, HE'S VERY DIRTY…" And we were like "Um yeah, that's kind of the appeal. He is living in a trash can, sweetheart."
On that note, I have to say that the costumes are done really well. I mean, Oscar (who's my favorite, btw) even has a real trash can attached to his legs so he can park and hide in it whenever he's tired. That's just brilliant.
And a couple more shots of the breakfast. Yes, cake does count as breakfast.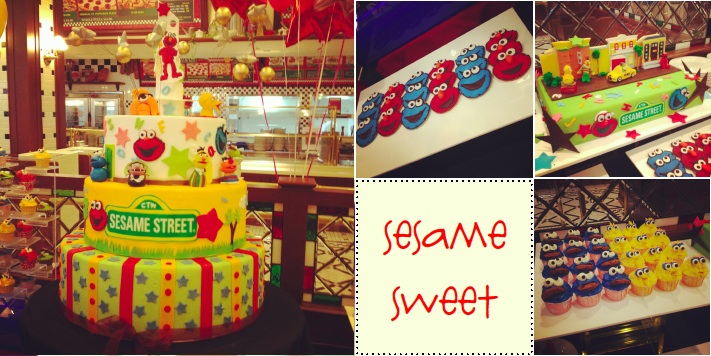 In other news, there will also be a Sesame Street ride that will be unveiled towards the end of the year, so stay tuned for that.