I've been thinking that maybe it's finally time to wean baby Finn. As in stopping breastfeeding and switching him to formula.
When he was born, I didn't think I'd be successful at latching him on but just like that, I've been doing it for almost 8 months now. 8 months of powering through the depression. 8 months of having my boob chewed on every 3-4 hours. 8 months of special bonding time with my littlest one.
He's been adjusting to solids fairly well recently and I'm thinking that the time has come to give my boobs (and the rest of me) a break. Letting someone else (babe, I'm looking at you) take over the feeding for a change so I can maybe sleep through the night for once.
Oh, sweet, uninterrupted nighttime sleep, you and me be needing a date real soon.
With Kirsten, I made it to 9 months of breastfeeding and the day I decided to wean her, I popped the champagne and did a victory dance. But that was because I never managed to latch her on and the whole pumping experience made me feel like Bessie the cow. I couldn't wait to be done with all the tubes and pumping equipment.
This time around with Finn, I'm really torn about it. I still had to struggle with D-MER these past 8 months but being able to hold him in my arms while he drank was a really special experience and I feel like I'm not quite ready to give it up just yet.
And then there's his refusal to drink from the bottle to contend with. I've tried 4 different brands of bottles and he hates every single one of them. I tried expressed breast milk (even fresh ones right from the boob) and several brands of formula but none of them worked. When I have to leave him with my in-laws for an afternoon, he'll struggle through each feed and wait for me to appear before attacking my boobs like he's positively starving.
So I made a list of pros and cons like I usually do when faced with dilemmas.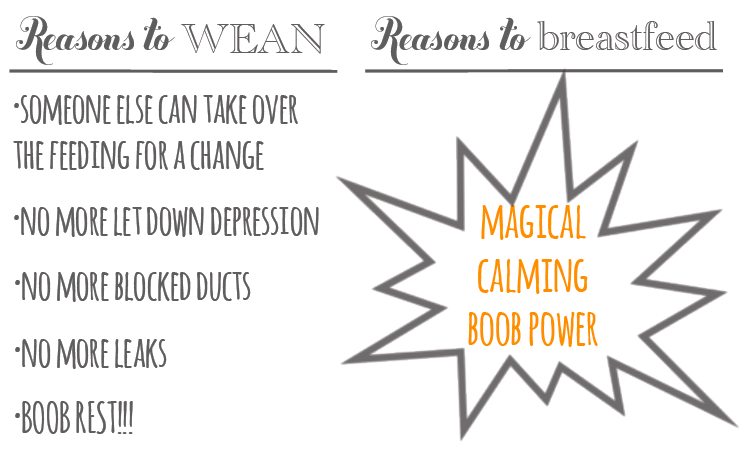 You guys have any advice on somewhat painless weaning techniques? See you in the comments.