This is part of a series of collaborative posts between Mother, Inc and Mothercare Singapore. All opinions and text are my own.
My breastfeeding journey hasn't been a fun one. While I'm fully convinced by all the wonderful benefits of breastfeeding, both Truett and Kirsten had a lot of difficulties latching on. They were impatient and hungry babies who didn't care much for the joys of drinking it fresh from momma. They were all like "FORGET THE BOOBS, JUST SHOW ME THE MILK!!!"
It didn't help that I produced very little milk so with Tru, I gave up after a month of partial breastfeeding (via the bottle). With Kirsten, I managed to persevere on with the expressing thing till 9 months before finally reclaiming my breasts.
But I've always wanted to be like one of those moms who could pop out a boob to feed the baby anytime and anywhere instead of having to go full battle order and lug around a ginormous pump, bottles, bottle warmer and cooler bag.
So with Finn, I was determined to latch on my baby one way or another. The first couple of days wasn't so good. I had no milk at all and the lactation consultant who came in to help me struggled for 15 minutes before declaring that my "breasts were too big".
Um, ok, thanks, I guess?
By day 4, engorgement set in and every session I tried latching on was absolute torture. I thought that labor was the worst pain I could experience but engorgement pain? Comes pretty close. My breasts were like filled with little rocks after being beaten with large rocks and when Finn chomped down on it, I almost threw him an uppercut to the jaw. Except I didn't because I was determined to power through the pain.
Fast-forward 2 weeks and he's now latching on like a pro. I occasionally have to supplement with a bottle of expressed milk but at least he's drinking most of it direct from my boobs, which is a great achievement.
Thanks to Mothercare, I've put together a list of all the essentials you'll ever need to make the breastfeeding journey a little easier. All these, plus a large dose of pain endurance and you're all set.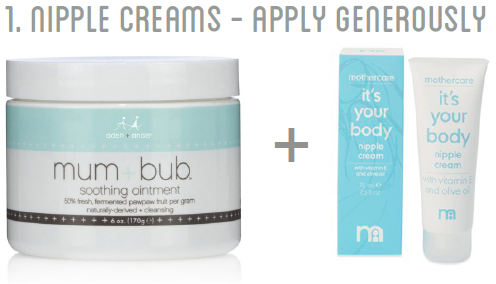 The Aden + Anais Soothing Paw Paw Ointment is like salve from heaven for cracked and sore nipples. I applied tons of this the first week and it helped speed up the healing process. After the soreness subsided, the Mothercare It's Your Body Nipple Cream was great for the days that I wanted something lighter and less rich.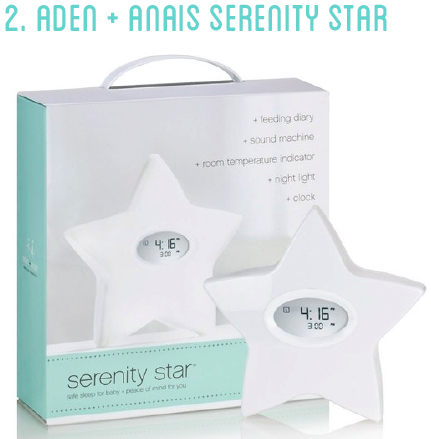 I really love the Serenity Star. It's the kind of thoughtful product that only moms who have breastfed can come up with. It's a feeding diary, a sound machine, a night light, a temperature indicator and a clock all rolled into one. It's the one thing I keep with me all the time and when I'm stoned out of my mind trying to recall the last feeding time in the middle of the night, this is a complete lifesaver.
A pillow that's ergonomically designed to support the baby during breastfeeding does wonders for the back. I just prop this around my waist and rest Finn on it so I don't have to be hunched over during feeds. The JJ Cole range also comes with a matching nursing cover for some privacy when I'm out and about and I like that the design is classy enough to not look like a tablecloth.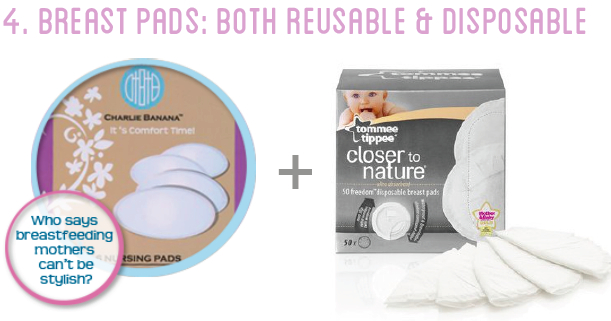 The downside of breastfeeding: spontaneous leaks. Every time I hear a baby crying or think of breastfeeding or look at a cute baby, my boobs go into feeding frenzy mode and start leaking. These Charlie Banana reusable breast pads are super soft and absorbent, which is perfect for dealing with those embarrassing leaks. And when I don't have time to clear the laundry (which happens more often than I'd like), there's always the disposable Tommee Tippee breast pads to save the day.
My milk production is still not at the boob-only feeding stage yet so I've got to supplement with a bottle or two. Introducing a bottle is tricky because once Truett and Kirsten tasted milk from a bottle, they refused to drink from the breast. I suspect that these Tommee Tippee bottles really helped in my quest to latch on Finn because the teats are designed to resemble an actual nipple. And finally, if you're bottle feeding, remember to sterilize!