I never thought I'd be doing a post on photography because I'm hardly what you call an expert. Even enthusiast would be pushing it because I'm admittedly no shutterbug.
Back in NTU, I did do an obligatory course on photography (it was 202 for all the CS folks) where we all had to present our pictures to the class at the end of the course. Everyone had these artistic shots with brilliant lighting and composition while mine was truly appalling. It was like rows of bananas (I know, like what??) and as if to prevent my awful shots from mauling their eyes, I had to distract them by going on about capturing the mundaneness of everyday life; seeing the beauty in the ordinary blah blah blah. After the presentation, I turned to the husband (back then, just the boyfriend) and said "that was terrible wasn't it?" and he paused for a moment then replied, "um, yeah babe, but hey, you're really good at other stuff!"
Right then, I decided that this thing called "the eye for photography", I didn't have it.
But it's probably a mothering thing, this need to capture the moments of your kids' lives. Which is the main reason I decided to pick up a camera again. Recently, I've had a few emails from readers asking for photography tips and while I can't give you guys professional photography lessons, there are several things I've learnt from other photographers that may be helpful to you. Most of these I've learnt from observing others (which is the best way to learn really) and handy tips others have shared.
1. Get a DSLR camera.
I know it's pricey and bulky and complicated and a pain to learn andall that, but all good photographers will tell you that getting a DSLR is the best investment they've made. I'm not saying that a point and shoot can't take good shots but there's a limit to the things it can do, especially when it comes to shutter speed and aperture. In that one-second lag using a p&s, the moment would have passed and you'd end up with a blurry photo. When I use a p&s, I'm always going "WAIT HANG ON DON'T MOVE… GAH DO THAT AGAIN!" and there'd be another mass of blur. A DSLR can perform spectacularly in low light settings and capture those wonderful moments even when the kids refuse to sit still for a shot. I've given up asking them not to move so I take 10 shots in succession and usually, one will be good.
On the topic of price, you can easily start out with a secondhand Canon 400D that costs $380 and a Canon 50mm f1.8 that costs an additional $90 from Clubsnap. That's about the price of a point and shoot. Instead of spending $3000 to get a brand new top of the line DSLR set, go easy and only when your needs/abilities outgrow your body and lens, upgrade them along the way.
2. Practice, practice, practice.
Honestly, the best way to learn is to keep taking shots. Experiment with different camera angles, focal lengths, apertures and compositions to see what works best. Try standing up, squatting down or even lying on the floor. Shoot from the front, the back, the side, the top and bottom. There's really no hard and fast rule, so try to capture the feeling rather than worry about a set of rules.
3. Learn from the experts.
The other best way to improve your photography is to observe and learn from the best. My personal favorites are Ree Drummond, Kelle Hampton and Mckmama. Sometimes, I even select their best pictures and print out tearsheets when I go out for my shoots so that I can try and replicate the compositions and style. And no, that's not technically cheating, just learning.
4. Try not to shoot on automatic mode.
Ideally, manual mode is the way to go because the pictures tend to look a bit flat if you're on auto all the time. Manual works great for landscape shots but I still find it too tricky when I'm shooting moving objects, which I typically set to aperture priority (Av). Also, try to manually adjust the focal point instead of leaving it on auto so you can select the spot you want to focus on. Most of the time, I set it on the kids' eyes so that it's tack sharp unless I'm trying to highlight what they're doing or what's in their hands, then I adjust accordingly.
5. Styling.
This, I learnt looking at Kelle Hampton's pictures. Her girls are always dressed up so beautifully and decked out in all kinds of pretty accessories. There's a lot of behind-the-scenes effort to make the pictures really pop. Especially with girls, you can go all out with the hair clips, sunglasses, hats, pins and necklaces, remembering that it's ok to be a little flamboyant because that makes a photo stand out a lot more than messy hair and boring old discolored rompers that have been worn by their previous 5 siblings.
After a while, you'll be able to tell which angles work best for your kids. Unless both sides of their face are symmetrical (hellooo Jude Law), there's usually a side that shows up better in pictures. Find that side and work it. After all, a good photo brings out the best qualities of a person.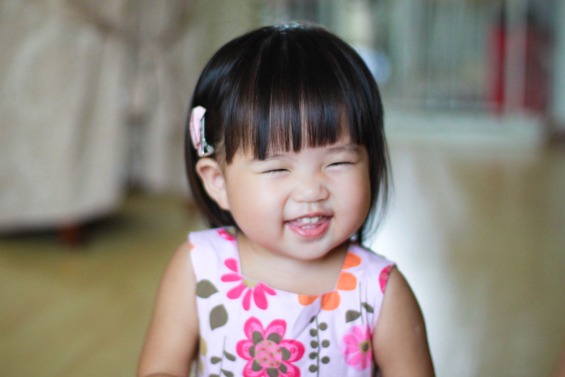 Usually, baby girl hates having stuff jabbed into her hair but this one lasted a while before she yanked it off.
6. Lightroom.
Purists will say that editing a photo is cheating but until the day my skills are badass enough for me to look at a shot straight out of camera and go "man, that is one hell of a good shot!", I'll have to touch up the pictures. For me, Adobe Lightroom serves that purpose very well. A lot use Photoshop but I find that Lightroom is easy enough to learn and powerful enough to do a great job. Again, there's a lot of trial and error here. I usually look at an example of a good photo and try to replicate it by adjusting the lighting, contrast, vibrance, cropping, etc. There are also tons of Lightroom presets you can use to make your job easier.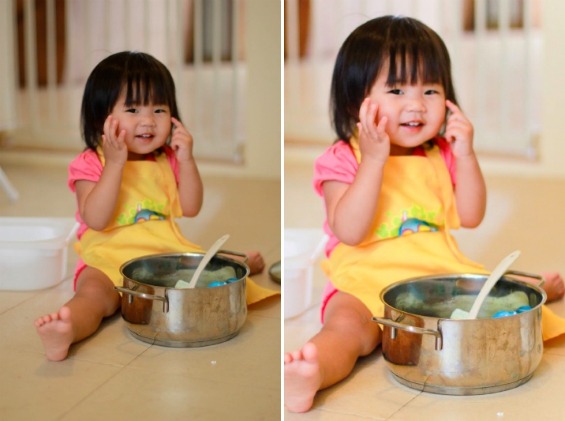 This is a before/after comparison of an earlier shoot. Out of camera, it was ok at best. It was underexposed, the shot composition was weirdish, and the colors were too dull but with a bit of Lightroom tweaking, it popped.
These are just some of the basics to get you started but the important thing is to practice and enjoy it. Give it a shot!