I'm one of those people who never win anything. Like ever. And it's not for a lack of trying. I fill up every lucky draw form I can get my hands on and I join all sorts of crazy contests, even if it's to win a half-eaten box of chocolates because it's not just the prize, it's the principle. I mean, what are the odds that I go through my entire life not winning a single prize after entering 385,000 contests right?
Practically zero, but then again, my teacher used to say that my math abilities were also practically zero, so that probably figures.
So I see all these awesome blogs that I spend hours swooning over and they win all these cool awards like "best blog in the history of mankind" and I secretly wish that I could abduct them and keep them in my basement so I could maybe be half as cool just by proximity and then maybe I could win an award for the best "psychopathic basement abductor". But then I realised that heck, I don't even have a basement, just a crummy void deck where folks hold funerals from time to time.
That's just messed up, really.
And I figured, you know what this blog needs? An award. You know, to recognize my literary efforts on this corner of the Internet.
Screw the fact that I've probably got all of 3 readers, and that's only because I read it ALOUD to my kids everyday so that totally counts as 2 readers. Then I make my husband read it every night (even though he's probably surfing Arsenal blogs instead) and I quiz him on it after, so I know I've got at least 3 readers.
Also, probably only half the folks that stumble in here understand what I'm writing, but screw all that.
Because today, my dreams have come true. I'm officially the recipient of this little baby, courtesy of the bloggess.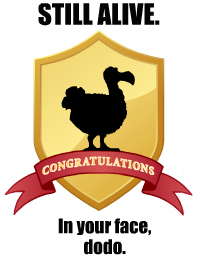 That it is the deepest badass award I've ever received is one thing. But this is a big moment for me, because Jenny the bloggess is right up there in my list of top 10 people I need to meet before I die. Neil Gaiman is one of them and so is Tilda Swinton. I'm still working on the rest because I had to remove David Carradine unless I somehow find a way to connect with the other side.
Thanks Jenny, you just saved this blog from oblivion.
Eternally grateful.