I didn't use to be this way but with 5 kids at home, I've become the kind of person who is borderline obsessive about cleanliness. The husband will tell you that it's not my natural inclination to be bothered by dirt or disorder but one of the lessons I've learnt over the years is that a clean home keeps the illnesses at bay and also, it makes for a far more pleasant environment to live in.
Why? Kids are super gross germ machines who wouldn't think twice about ingesting week-old crumbs that they picked from behind the sofa. Crumbs that are covered in dust and hairballs and maybe even bugs.
They will cough straight into the back of your throat if you happen to be going in for a kiss at an inopportune time.
They will smear their giant snot bubbles all over their own face with their grubby fingers, then use those same fingers to wipe the floor, followed by their siblings' nostrils.
My kids are always one snot smear away from a full blown illness, and the moment one of them falls ill, it immediately sets off a chain reaction of sick babies and adults around here. Which is guaranteed to result in a very bad quality of life for me.
One time a few years back, the kids had a terrible bout of stomach flu (which is the worst of all the minor illnesses) and they were all taking turns to throw up everywhere. For a week, it was a blur of cleaning up toddler diarrhoea and puke, and just as I thought that we had finally turned the corner, it got me too. It was agony – I remember crouching in pain next to the toilet bowl for hours thinking I was about to die. I was ready to gather my children next to my deathbed to deliver my final words. I also remember thinking that if I had done a better job at getting rid of these nasty germs, I would not be in this state.
While I can't make my kids any less of a germ generator, I can make sure our home is a difficult place for dirt and bacteria to have a party.
***
When it comes to cleaning, my philosophy is to make it as quick and painless as possible without compromising on effectiveness. Basically something that works with minimal fuss and maximum efficiency because ain't nobody got time to be spending hours on cleaning everyday.
Also, all the kids have to pull their weight in helping out with the cleaning at home so it's a bonus that these are things that they can all do.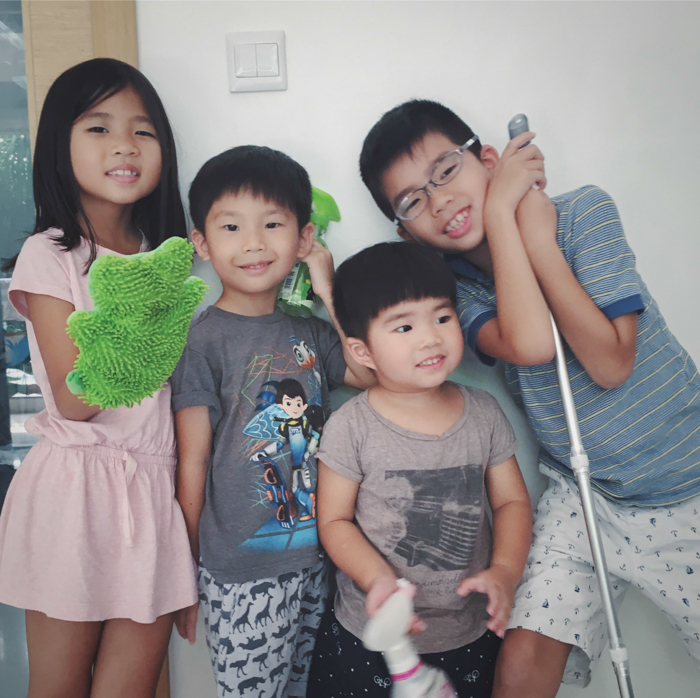 Here's a list of things we do every day to keep the germs away.
1. Clean the floor every morning.
After vacuuming, we give the floor a thorough mop using Magiclean Floor Cleaner every morning. It's a mystery to me how sticky stains will appear at various spots on the floor and you know what, I don't even want to know what they are caused by. It's like living in a house with invisible elves except instead of cleaning up, they just leave me little presents of dirt and stains.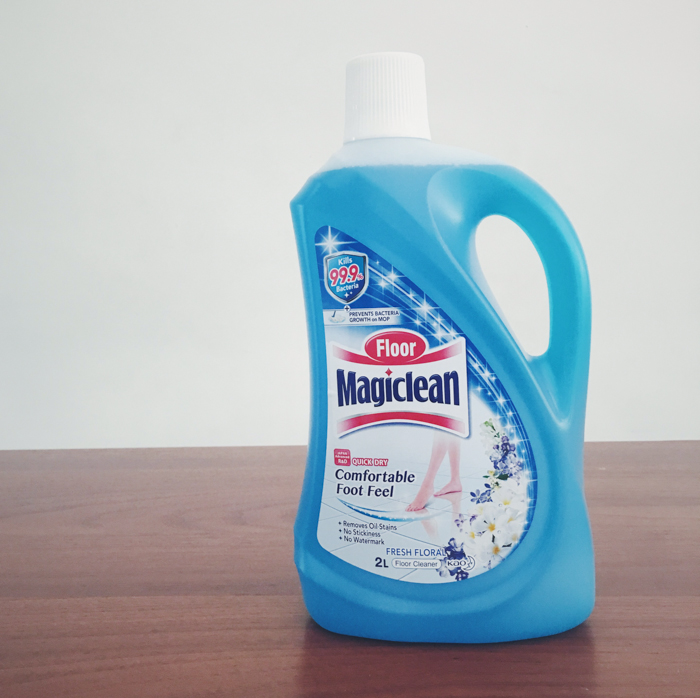 Magician Floor Cleaner effectively removes sticky patches/oil stains and dries quickly without leaving any residue. More importantly, it kills 99.9% bacteria, working on even the microscopic level to keep the floor clean and bacteria-free. We typically for for a Fresh Floral scent, but there are 5 other fragrances (Fresh Lemon, Aromatic Lavender, Refreshing Green Apple, Flower Bliss, Minty Cool) to choose from.
2. Clean the floor some more. 
Did you think this was a one time a day thing? Nuh uh. Floor cleaning happens after every meal and snack time because somebody will almost always accidentally spill chocolate milk on the floor or smear milo into the grout like it's an artistic masterpiece.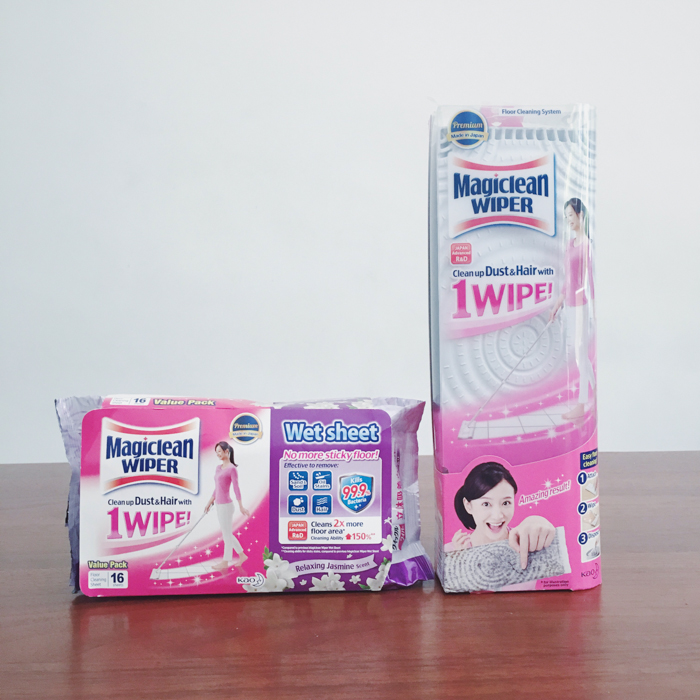 Instead of having to mop up 4-5 times a day, we use the Magiclean Wiper Mop and wet sheets for quick cleaning up with hassle free preparation. It is just as effective in eliminating 99.9% bacteria to remove dirt and stains. The 2.8cm thin mop head reaches narrow spaces effortlessly and maneuvers easily around corners, making spilled beverages mop up quick and easy. This is available in 3 scents – Fresh Mint, Relaxing Jasmine, Happy Rose.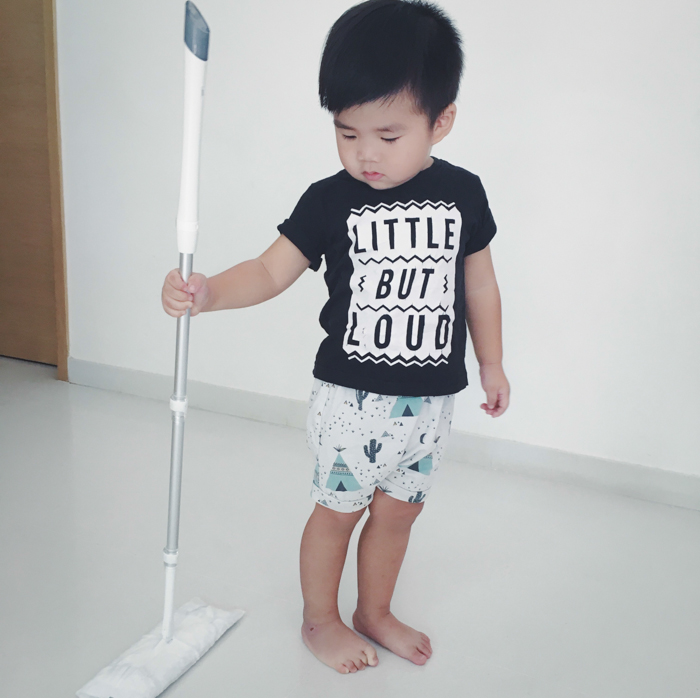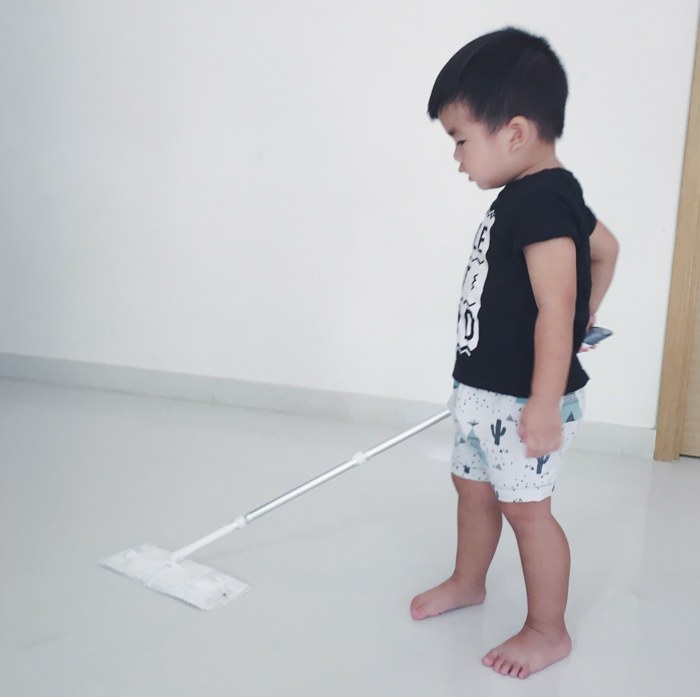 This is baby Theo showing off his cleaning skills. The stick is adjustable so we made it shorter to match his height!
3. Clean surfaces. 
What kind of surfaces, you ask? All kinds. Dining table, chairs, high chairs, benches, bumper mats, toys – as long as my kids come into contact with these surfaces, we have to clean them. With these surfaces, the important thing is to avoid harsh chemicals that may be toxic for the baby, but at the same time, we can't just use a cloth with water because it isn't good enough to remove stains + bacteria.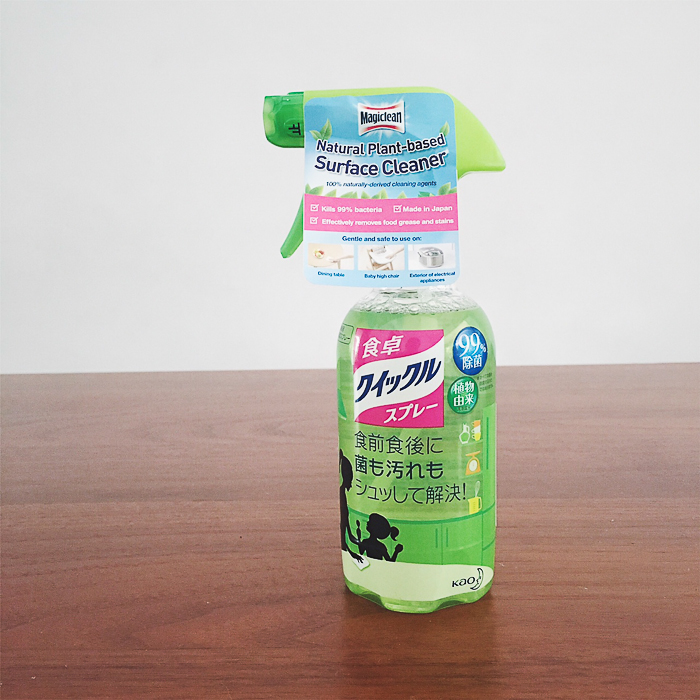 We use the Magiclean Natural Plant-based Surface Cleaner (a new limited edition item that has just hit the stores this month!), which is made from 100% naturally-derived cleaning agents, making it gentle and safe to use on dining surfaces and surfaces of baby items. It's so easy to use that the kids can help with the wipe down. They just give it a quick spritz and wipe over with a cleaning cloth.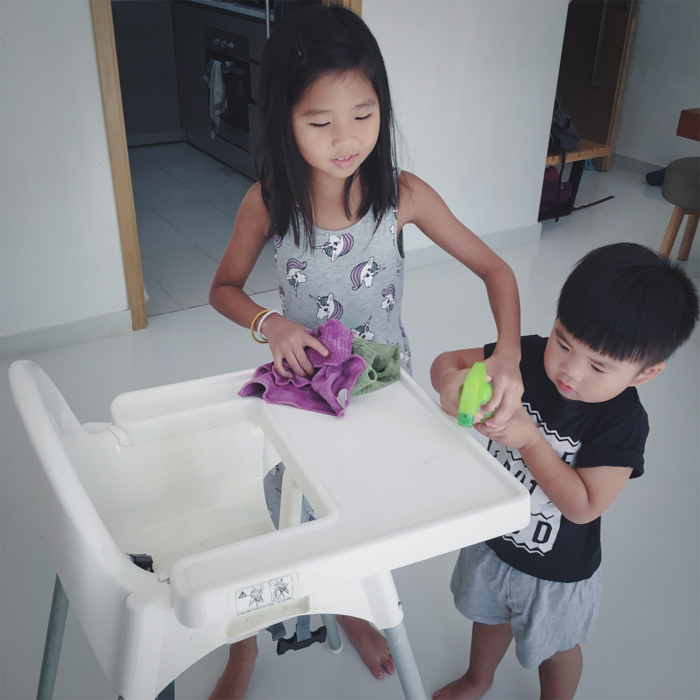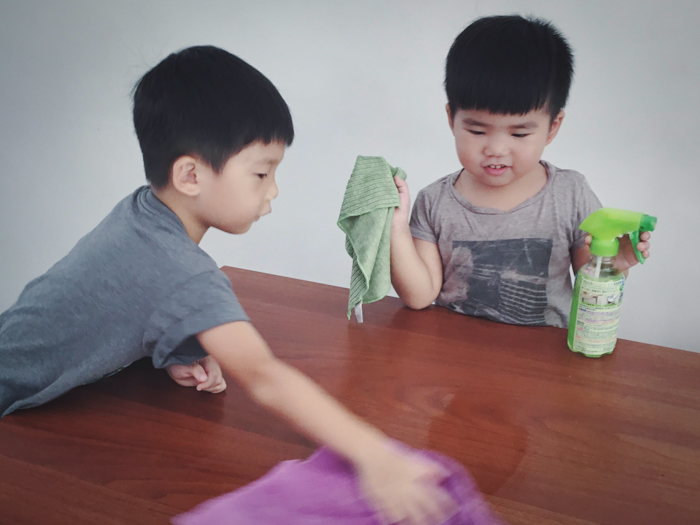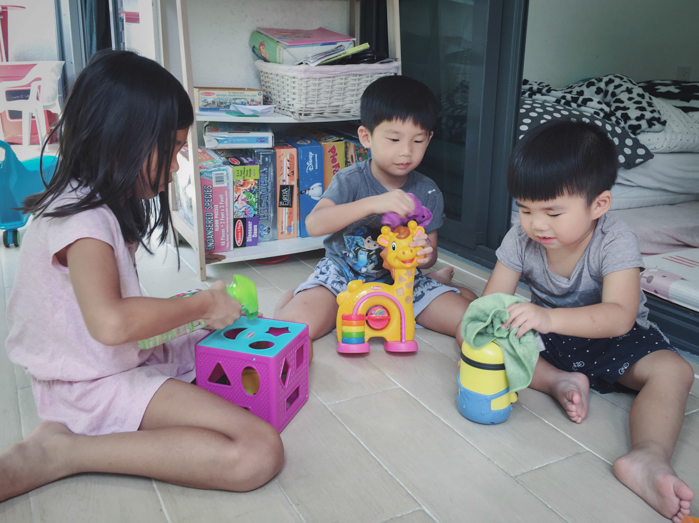 4. Clean other fabric-ky surfaces. 
For fabric surfaces that can't be cleaned with the surface cleaner, there's Magiclean Fabric Freshener to get the job done. We use this on the sofa, fabric chairs, baby bedding, car seats and fabric toys. It is able to penetrate deeply into fabric fibres to kill 99% flu virus and bacteria, as well as remove funky odour with natural deodorising extracts.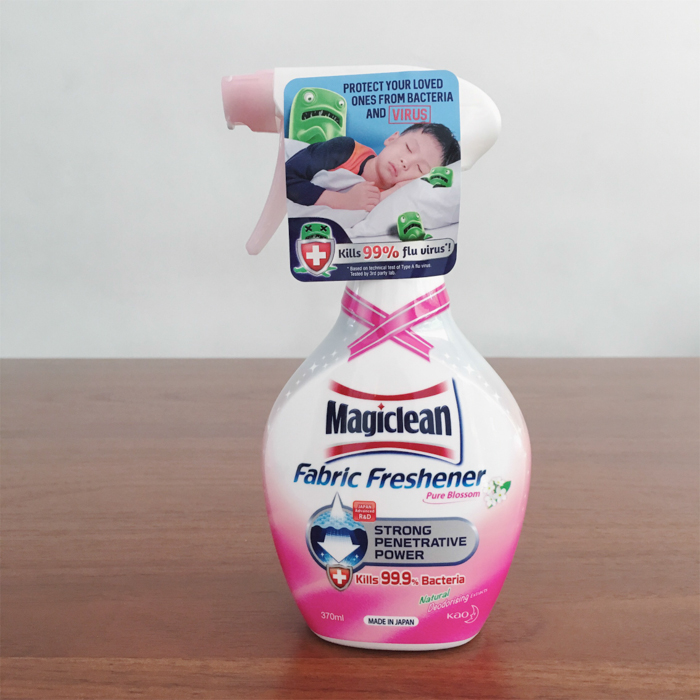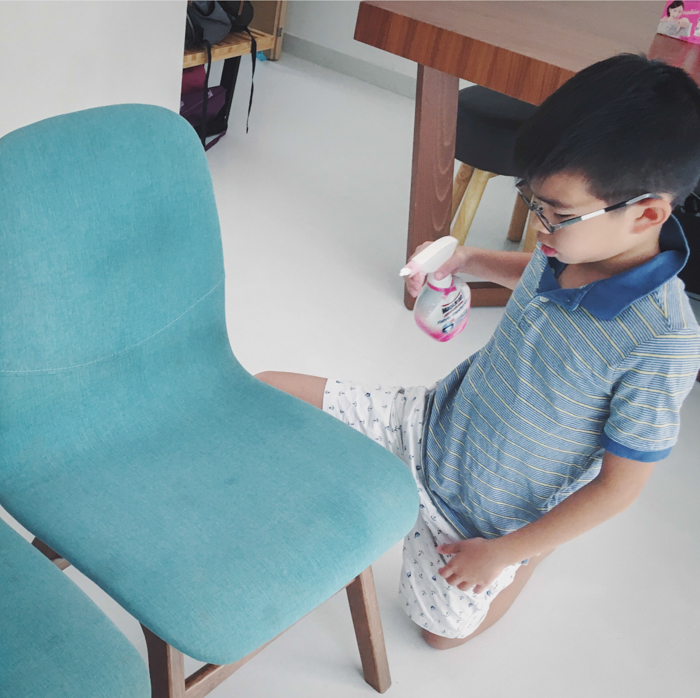 There was a point a few years ago where we were hitting one bout of illness after another and it was just a non-stop nightmare of sick, sniffly babies. It's been really nice having the kids all healthy and happy, and as a bonus, the house has been super clean.
**Magiclean's range of products are available in hyper/supermarkets. Check out the website for more information.