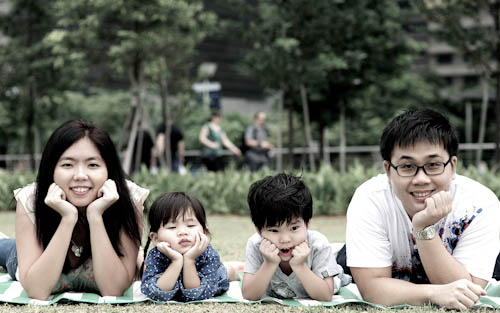 My name is Daphne.
I love bubble tea, snowflakes, Disneyland, reading to my babies, group hugs and the smell of rain. My idea of a perfect morning involves coffee, breakfast in bed, a foodfight, stories and baby giggles. Also, no cleaning up after.
I'm married to the man of my dreams and frankly, the finest specimen of the male species this side of the Pacific (and that is only because Jason Mraz is a tough one to beat). We met in University and he was the guy at the back who made up terrible names for everyone else in class. He makes me laugh at the most inappropriate moments, tells me everything is ok when it's not, gives me his last scoop of ice cream and is pretty much my best friend in the whole world.
We have three kids who give us reason to smile every morning, even on those that haul us out of bed before the crack of dawn, after spending the entire night holding a screaming baby. Together, they have butchered our furniture, mutilated my boobs, defecated on every possible surface and obliterated every last shred of sanity we had. But we wouldn't have wanted it any other way because these have been the most incredible four years of my life.
Some people ask me if I'm a writer and if by writer you mean that I write tons of stuff that nobody wants to pay me for or even read, then hell yeah, I'm a kickass writer. For that, I blame the AP style, which was evidently created to destroy me. I also blame the Americans and the Brits, who still cannot agree on whether it's color or colour. You are supposed to speak the same language, so quit confusing me already.
A fellow Singaporean once told me "your blog is so irrerevant." I couldn't be sure if she meant irrelevant or irreverent but she was probably right either way. That's genius, my friend and it's exactly the kind of thing this blog is about. Words that include, not exclude because on this blog, we don't judge.
Starting this blog is possibly one of the best things I've done because it's allowed me to meet some really amazing people. So come in and leave a comment or if you're shy, drop me an email. I'd love to hear your story and trade babies over a cup of coffee.