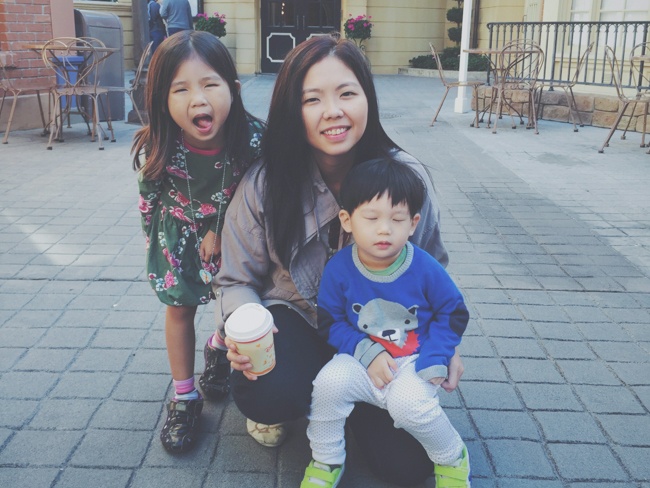 Hi, my name is Daphne.
So I started out wanting to have 7 kids – true story.  Then I went ahead and gave birth to one of these adorable but demanding tiny humans and immediately decided to scale back considerably…to 4. Okay, maybe 5, I'm not sure yet. I'm still mulling over that one. :)
I'm married to the man of my dreams and frankly, the finest specimen of the male species anywhere in the world. He makes me laugh at the most inappropriate moments, tells me everything is ok and then makes it so, gives me his last scoop of ice cream and is pretty much my best friend in the whole world. He makes parenting fun (even when it's not!) and this man is the only reason why I'm able to do this. We're talking legendary dad level dreamboat material.
Life with 4 kids is everything I hoped it would be. Actually, it's even better. You know how it's like when you dream of having something all your life and one day, you get it and it turns out to be so much better than you imagined it to be? Yeah, exactly like that.
No, really, what is it like having 4 kids? 
There's a lot of mayhem. On an average day, I feel like everything is out of control at least 5-6 times each day. On really rough days, we all have ice-cream for dinner and we call it an early night. **Okay, this just happened that one time and it's clear that I need to rethink this strategy because since then, the kids have been all like "Is it a bad day today, mommy? How about today? I think today is a super bad day we need to have ice-cream for dinner."
This life is often intense and full of um, excitement! but it also makes my heart a thousand times bigger and fuller and more wonderful.
And you know what else this life is full of? Chubby thigh rolls. Goofy little faces. Juicy goodnight kisses. Snuggles. Tiny humans telling me that I'm the best mom in the world. The sound of uncontrollable baby giggles. One can't have too many baby giggles, is all I'm saying.
Sometimes, it feels unreal, having lucked out 4 times with the best kids I could possibly ask for, and I fully intend to spend every day of my life loving on these babies.
I'm just really glad I get a chance to be their mom.