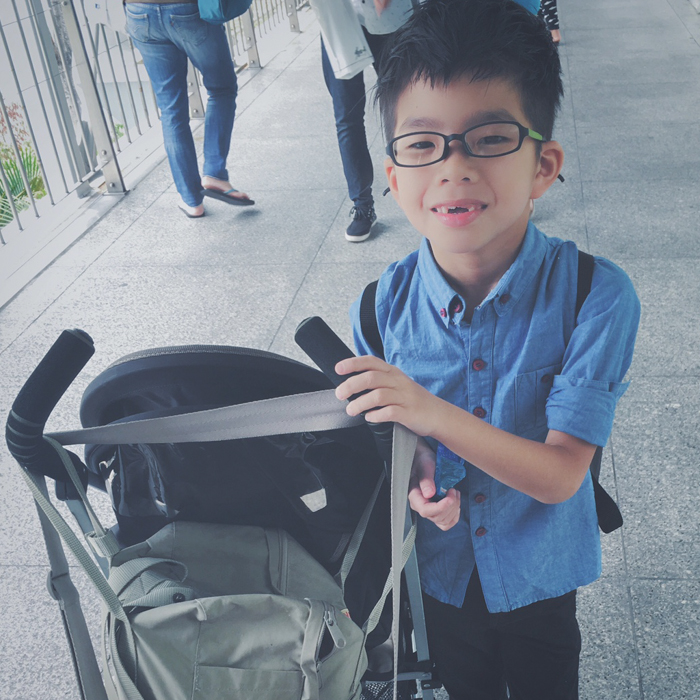 How about Truett's dapper new look? He had to get glasses done (sigh, that's definitely a result of my visually defective gene pool) but on the bright side, boys with specs? So very Clark Kent. (Hang on, I shall be done with my swooning in just a bit.)
Speaking of, I'm like the world's best person to fool with disguises because I'm very easily thrown off by things like glasses and facial hair. We saw a poster for the new Victor Frankenstein movie at Cineleisure a few weeks back and the husband was immediately like "whoa, Daniel Radcliffe and James McAvoy." I stood there peering at the poster for several minutes, and at the end of it, I was still "wait, which one is whom?? No way that's James McAvoy. I've never seen that face before in my life."
Moustaches, messing with my facial recognition ability since forever.
But I digress. What I've meant to say is that this brainy geek look has coincided with a far more exciting development, Truett's newly-discovered love of books.
CAN I JUST SAY THAT I AM SO THRILLED?!
Truett has always been just ok with books. During story time, I could always tell if a book was going too slowly for him. His eyes would glaze over and he'd start to fidget if too many adjectives were used. I know that he loves a good narrative, but if he could choose, he'd go for the movie version over the written one anytime. And I get it. I love movie versions of things too. I mean, did you watch that scene in Deathly Hallows where Snape duelled McGonagall? Can cry.
But books! I wanted the kids to experience being so engrossed in a good book that they couldn't focus on eating or walking or sleeping. I want to be able to nag at them to put down the book because it's dinnertime, but be secretly pleased that they wouldn't.
So far, it's just been, "Alright, story time over, books down, it's time for dinner" and they're like "Ok!" and I'm like "we need to work on this, you guys."
Over the years, we've amassed a small library for the kids. Dr Seuss, Eric Carle, Shel Silverstein, Oliver Jeffers, Mo Willems, Roald Dahl, CS Lewis. Rhymey books, adventure books, picture books, talking books, wordy books, books that make you do things while you read. They've all been met with a passing interest, at best. We saw some success with the Gerald and Piggie series but after reading every book in the series, Truett has evidently outgrown it.
Last week, I introduced Truett to Jeff Kinney's Diary of a Wimpy Kid. I wasn't sure if it was too early, considering the liberal use of words like morons and wimps. Sure enough, we had this conversation.
"Mom, what's a moron?"
"Someone who is exceedingly stupid."
"Orhhhh, you said the S-word…"
"Yeah, remember mommy told you not to call anyone stupid? Moron is possibly worse. You can add that to the restricted words list."
"Hahahahahah um ok. KIRSTEN!! DO YOU KNOW WHAT IS WORSE THAN THE S-WORD? MORON. HAHAHHHAAHAHAHAHA."
In my defence, they're going to be exposed to these words soon enough. At least this way, it's in a controlled environment and we can talk about it.
And just like that, he's turned into quite the voracious reader. He's been reading after school, during dinner, in the car, out on errands, before bed. He's already done with book 2, and asking for books 3-8. As a bonus, he's also stopped asking for the iPhone, or describing in detail the precise level of his boredom throughout the day.
I'm really enjoying how I get to nag at him to put down the book and go do his assessment books (hey, it's exam season!!) and now he's all "please just let me finish this chapter and I'm done…ok one more page!!"
Like I said, so pleased.