Tokyo has been good to us and as with all amazing trips, we were sad to leave but we're back home now and the nicest thing about having a blog is that I get to look at all the photos again and put it all up and relive the best parts a little bit.
It's absolutely the best way to end a trip.
I suppose we should begin at the beginning. A red eye flight in to Tokyo with a baby? NO NEVER AGAIN. We bought bulkhead row seats with extra legroom (worth every cent!!) and a bassinet so I was hoping there'd be more of this going on.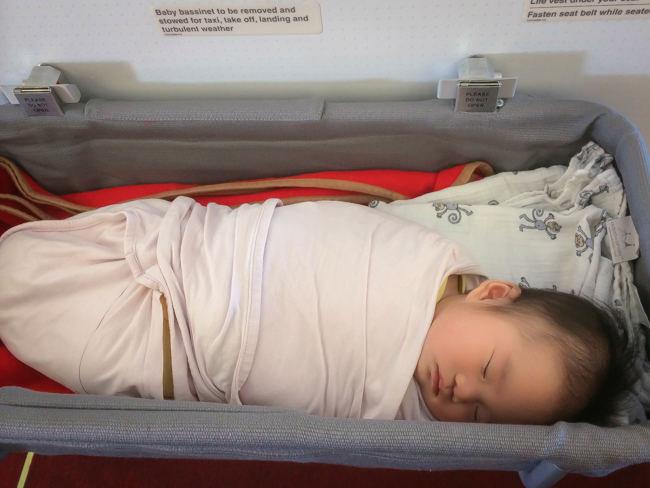 Sadly, that was short lived. Mostly it was this.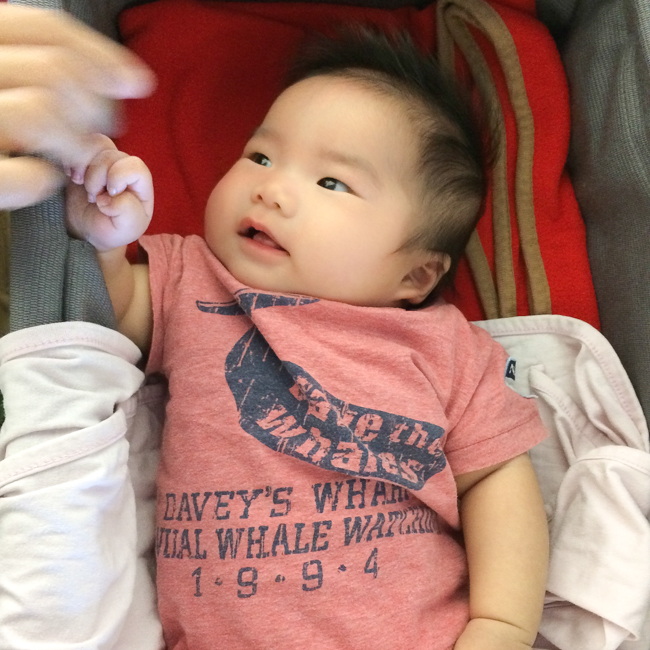 And then this.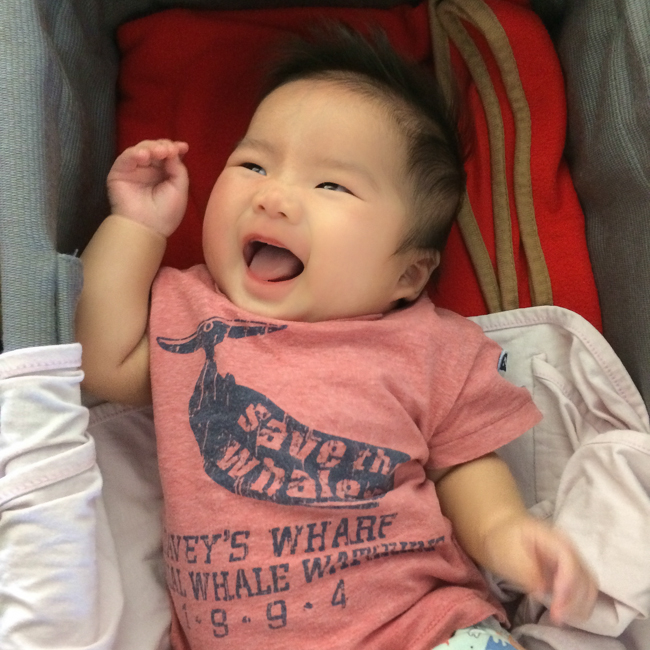 And then it was pacing up and down the galley with him like 200,000 times. After what seemed like an eternity of suffering wherein I could no longer feel my limbs, we finally arrived at Narita airport.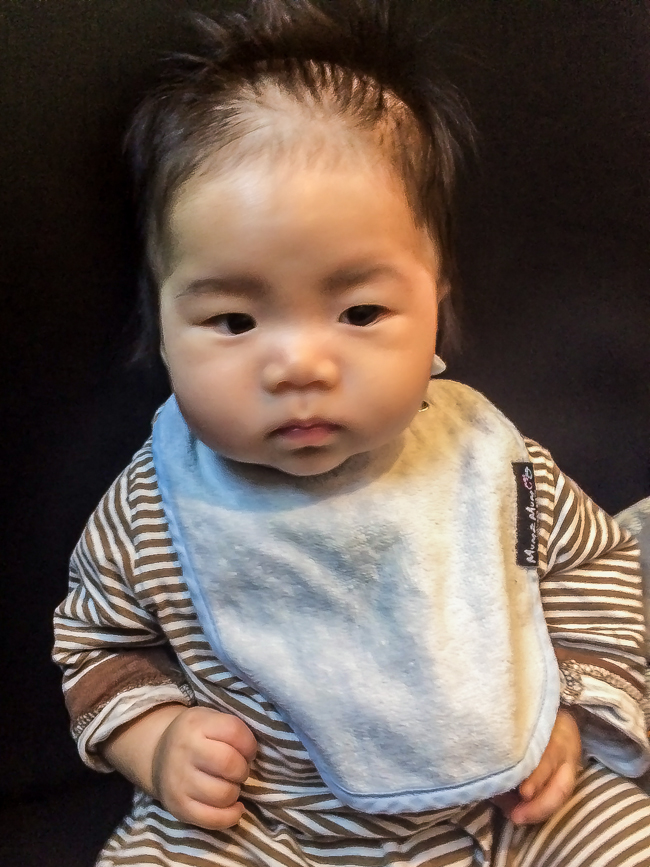 "What?? We're here already? That was fast!" – baby Theo

NO IT WASN'T.
My arm was so numb and trembly I couldn't even take a photo of Theo without excessive motion blur.
Everyone says cabs are ridiculously expensive in Tokyo (and it is!) so we took the Narita Express train to Shinjuku station and walked the rest of the way to our hotel. While hauling luggages, a stroller, a 6-year-old and a baby (who refuses to sit in the stroller) up and down escalators + staircases. We're hardcore like that. Okay, it wasn't that bad – we stayed at the Century Southern Tower Hotel, which was like 3 minutes from the station. It was actually a fab hotel – great location, good size, comfy room, I'd absolutely stay there again.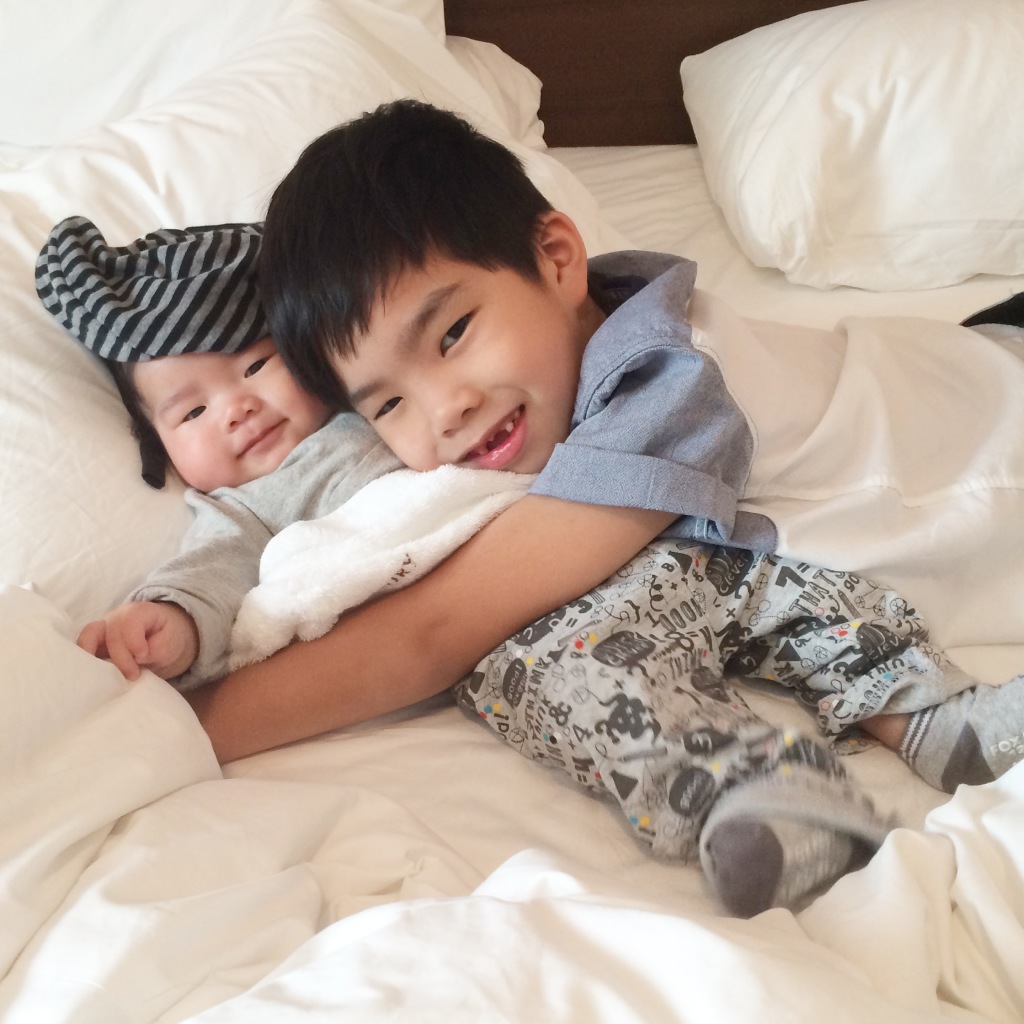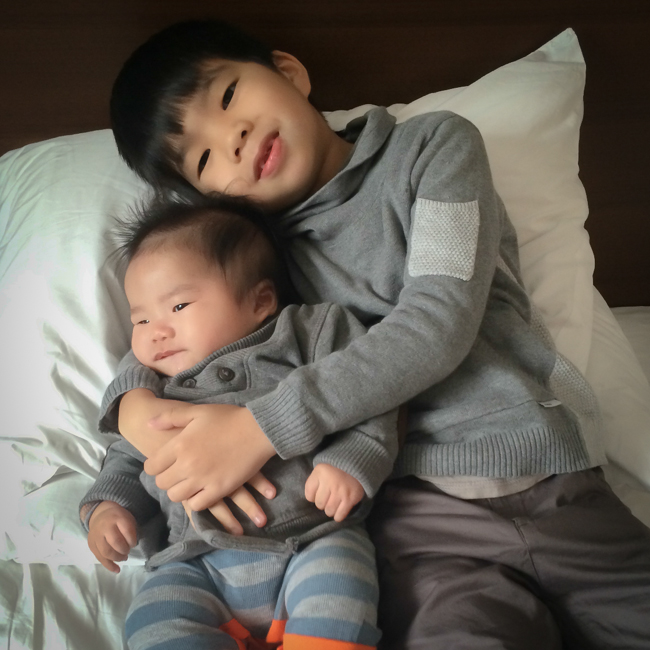 Shinjuku is bustling. All the time. There are malls everywhere: Takashimaya, Isetan, Lumines, Odakyu, and an 8-storey Tokyu Hands. We spent most of our time there browsing the shops and stopping at various eating places along the way. Speaking of food, the food in Tokyo was incredible.
If I had to sum up Tokyo in a sentence, it'd be SO MUCH GOOD FOOD AND SO LITTLE STOMACH SPACE. It seemed like for most of the trip, we were moving from one food place to another. It'd be SUSHI for breakfast, then DESSERTS!!, then COFFEE!!!, then MORE DESSERTS??!!, then RAMEN!, then YAKITORI, then I've lost track of the number of meals I've eaten and it's only 3 in the afternoon.
Also, Japanese are like Singaporeans in that they love to queue up for delicious food. We must have spent hours queuing up for food this trip. Some were so worth it, we were like "ZOMG HOW DOES ANYTHING THAT DELICIOUS EVEN EXIST??" coupled with high-pitched Japanese foodgasm proclamations like those you see on food programs. Other stuff were just ok and some were totally overrated but I guess that's all part of the fun. And the thing is, after you spend 45 minutes in a queue, it makes you a little crazy so you can't just order 1 portion of whatever it is you queued up for and walk away. You feel like you need to eat more to make up for all the queuing time so you order extra portions and eat till you can't breathe or think straight.
The best food we had in Shinjuku was this yakitori stall along Memory Lane.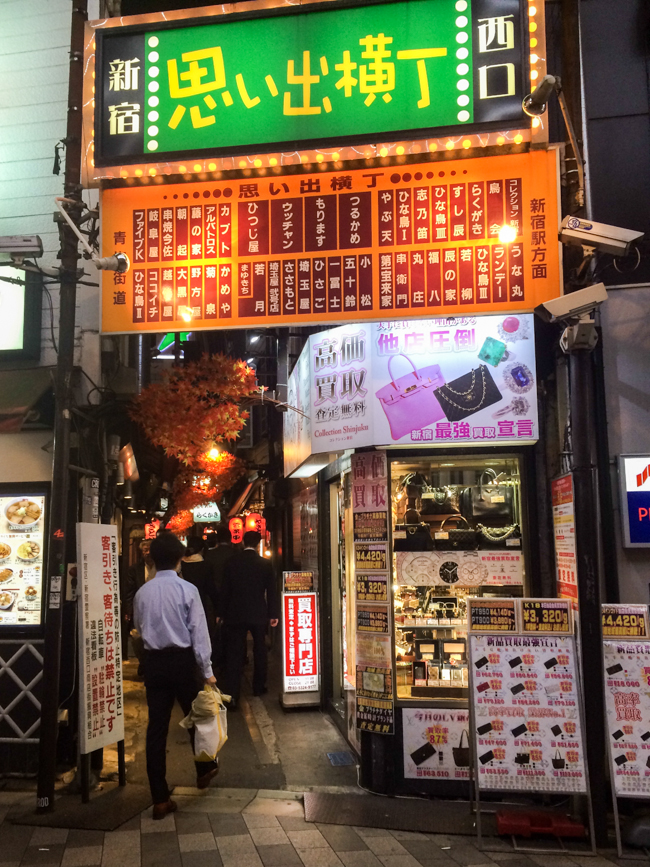 It's a tiny street filled with yakitori stalls and the delicious smell of meat on a grill. We settled on a stall with this sign. I guess you can't go wrong with a sign that says Best Yakitori Restaurant. And an English Menu? Take my money already.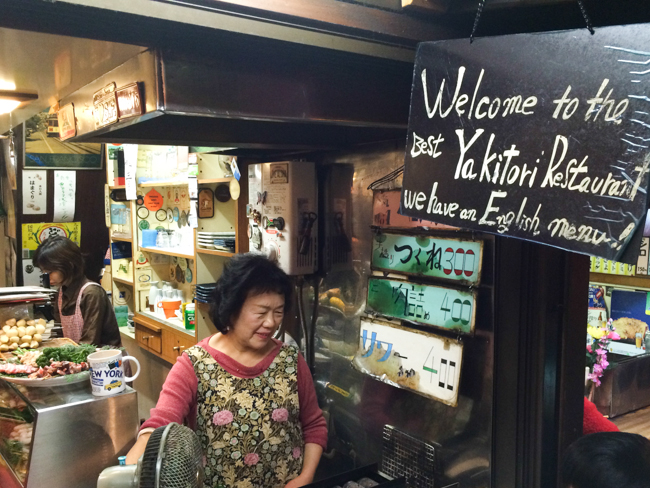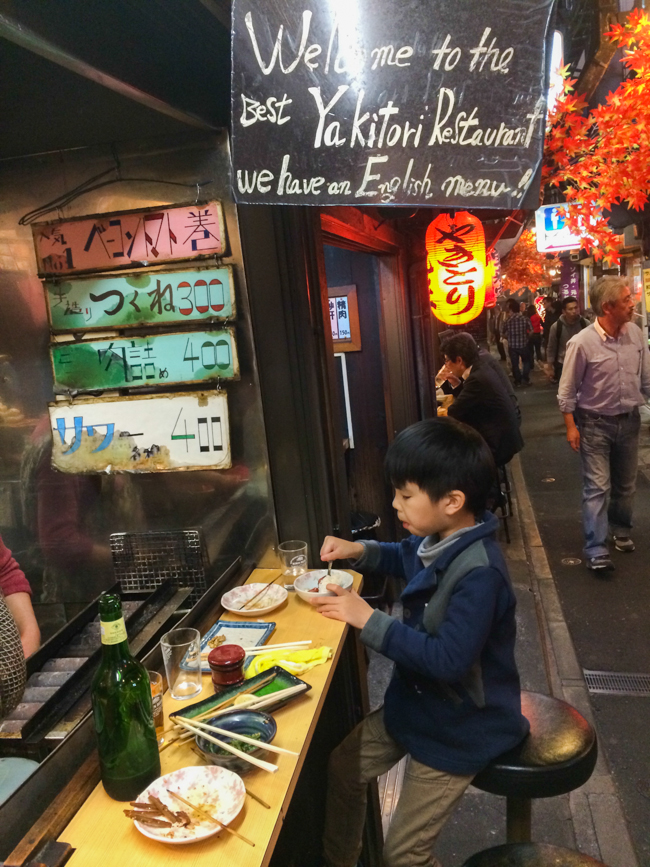 It's a no nonsense kind of yakitori place run by a super sweet little old Japanese lady. You choose your meat (or vegetables, if you're into that sort of thing) and she grills it right in front of you. It was delicious.
My two boys were so fascinated by the furious grilling action happening right in front of them.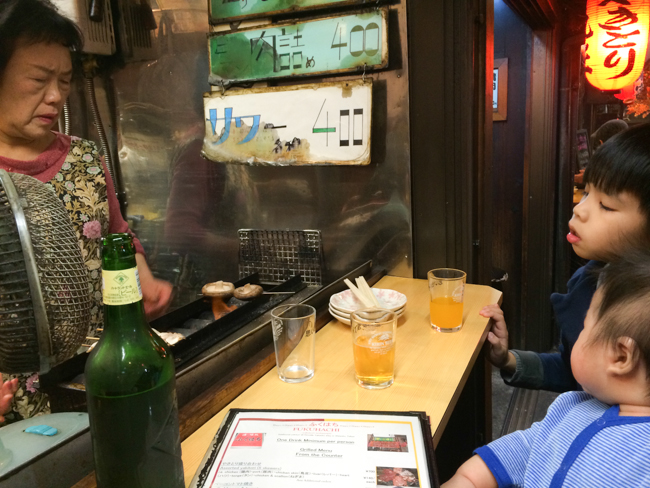 The shop lady was so sweet, she kept gesturing at Truett to eat his food and when she saw all the meat we were eating, she was horrified and gave us a complimentary plate of spinach. She was like "this is unacceptable, here, just take this vegetable and eat it, you don't even need to pay for it." Typically, I'd just pick at one strand of spinach to be polite but she was so motherly and she gestured at it several times so I was good and ate my vegetables.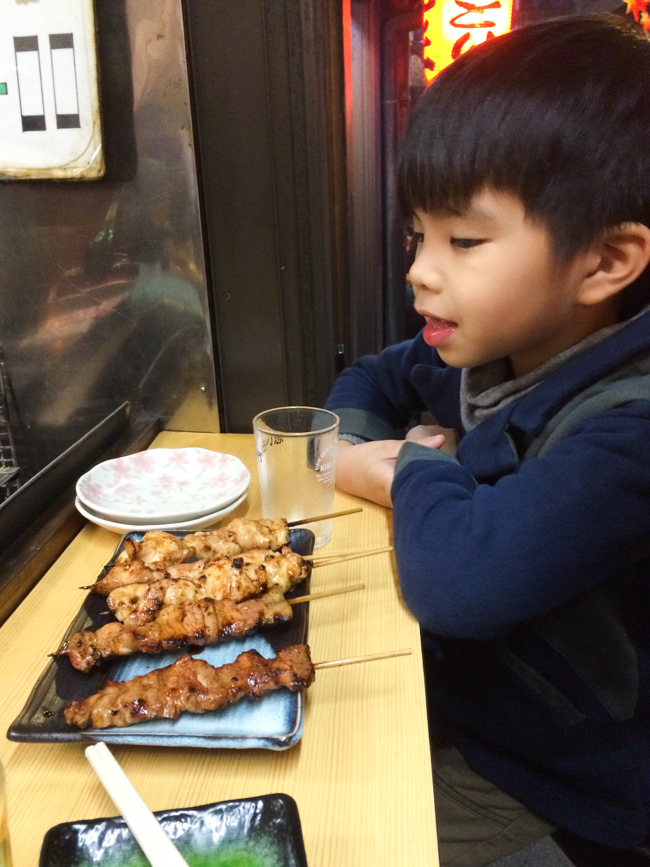 After that, it was only right to round off the night with desserts from a cafe at Lumines. We had a chocolate cake + tiramisu while Truett polished off a whole berry tart all on his own.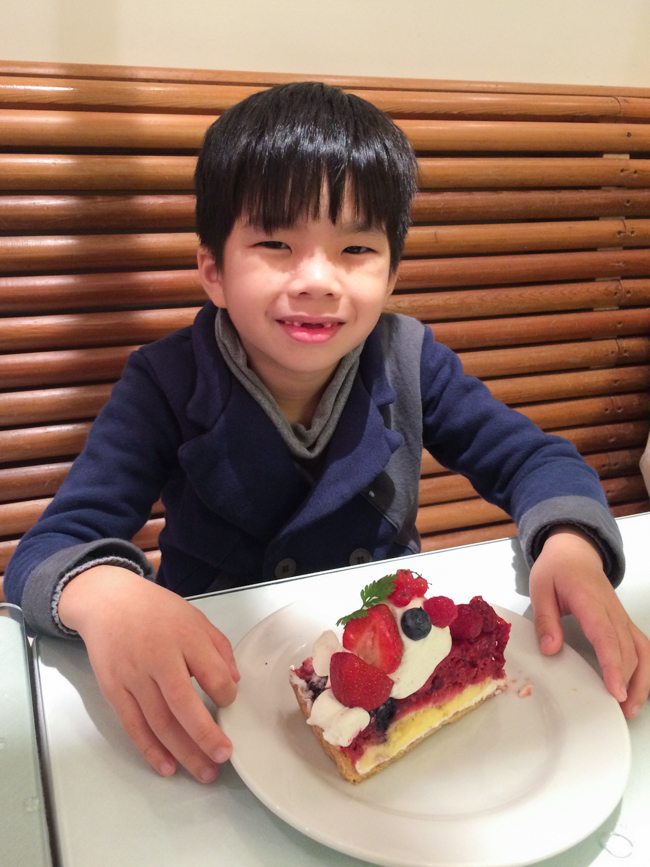 Exhaustion aside, day 1 in Tokyo was turning out to be quite excellent.
Next up, Harajuku and the rest of Tokyo!