Exciting news, y'all! I've been secretly pregnant and I'm thrilled to introduce our newest baby. Meet Child Label, my first real business baby. It's where you can get awesome labels for your child. Or yourself.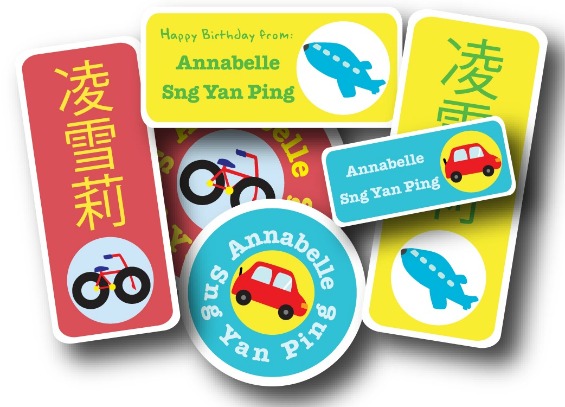 Starting a business is both scary and exciting. Scary because if it flops, it's basically an epic disaster and I'll have to feed my kids plain rice and water for several years. But also exciting at the same time because it's always been my dream to be the boss of me and have a fancy title like Big Boss.
It's also a lot like being pregnant. The past couple of months, we've been working real hard on this, coming up with the best designs, colors, copy and making sure the quality of the labels are the best we can find. And finally, it's like we're giving birth to a super cute, colorful and shiny new baby – which as far as babies go, are the best kind to have.
It all started way back when I wanted to get some customized name labels for Truett. Everything we found were too tacky, boring and of pretty bad quality. I wanted something that was simple, clean, yet gorgeous enough to turn heads. And of course, something that would last so I didn't have to get all frustrated scraping out sticker remnants after every few washes.
During this hunt, the idea for Child Label was born. Soon after, I found some insanely talented slave bunnies who got sold on the idea and we've been hard at work ever since.
We're starting small – with passionate worker bunnies, a bunch of incredible designs, and a whole lot of ideas to introduce in the months to come.
The journey up to this point has been incredible and we hope you'll love these labels as much as we do. Seriously, labeling is addictive and extremely contagious. Not to mention, very useful too.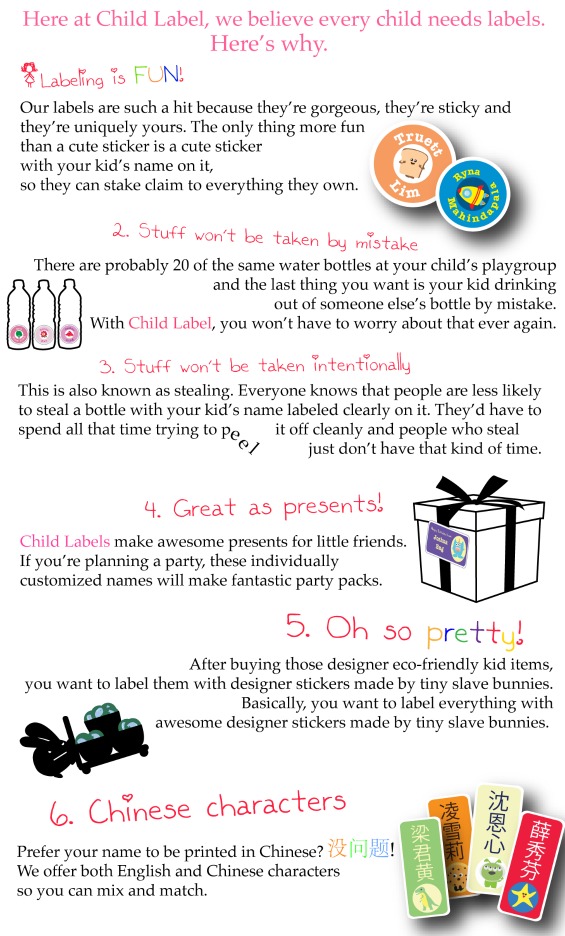 So stop by, shop a little and have fun browsing the designs.
As is customary, there'll be a giveaway. Come visit us on Facebook to select your favorite designs and leave a comment here on which design and size you would like to get. Contest ends on Sunday 26 June midnight and 3 winners will be selected randomly.
PS. Not necessary for the contest but do like our page on Facebook ok? Invite all your friends too!
Update: We have 3 winners! Congrats to Qiu Xian (#5), Kelly (#18) and Gina (#7). You'll be receiving an email shortly to confirm the designs and names to be printed. Thanks everyone for joining the contest.