It seems like Kirsten has grown up a lot this trip. The last time we were on holiday, she was still in her baby mode, but this time, she's behaving like a total big girl.
Like when we ran out of milk midway, she didn't fuss or have a meltdown like she normally would and just went, "It's ok, I can sleep without milk. Mommy will get milk for me when we go home right?" Or when we lost her duck (again), she borrowed one end of Tru's blanket and went right to sleep.
And then we realized that amidst all the travel and excitement, we totally forgot that it was her birthday on Friday.
We did throw her a rather massive combined birthday bash with Truett, so on Friday we gave her a hug, wished her Happy Birthday and it was more like "yay, congrats, you're finally 3!"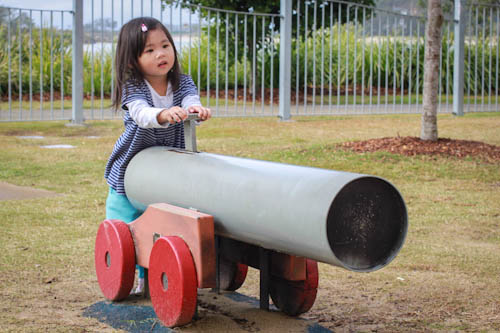 All this while, we've suspected that she's advanced for her age, but there was this babyness to her that made her seem so little at the same time.
Well, that babyness is almost totally gone now.
At 3 years old, she's incredibly comfortable mixing with bigger kids. When we were at one of the playgrounds in Gold Coast, there were a bunch of 8 to 10-year-olds at the slide and both her and Truett just fit right in, playing with them like friends. Before long, we realized that she was ordering them around, telling each one it was their turn to go down. Strangely, the bigger kids didn't seem to mind.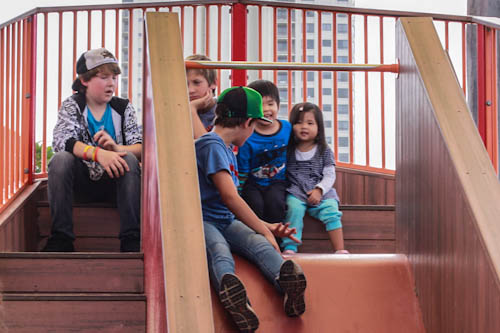 She's very expressive, which is something I hope never goes away. She dances in the street when she hears music, yells at the top of her lungs when she feels like it (she obviously got this from the husband) and goes "WOW THAT"S SO AWESOME" at stuff we often take for granted.
She's also exceedingly girly. If she could choose, she'd be walking around in an explosion of pinkness all the time. We saw a girl dressed in a glittery tutu skirt and Kirsten just stood and stared at her for a long time before exclaiming "I think that's a princess!" That sort of made me want to go right out to buy her a glittery tutu.
And the thing I love the most is how she makes us smile whenever we're upset or down. She'll make funny faces and laugh that infectious giggle, which is irresistible. People always say that kids are a bundle of joy and I guess that's what they mean.
I usually get a little nostalgic during their birthdays, but if this is any indication of what the rest of her third year will be like, I'm really looking forward to it.
Happy birthday, my princess!