For the first 6-8 months of a baby's life, they basically exist as these little blobs of blurness. I mean, zero stranger awareness kind of blur. As long as they get enough milk and sleep and cuddles, they're happy being passed around to all manner of unknown persons.
Until one day, they're suddenly like "Hey, wait a minute, not all of these adult people are the same. This one looks funny and that one has crazy eyes. What was I thinking allowing all these strange people to hold me? This has to end."
Enter separation anxiety.
Also known as "THIS IS MY HUMAN AND I WILL STICK TO HER FOREVER AND EVER."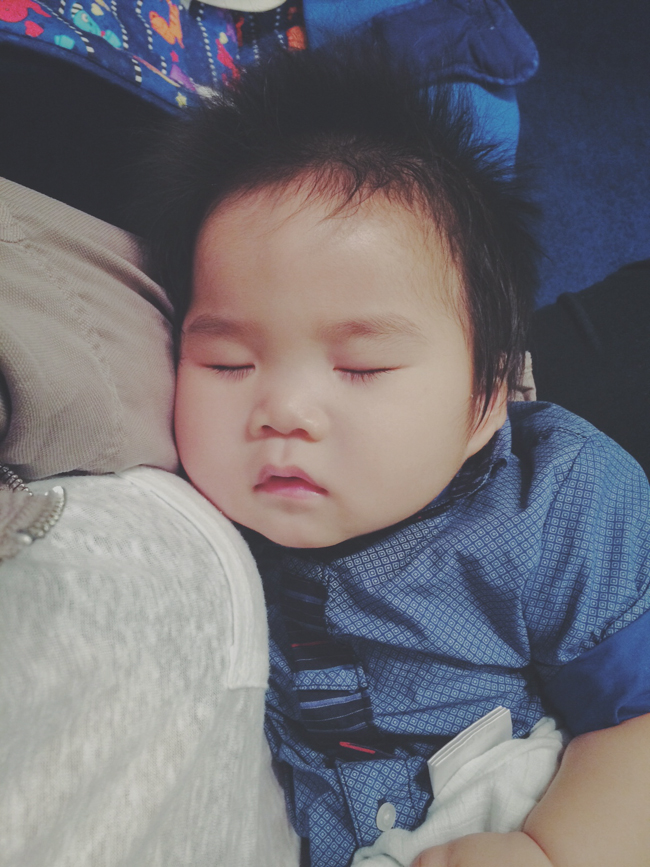 Presently, this baby needs to be attached to at least one of my body parts all day, every day. Even when he sleeps, he needs to be touching my arm/face/side at all times, so if he wakes up in his own cot and realises that I'm not there, he acts like he's been abandoned and about to be eaten by wolves. I tried telling him that if there were hungry wolves lurking around, he would have picked the wrong human because I'm completely useless against wolves. There isn't much I can do except maybe delay the inevitable by offering myself up as food first. In such a scenario, one should always pick Liam Neeson as your chosen human. But does he listen? No.
Also, it's not sufficient that I'm holding him at all times. I have to be holding him the right way, which involves having as much surface area in contact with me as possible. He'll smoosh his chubby little arms and thighs and torso tightly against my side for maximum contact, like he's my koala and I'm his eucalyptus tree.
And when he does finally allow me to put him down, he's on high alert mode, eyeballing me to make sure I don't bolt. Exactly like this.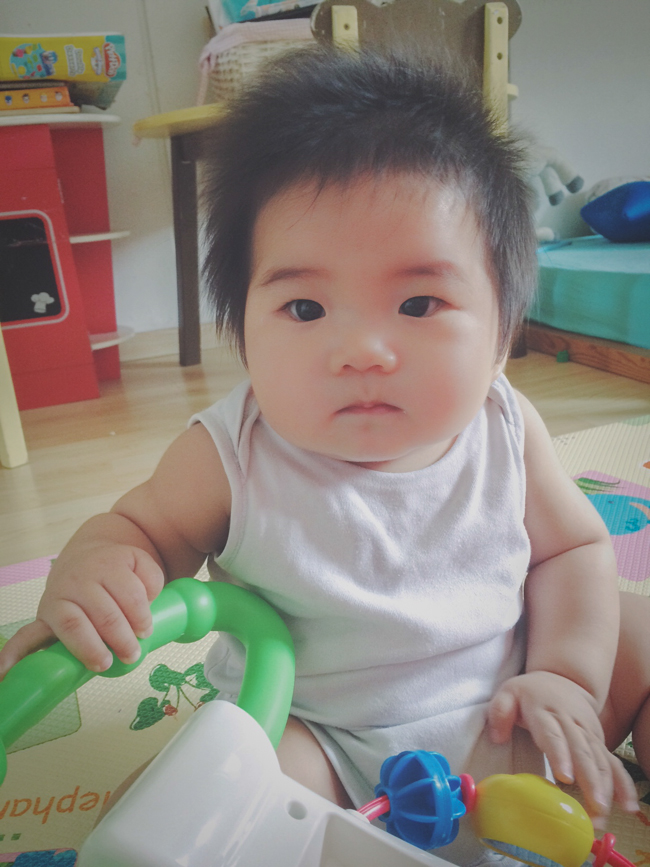 This phase of separation anxiety has been a whole world of fun. And I don't mean this sarcastically, like one does with invisible air quote fingers. Strangely, I've actually really enjoyed it, having this squishy little lamb chops attached to me all the time, excessive clinginess and all.
I suppose it's one of the perks of having done this 4 times – knowing that this phase will end eventually and knowing how much I'm going to miss it when it's over.
And the best part? Knowing that underneath it all, it's just my baby saying "Of all the humans in all the world, I like you the most."