10 months is a game changer and I'll say it now that I have a love hate relationship with 10 months.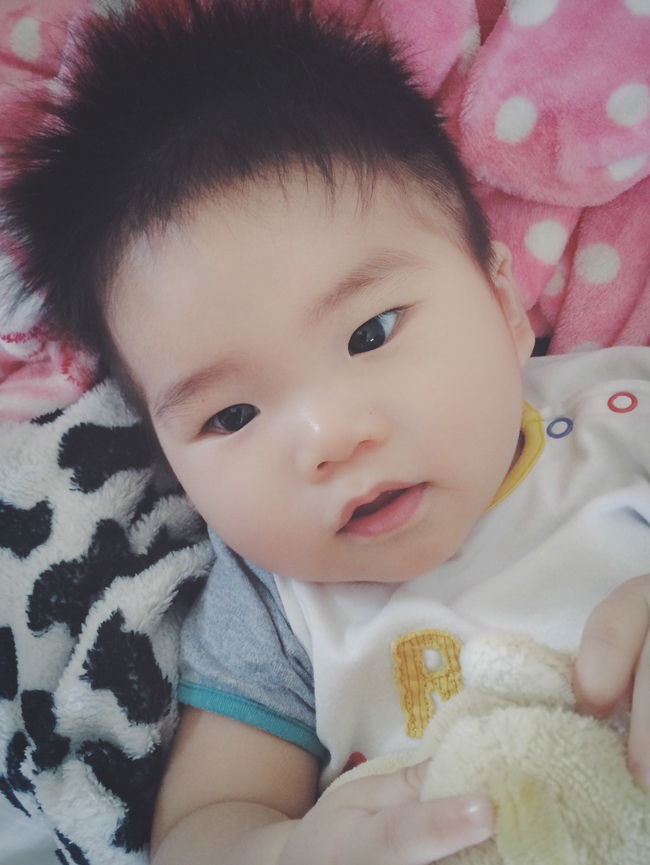 Right off the bat, 10 months is all about toothy grins (five teeth now. FIVE!!) and cheeky faces. I like a reasonable amount of cheek just as much as the next girl but what I'd like to know is what has become of my squishy milk-drunk little lamb who would doze off contentedly in my arms?
GONE, that's what. 10 months just wants to play all the time.
This morning's nap time was spent doing the opposite of napping because for a full hour, this face.
This face is all play and no naps. This face knows that it's irresistible.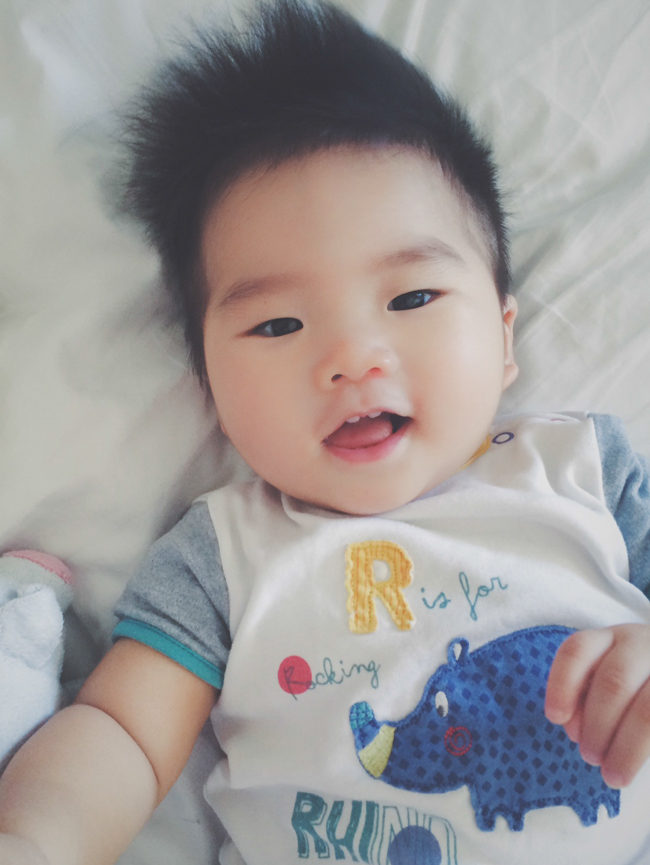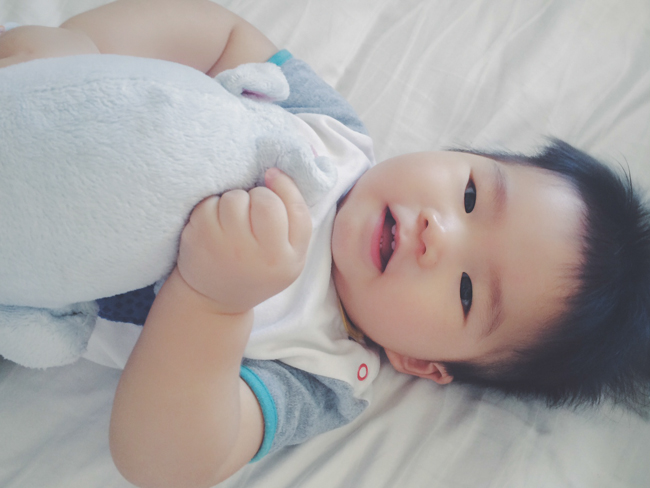 As a by product, 10 months is also the decline of chubbiness. He's no longer mainlining milk without restraint because he knows that there's so much more to the world than boring milk. All this milk time must be put to better use! Consequently, what has become of my pudgy little panda with delicious thigh rolls?
Also GONE.
Now I'm here helplessly watching all these lovely baby fats give way to baby muscles and I'll have you know that I cannot stand for this nonsense.
I just performed my detailed thigh munching analysis and he's presently in the unacceptable range of moderately chubby. UNACCEPTABLE.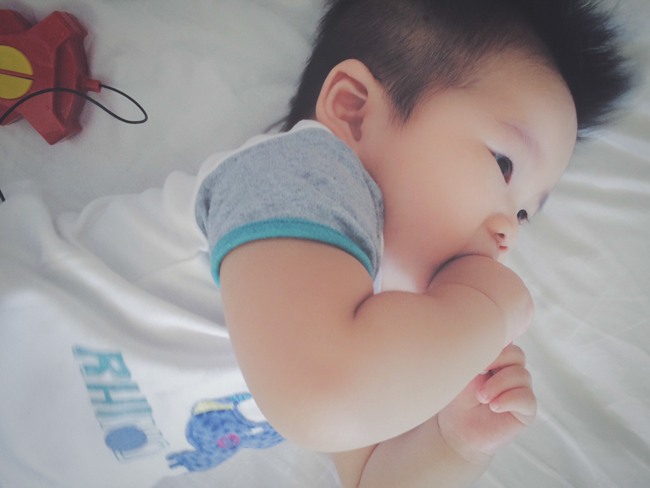 10 months can't stop movin'.
Sit here quietly when there's a whole world to explore? No, thank you. Along with the newly discovered territory comes a whole lot of bumps and bruises and he's wearing them like a badge of honour. Boys!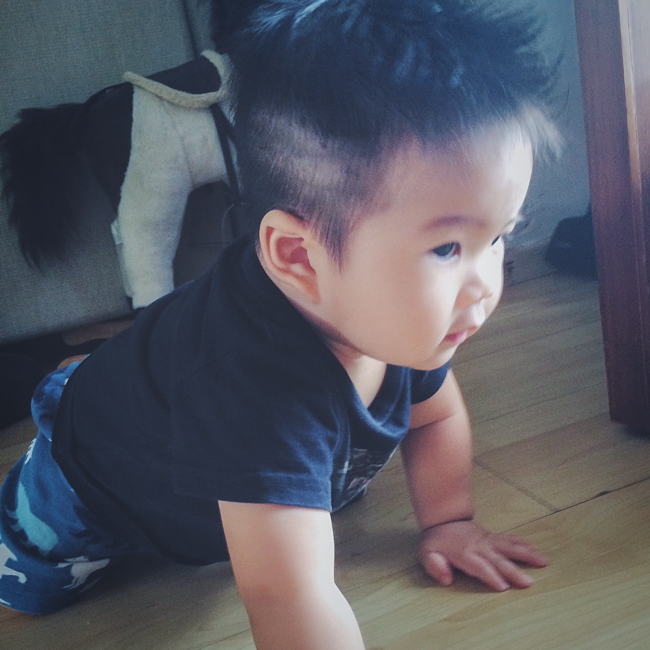 But 10 months also has its perks and I'm shan't pretend like I'm not enjoying them immensely.
Remember all those rough nights when Theo was a newborn? I do. Struggling to breastfeed, jaundice, gassiness, unexplainable fussiness, crying for hours through the night…it was like being on an awkward first date. 10 months worth of dates later and now we're deep in the sappy head over heels, googly-eyes, lovey dovey stage.
10 months knows how to say momma.
10 months knows what he wants. Life with an infant is like playing an elaborate game of charades, except the person doing the charading is drunk and has zero motor skill function. Do you want milk? Is your diaper full? Do you want to go for a walk? Play toys? Should I hold you and boogie down to uptown funk? So hard to tell. It is so much easier to be with a guy who knows what he wants.
10 months knows how to have a good time. He flashes a goofy grin and his eyes get all twinkly and I know some mischief is about to be had. You know what they say about boys who know how to show you a good time – definite keepers.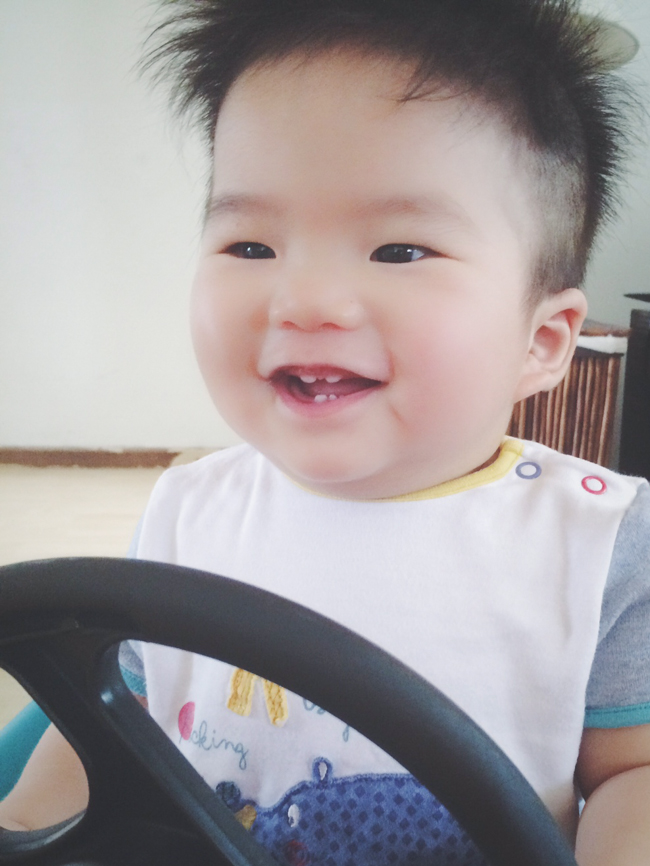 On second thoughts, 10 months is a bit of a heart stealer.