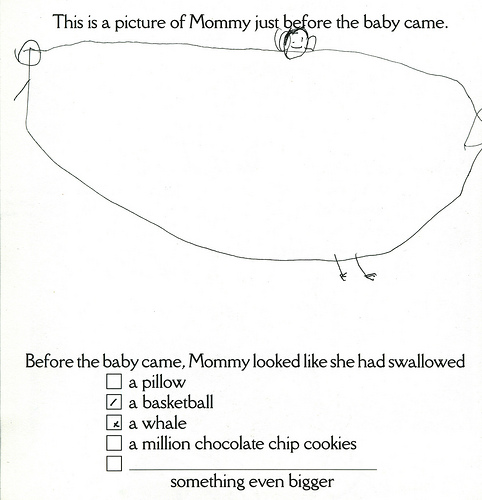 I think my son is struggling with the concept of my second pregnancy. For a 12-month-old, he's already way ahead of the pack in terms of intelligence, but this is something he's still trying to wrap his head around. Ever since I found out that Kirsten was on the way, I've been indoctrinating him in hope that he'll be prepared for her arrival.
The first few months, I'd point to my belly and tell him that baby Kirsten was inside, and he would giggle and beat my belly like a drum as if it was some sort of game. I think it was because I looked pretty much the same, so he was blissfully unaware that in a couple of months, he'll have to share his mommy with another sibling. Or perhaps he was really smart and the violence was premeditated.
But recently, with my stomach growing to the size of Texas, he's starting to understand that there's something fishy going on in there. These days, I'd ask him "Where's baby Kirsten?" and he would nestle his head on my belly, which is the sweetest, most heartwarming thing in the world.
The first time he did it, I almost started bawling at how incredibly picture perfect it was. That definitely made it to the list of "Most Awesome Mommy Moments Ever".
I'm hoping that he actually knows that there's a baby inside. Then again, he could be thinking that there are a million chocolate chip cookies inside, which could also explain why he's hugging my belly so lovingly.
I wouldn't be surprised either way.