There's this thing I like to do when the kids step out of the shower. I call it the wormlet. Well, because they get wrapped up nice and tight and wriggly like a teensy weensy little baby worm.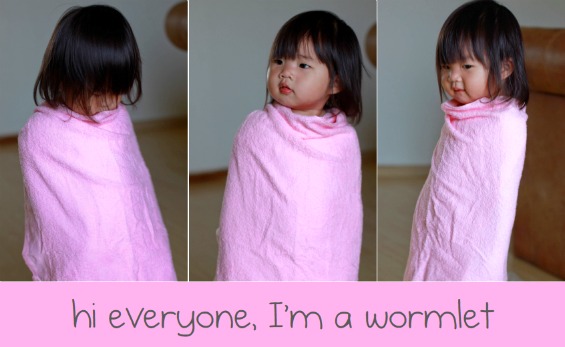 The benefits of the wormlet are manifold. They stay warm so they don't catch a cold. They stay snug so I don't have to chase their flailing naked bottom around the house. They are held captive so I get to munch on those baby cheeks twice a day. Also, come on, do I need to tell you how cute this looks?
But then my friend, Sean has been telling us for months that the wormlet is a bad, bad idea. It's an accident waiting to happen because should they trip and fall, they can't use their hands to break the fall and will fall flat on their face. Apparently he knows this because it happened to him as a child and that's how he split his chin open.
Except I was all "my kids have exceptional balance and besides, the walk from the bathroom to the bedroom is like 20 steps tops. That's practically fall-proof."
I obviously didn't factor in the fact that I'm an accident magnet and anyone who's got my genes is pretty much doomed.
And this is where I tell you that baby girl had a nasty fall while doing the wormlet and split open her bottom lip. Thankfully it wasn't her chin and thankfully she didn't need stitches. She does however, have a battle scar in the form of a ginormous ulcer that she now wears like a badge of honor.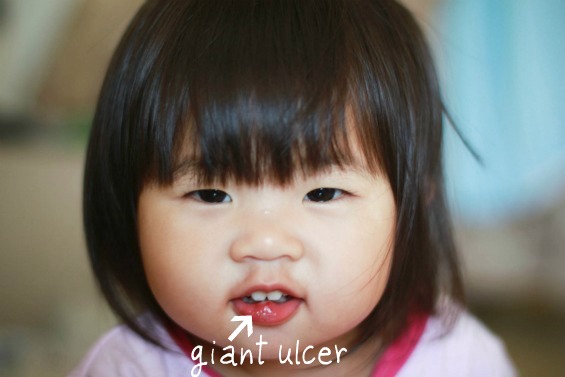 Which means that she's basically gets whatever she wants for the next few days because she's got +100 I-told-you-so points after mommy made her fall on her face.
Kirsten: Mommy can I have gummies/ice-cream/yoghurt/lollipop/juice/french fries?
Me: After lunch, baby.
Kirsten: See, my lip pain pain.
Me: Ok ok, fine. I guess you can have some now. *sigh*