Look who turned 8 last week.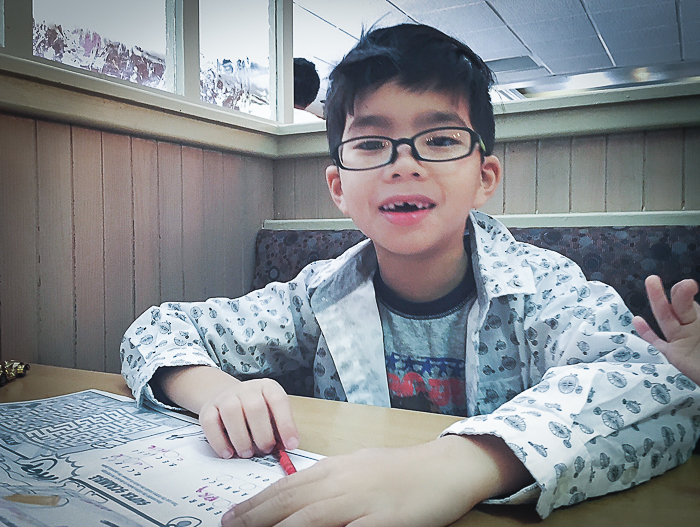 It's still taking a while to sink in, that I'm the mom of an 8-year-old. I'm not ready for this, I need time to process this information.
I mean, I've got babies all figured out. They're intense but all they need is milk and sleep and cuddles. I know toddlers too. They need milk and sleep and cuddles and playtime.
But an 8-year-old, that's unchartered territory. It's all new to me, figuring out when to be a mom and when to be a friend, a confidante. When to just hear them out without judgement and when to offer sagely advice. When to shelter them and when to let them go even if it means they might get hurt. Making decisions that will shape them into the kind of grown up people we hope they'll become.
On that note, it's getting harder to phone it in, or to get away with the little parenting inconsistencies that toddlers will give you a free pass for. Big kids, they're sharp. They'll notice when you say one thing and do another. They'll question every decision you make and point out when you're not being fair. They'll spot every flaw and call you out on every parenting misstep because now, they know.
I think I'm getting better at this though, and it's largely because I've had Truett as my big kid to figure all this out with.
***
If you're wondering, here's what 8 looks like:
//The most delightful conversations about all of our favourite things. Books, movies, music, babies…
The other day, he said "I didn't know that watching babies is such hard work. Sometimes, I spend 10 minutes with them and it's like 10 hours." I laughed for a long time.
//Truett has turned out to be such a voracious reader. This boy loves books and I love introducing them to him. Recently, he's been into Tintin and now I have someone who gets me when I say "Blistering barnacles!!"
//He's still bringing the hugs and kisses, even when we're out. I can't tell you how glad I am about this.
//Tru really likes surprises. Which also means that he loves giving them out. Last week, he made me a coupon booklet with very cool vouchers for stuff like "1 hour of babysitting" and "20 hugs" and "a head massage". I asked him what the occasion was and he said it's a surprise just because.
//This doesn't happen very often but on the rare occasion that I get to tuck him into bed, he still holds my hand till he falls asleep. :)
//A super star sub on Team Too Many Babies. Part of the reason why we have so many babies is because the big kids have been incredible babysitters and they make my job so much easier.
Happy birthday, Truett! You really are my rockstar.