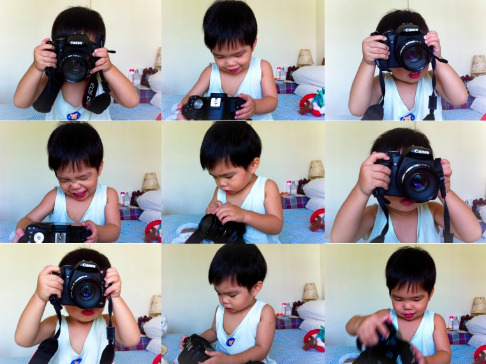 I was messing around with the camera as usual when Tru started insisting that he wanted to take photos as well. Of course I told him he was too young and he didn't know how and the camera was only for adults. Then he had to go and ask me nicely like "Mommy can I have the camera please, please? Truett take pictures!" So to prove my point, I put him on the bed and strapped him up and said "See, Truett doesn't know how" and to prove his point, he located the shutter button, brought the DSLR up to he eyes and started snapping.
Ok so the pictures looked real artistic, with a horrendous close up of my arm and half an eye but he was all like "SEE TRUETT TAKE PICTURES OF MOMMY!" I should have known better than to tell him he didn't know how to do something. He is my boy after all.
Oh and in case you're wondering, I took the photos of him taking photos of me with my iPhone 4.