I know very little about Japanese customs and festivals but I do have a soft spot for Japanese food (because a. how can anything be that tasty?? and with b. now that my appetite has returned somewhat, this baby has been giving me terrible cravings for sashimi, ramen and that delicious charcoal grill thing) so it was very interesting to find out about Hinamatsuri, a Japanese Dolls Festival.
Held on 3 March, Hinamatsuri is a day celebrating daughters' good health and happiness in the family, to show the love and blessing from mothers to their daughters and strengthening the mother-daughter bond. Japanese families put up the Hina Kazuri (a tiered doll display) and girls dress up in their prettiest kimonos. It's basically a really fun all girl dress up party, plus there are dolls!
Head on over to find out more about Hinamatsuri.
I really, really love the idea, I mean, with all the testosterone overdrive going on at home, any day to celebrate girls is pretty special.
Returning for the second consecutive year, Liang Court celebrates the tradition of Hinamatsuri with a series of super fun workshops, events and gifts.
Last Saturday was a designated girls day where Kirsten and I had a special mother-daughter bonding session learning how to make bentos with Little Miss Bento at Liang Court's Level 2 Kids' Corner. Kirsten was so terribly excited and she was so into the whole thing.
She said she was going to make it as a special treat for her brothers and they were all going to share it since they didn't get to come along. How did I luck out with the sweetest little girl in the world?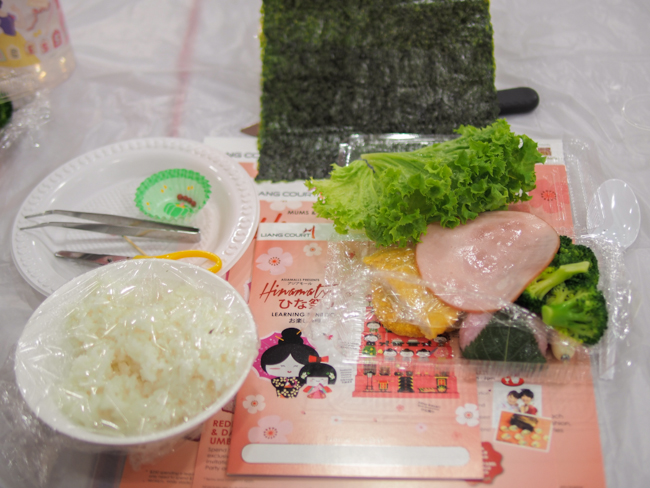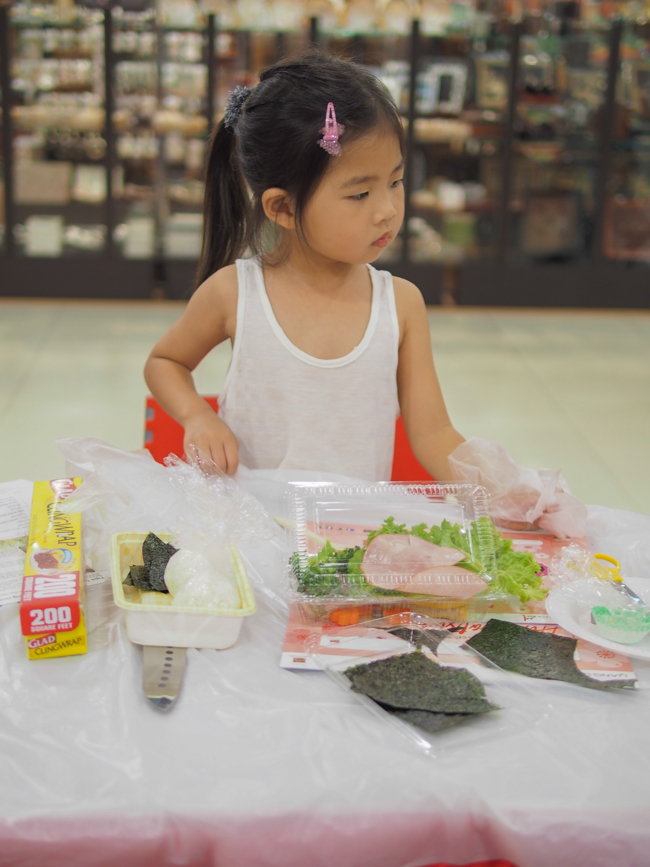 Looking at all the ingredients and utensils laid out on the table, it did seem a little daunting at first but Shirley, the bento shifu took us through the whole process step by step. Broken down into tiny, manageable steps, it was easy enough even for Kirsten to do most of the steps herself.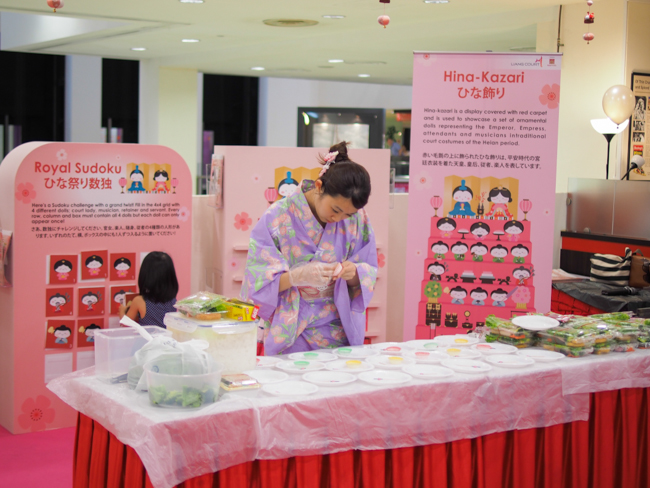 Et voilà! How cute is this? Kirsten managed to make a ball of rice look like her – that is so cute I can't even urgh…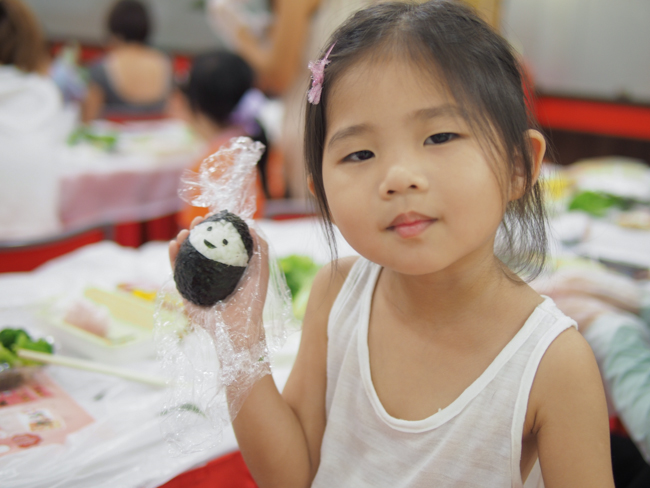 And this is our masterpiece at the end of the session. I'm starting to see why bentos are so popular. It makes me want to eat up every last piece of broccoli in there.
I could tell that my little girl was so proud of what she made because she packed it up and held it carefully like a treasured possession all the way home to present it to Truett and Finn. Baby Finn took a bite of the carrot and spat it out so it was left to Truett and Kirsten to finish the whole box, which they totally did. It was so cute to see them holding the lumps of rice with both hands and eating it like little hamsters.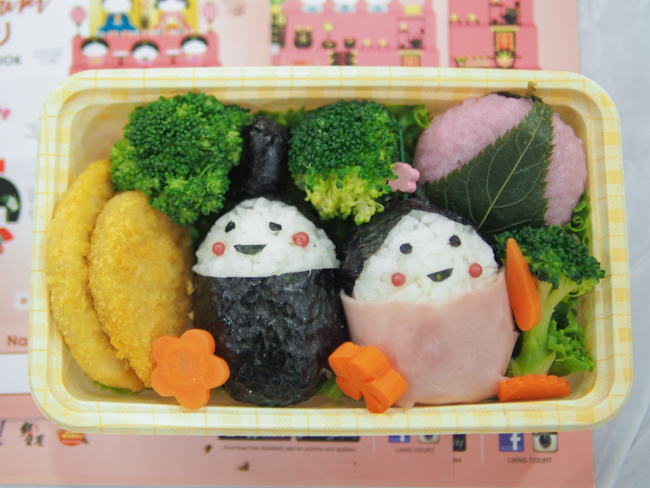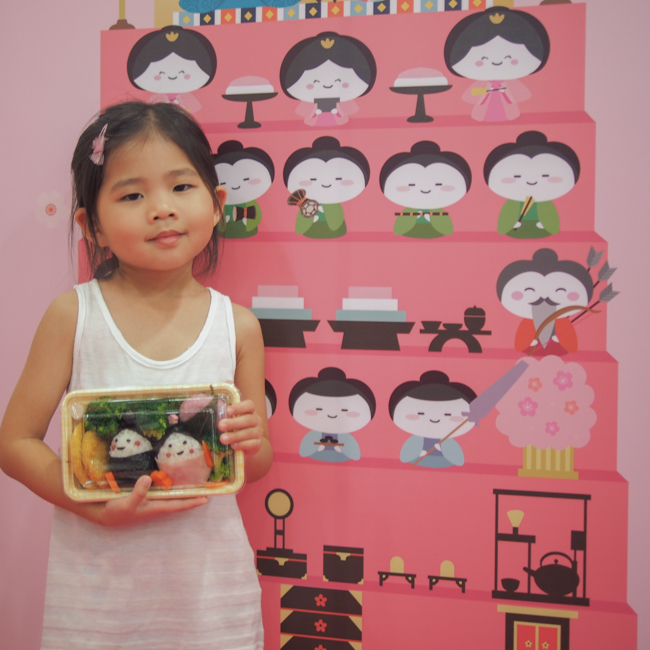 On a side note, turns out that the Shirley, aka Little Miss Bento, is an old friend from way back in university (what are the odds?) and it was a nice surprise to be able to catch up after the session.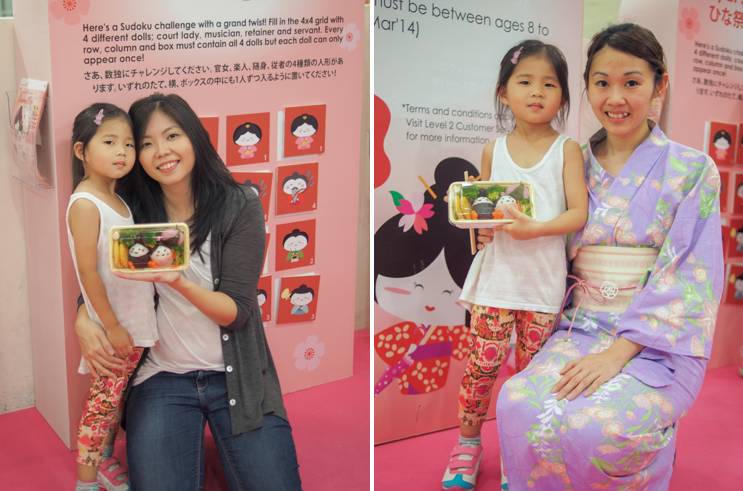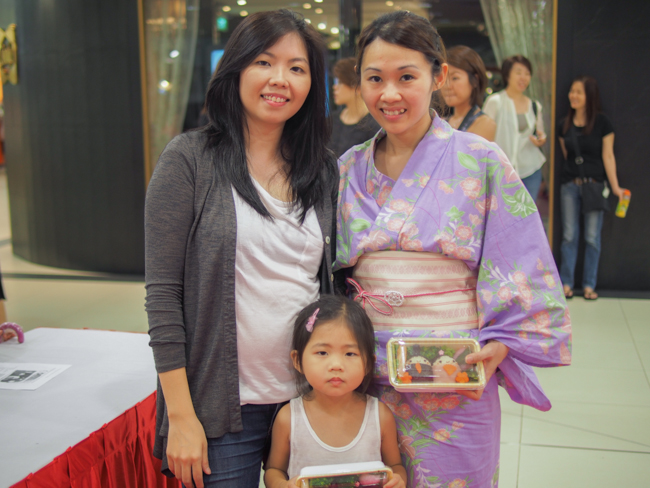 Hinamatsuri celebrations will continue at Liang Court till next weekend. Come next Saturday, 1 March, there will be Liang Court's first-ever "Most look Alike Mother and Daughter Dress up" contest, where 30 pairs of Mothers and Daughters will contest for a chance to be crowned "The Most Creative", "The Most Talented", and "The Most Matching Outfits". That's going to be so much fun.
On Sunday, 2 March, the celebrations will culminate in an "All Girls Party", an educational and cultural experience for all shoppers and party guests with traditional Hinamatsuri games such as "Kaiawase" a matching game using clamshells, a Yukata instant photo flipbook booth, and flea market booths selling fashion accessories.
Spend $150* (from 14 Feb to 2 Mar, 1.30pm) to redeem an invitation card# to the "All Girls Party". Enjoy performances, traditional Hinamatsuri food and receive a free goodie bag. Walk in shoppers are required to purchase an "All Girls Party Carnival Coupon at $15 each. Limited to the first 150 shoppers only.