Kirsten turned 7 last week. :)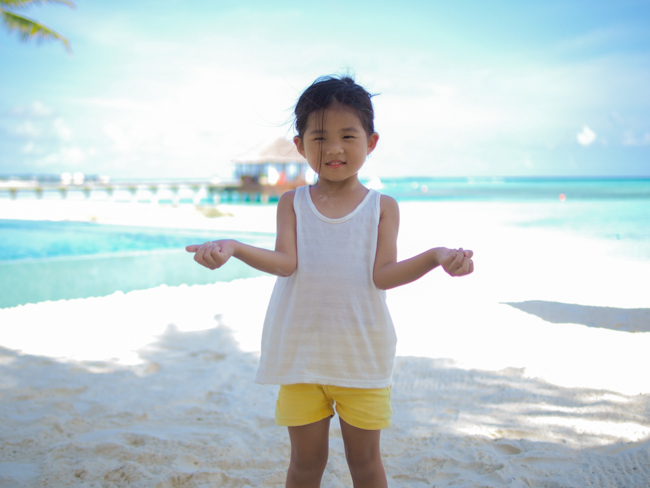 When I had this baby 7 years ago, I didn't realise how much better my life would be with her in it. I suppose all parents are obliged to think that their kids are pretty rad, but in this case, I happen to have one of those kids whose radness, is in fact, out of this world.
Have I already mentioned that I really really really like this girl?
So Truett and Finn love surprises for their birthdays and we'll usually surprise them with secret presents that we've picked out and wrapped. Kirsten, like me, prefers to know exactly what she's getting and also have a say in picking it out, so this year, I asked her what she'd like to have.
"Actually you don't have to get me anything because I've already got the best present…baby Hayley!!"
And she meant it too (even though we also got her an extra present in the form of a sparkly pen set).
She's been so thrilled by the arrival of baby Hayley that not a day goes by without her fussing over her baby all day. I often forget that she's 7 because she handles the baby like a pro – far better than most adults do. You know how when you get your kids to handle small babies, it's mostly perfunctory and they're not really helping because you have to supervise both kids to make sure none of them gets hurt. Kirsten so good at it that I can count on her to watch the baby when I have to attend to any of the other kids urgently. She'll cradle Hayley with one arm and shush her gently while patting her head and walking around. Pro level = very impressive.
All day, she'll be all "Can I carry her, please please please pleeeease???" and I'll be like "WHY YES! Here, take the baby!!"
One of the best scenes in the final season of The Good Wife was when Eli Gold turned to his daughter, Marissa (who had done something quite spectacular), and said, "Now I get why people have children. So that they can admire themselves in someone else."
This is how I feel with Kirsten sometimes. One of the unexpected joys of parenthood is when you see the best parts of yourself in another human being, and you know that they're going to be even more awesome when they grow up.
Speaking of, we were talking about babies one time and Kirsten told me that she was planning to have 10 kids when she grows up.
"10??!! You know that's insane right?" I told her.
"I know. But I can do it and I'll have so many babies to snuggle all day."
She's right though. If anyone can pull off having 10 babies, it's probably gonna be her. And no pressure here, but if that happens, I'll be the happiest grandma on the block. The husband says it's not normal for people to dream of being a grandparent when they've just had a newborn and I told him that we're here having our 5th kid – we've been done with normal 3 kids ago. Besides, the next best thing to having your own baby is having your babies have more babies when they grow up.
In the meantime, I'm just really glad to have this girl as my baby.