I suspect deep down inside, Kirsten thinks that she's the supreme emperor princess of the universe. Not the kind that just sits around having grapes fed to her but the really hands on sort. The sort that tells everyone exactly what they should be doing and how they should be doing it.
I don't know where she got it from (certainly not me) but it is apparent that this girl of mine loves to get her bossy on. And it's so much more effective because she looks so small and unassuming but then BAM, she unleashes her boss attack.
People usually don't believe it until they see her in action.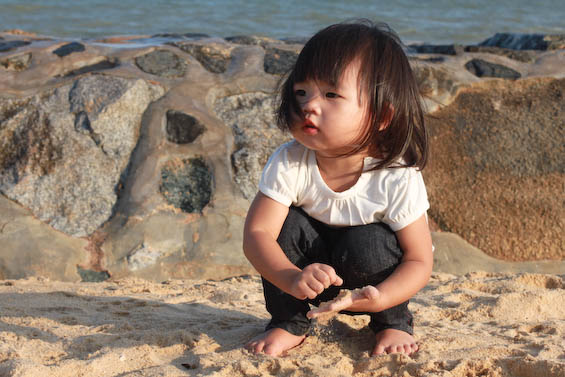 Tru: Mommy can we go to the playground?
Kirsten: CANNOT! Kor kor you cannot go playground ok!
Tru: I'm talking to mommy. Mommy can we go playground?
Kirsten: *sighs heavily* Haiyah, ok fine fine fine. Come I bring you to the playground.
***
Kirsten: Duck duck, come here!
Kirsten: Duck duck, where are you? I said COME HERE!
Me: Sweetie, you have to go find your duck, she can't *come here*.
Kirsten: Duck duck, you are very naughty, I angry you. ANGRY.
***
Tru: Mei mei, you want a gummy?
Kirsten: No, not now. After your dinner then you can eat gummy.
Tru: Can, we can eat one gummy now then after dinner we can have some more.
Kirsten: You listen to me, I said only after dinner. If not you go naughty corner.
***
Kirsten: Daddy, I want milk.
Me: Ok, I'll make milk for you.
Kirsten: No you cannot make. Daddy must make.
Me: What do you mean I cannot make? I can make your milk anytime I want.
Kirsten: Mommy you cannot make my milk, you need to hug me.
Me: Nice move, young lady. Very smooth. Fine, I will hug you but only because I want to.
***
Occasionally, she even bosses herself around, which was slightly alarming when it first happened but then I realized that I used to talk to myself all the time so I guess this sort of behavior is fairly normal for my kid.
Kirsten: Can I blow bubbles?
Kirsten (alter ego): Saturday you can go. You want to go on Saturday, yes?
Kirsten: Yes, Saturday we can go.
Me: Ok great, it's like I don't even have to talk anymore.
***
PS. I'm giving away one Let's Rock! Elmo toy on the Mother, Inc Facebook page. This is one badass rockin' Elmo that you want to get for your kid (or yourself), so head on over to join.