Truett is off for a 6-day adventure in Taiwan with my mom and I'm already missing him to bits.
But based on a a little conversation I overheard last night, it seems like the one who misses him the most is his best friend/baby sister.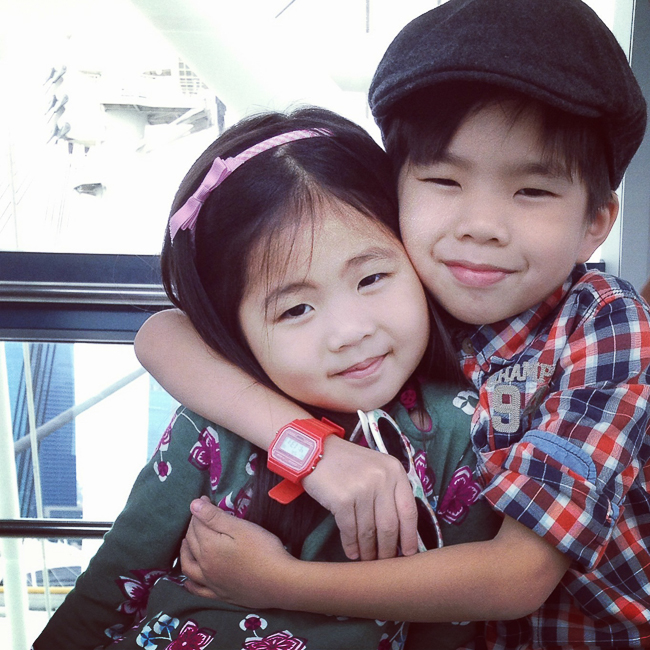 Kirsten: Kor kor, when you go to Taiwan, will you forget me?
Truett: Of course not! How can I ever forget about you? Anyway, it's just 6 days, not forever.
Kirsten: 6 days is SO LONG! And you'll be too busy having so much fun…and eating ice cream…and going playgrounds. I'll be so bored when you're not here, y'know!
Truett: Don't worry, I'll think of you all the time, that way I won't forget you ok.
Kirsten: Ok, I hope you'll come back soon, like tomorrow.
Truett: What? Tomorrow is too short! I'll be in Taiwan until next week but I'll bring back something super special for you, you like Frozen right? I'll ask grandma to find an Elsa dress or something.
Kirsten: *squeals and goes in for a giant hug* I'm going to hug you all night and never let you go!
***
This morning, she woke up all teary-eyed and her first words were "IS KOR KOR GONE? I DIDN'T GET A CHANCE TO SAY GOODBYE TO HIM!"
To cheer her up, I brought her out for a surprise outing to watch Mr Peabody and Sherman after school and when we were done, she said "That was great! Promise me you'll bring kor kor to watch this when he comes back, he will love it so much."
I'm so glad they have each other.