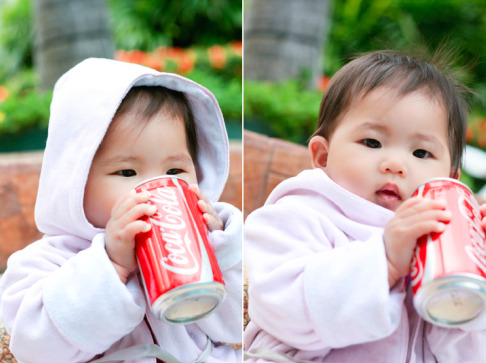 Have I told you about the time I brought Kirsten to the pool and halfway through she saw my can of coke sitting on the table and insisted that she NEEDED to drink it? Being a responsible parent and all, I said no obviously, because it's filled with sugar and bad stuff for kids.
But then I once used coke to remove rust so maybe it means that it will remove bad stuff from your system so we should all have more coke. I'm not sure which. I'm going with the second one.
Anyway, so she put on her jedi robe and used the force to take it when I was not looking, which is kind of like taking it by force if you think about it. And I figured, the last guy to mess with young jedi powers got all his limbs sliced off and had to wear a life support system and breathe like someone who chain-smoked for 40 years.
If you must know, the story ends with me chickening out and giving her the coke. Only thing is, she hasn't reached the advanced jedi level of learning how to open the can with the force so she spent the next 15 minutes prying it open with all of her 4 teeth and pudgy fingers while I sat beside her and gloated.
You know what this means though. I'm not sending her for jedi classes anymore.
Happy Monday, y'all.