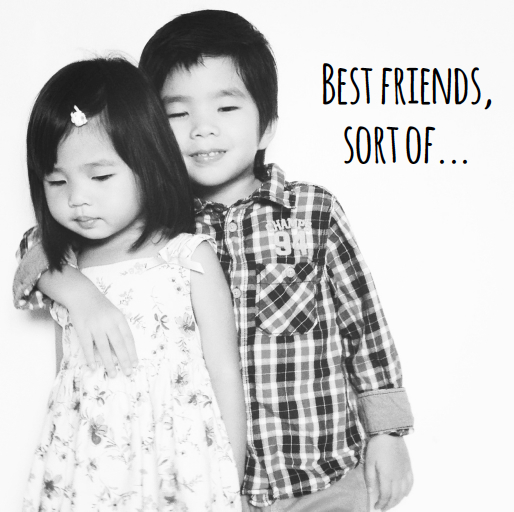 We've always known that Kirsten is a little firecracker but she seems to have gotten a little bit more fiery of late.
The husband rolls his eyes all the way back into his head whenever I sigh and say "I have no idea where she gets that from." I have no idea why he does that either, seeing how my disposition is so sunshine and rainbows. There's the occasional cyclonic thunderstorm but those are pretty rare. Besides, I got that from my daddy, who was a firm believer in grabbing life by the horns and giving it a proper smacking when life was being an ass.
Wait, this hereditary argument is not quite working for me here.
Okay, so it seems like I might have contributed a little to her feistiness but this girl has really taken it to the next level.
Her temper is the screamy kind and she's very vocal about her displeasure. Like this one time, both the kids were talking at me so I kinda stoned out and Truett raised his voice to get my attention and Kirsten started yelling, like "WHY ARE YOU SHOUTING AT ME?? YOU DON'T SHOUT AT MY EAR OKAY!!!" Oh, the irony.
"First of all, Truett wasn't shouting at you and it doesn't warrant the screaming. I need you to apologize," I told her firmly.
"Sorry kor kor."
On that note, I have to say that Truett is often both the cause and object of her wrath. He intentionally antagonizes her by saying things like "You are shorter than me so I will call you shorty" just to drive her insane.
"No, I'm not shorty. I'm a big girl now."
"But I'm taller. See, my head is higher than yours," he says while standing on tippy toes for added emphasis.
"I'm tall just like you."
"No, you're short, so you have to be shorty. Ok, shorty."
"NOOOOOO DON'T CALL ME THAT!!! *cue whiny, hypersonic meltdown*
I think this sort of behavior stems from the dumbass, masochistic part of his male psyche. Which is also evidently hereditary because the husband also suffers from the same condition. But to his credit, Truett does take her outbursts in stride and he'll calmly give in to her to stop her from screaming.
They had another situation the other day when Truett compulsively destroyed one of her Lego creations. He does these things and it's like his brain finally caught up with his actions after all the Lego pieces crashed to the floor and he suddenly realized that "oh crap, she's going to lose it." So just as she opened her mouth to scream, he scrambled to rebuild her masterpiece, muttering "ok ok ok, I build another one for you…"
We're working on getting Tru to be less compulsive and getting Kirsten to be less temperamental but in the meantime, I guess part of being siblings is having to live with each other's crazy.