Watching the kids interact is one of the warmest and fuzziest parts of being a parent. Ok, maybe not the kind of interaction where they're clawing each other's eyes out. I mean the other kind, where nobody's screaming or bleeding or mortally wounded.
Truett and Kirsten are already pretty tight. They've been each other's person the past 3 years, having spent almost every waking moment together. They get each other's jokes, are crazy over the same shows, play toys together, watch out for each other and generally enjoy the other person's company.
I put them at about 78% chummy, 17% you're-mildly-annoying and 5% apocalyptic-showdown.
It was interesting to see how their dynamics with Finn would be like.
From their interaction so far, Truett is affectionate, but in a quiet, no frills sort of way. He absolutely has to hug and kiss Finn before he leaves for school every morning. Sometimes, he forgets his goodbye kiss when he leaves the house and he'll have to run back to do it. He does get bored with the baby quite quickly but every time he hugs Finn, he'll close his eyes and look so blissful it makes me want to cry.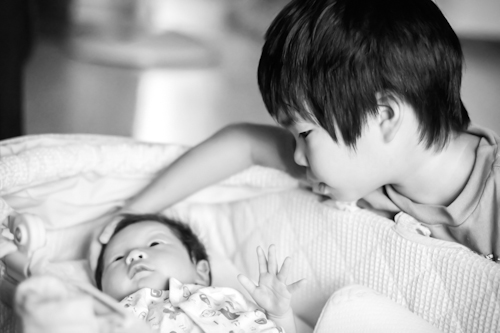 Kirsten, on the other hand, is really relishing her new status as a big sister. She fusses over her baby brother. A lot. She babytalks him, takes toys for him, squashes his head in her arms and is all "I'M GOING TO LOVE YOU WHETHER YOU LIKE IT OR NOT!"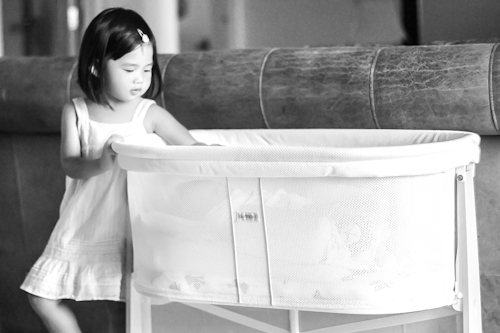 I figured that I should milk the attention and make the most of it while it lasts. So the other day, she got her first babysitting assignment while I attempted to have a quick breakfast.
Kirsten: Hey baby Finn…Look! jie jie is here.
Finn: Eh…eh…eh…reowwwww
Kirsten: It's ok, it's ok. *pats him on the head*
Finn: Reowww…REOWWWWWW
Kirsten: Are you crying? You want jie jie is it?
Finn: ERHHHH…REOWW…REOWWWWWW!!
Kirsten: You see, jie jie is here, no need to cry.
Finn: ERHHHH…REOWW…REOWWWWWW…REOWWWWWWWWW!!
Kirsten: Um, guys?? I need some help here…
Me: Hang in there, mommy's just going to finish up my coffee.
Kirsten: Ah never mind, I think maybe he wants kor kor, I will go call him.
Me: Sure, you guys sort it out, I'm going to have a croissant as well then.
*They didn't actually sort it out and I didn't get to have my croissant but I did manage to have a cup of coffee so I'd say it was a decent first attempt. They're going to need some practice.