The past few days have been totally insane. I'm just awed and humbled by all your comments and feedback on the last post. It's very encouraging to know that so many Singaporeans are starting to take interest in the future of our country and whichever way the votes go, this can only bode well for local politics. Whoever said Singaporeans were politically apathetic, huh?
Right, enough of politics. After all that intensity, we're all suffering from a bit of election fatigue so I'm just going to show you a photo of my kids walking a dog. Because you know how a bit of drivel is good for the mind. It gives us a break from important affairs like how to run our country.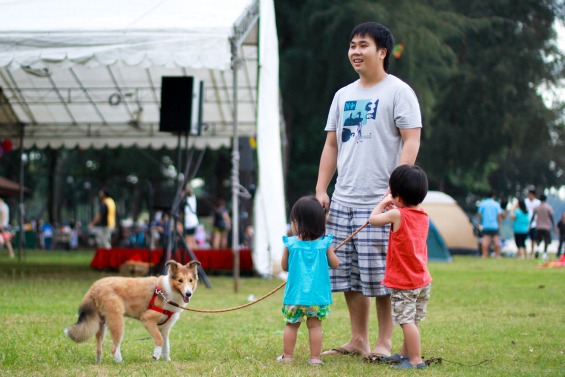 So this is a story of how my kids met Hero (a friend's Shetland Sheepdog) yesterday and fell in love. Truett spent the afternoon pretending to walk the dog and now I've got more pressing matters at hand, which is to explain to my 2 and 3-year-old why having a dog at home will drive mommy batshitcrazy even though they're "SO CUTE AND FUN!"
I'm thinking of starting them off with something less labor-intensive like a fish but there's a 97.5% chance they will go Darla on it, so on second thoughts, I should probably go for something more hardy like a worm or an amoeba.