I've been trying to incorporate proper lessons into my homeschooling plans to supplement their playground/monkey face lessons, which although fun, don't seem like the sort of thing that will get them into Harvard. By proper lessons, I mean the stuff that they're required to learn in school like spelling and numbers and shapes. Pretty much stuff that they have absolutely no interest in.
Whenever it comes to these lessons, my kids have the attention span of a fish and 2 minutes into the lesson, they either ignore me or simply get up and walk off unceremoniously to go play with trains instead. So I'm constantly on the lookout for ways to make learning fun. Or as I like to call it, sneaking in a lesson so they think they're playing but I'm actually teaching them something valuable.
I came across this brilliant idea from Jus and decided to try it on the kids. It's a home-made sorting game where they can sort these cards according to shapes or colors. In one game, they learn shapes, colors and words. Bam, 3-lessons-in-1.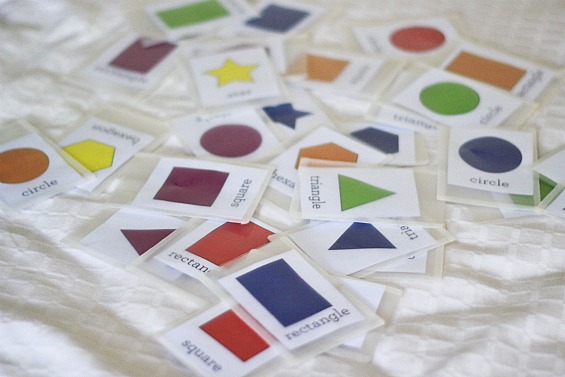 It's very easy to make, even for someone as artistically challenged as I am. I printed out these shapes in different colors and cut them up into little cards for them to sort.
I actually wanted to laminate it but my laminating machine decided to eat up all my laminating pockets last night so I had to improvise by taping up the sides with magic tape. Tedious but it worked.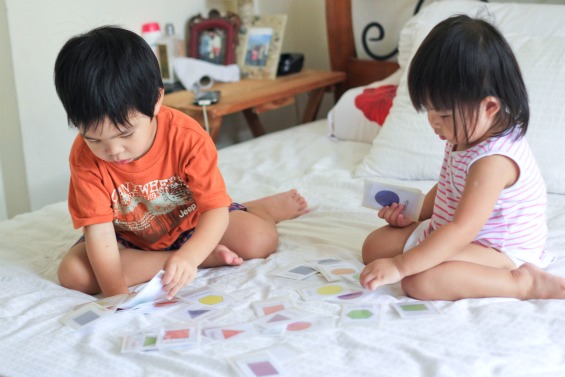 I was really surprised by how much the kids loved it. Well, Kirsten only wanted to sort the stars and she would scour the pile then go "TADA I GOT STAR!" I tried getting her to sort according to colors but she was all "no mommy, it's wrong" and went for the stars instead. But at least she understood the concept of sorting, which was already a success.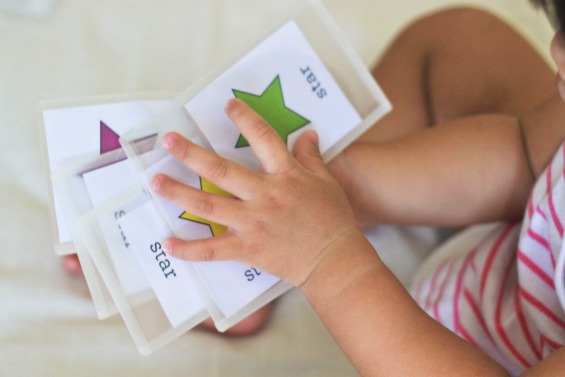 Truett, as usual, was very focused on doing it right. He would peer at the stack of cards on the bed before carefully selecting each one as I shouted for random colors and shapes. He also stole my trademark finger-to-lip move whenever I'm pondering something intently like "hmm, let me see…"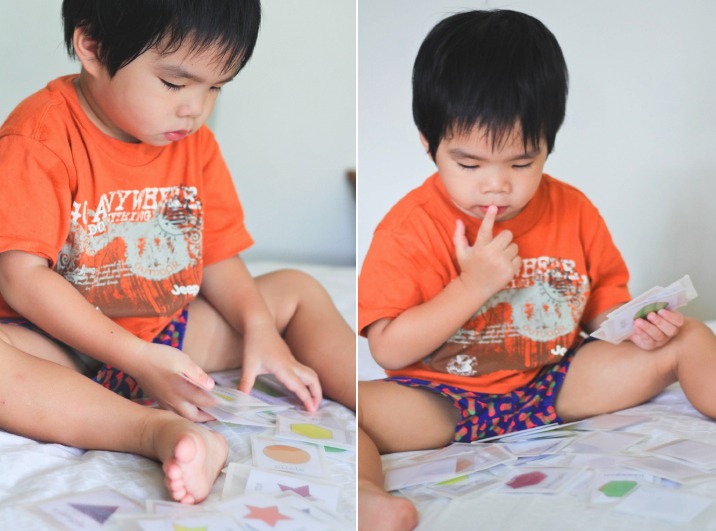 Seriously, any game that makes him think this hard has got to be good.