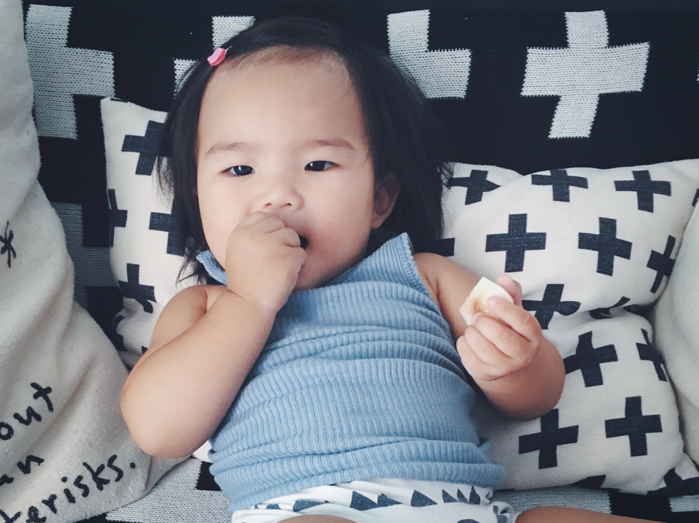 I've forgotten how nice it is to have a girl baby. It's been 8 years since I've had one of these sweet little things and having two boys back to back has ruined me. I've been conditioned to be in battle ready mode at all times, which is necessary when one has to react swiftly to avert calamitous situations daily but this intensity makes it hard to dial it back and just enjoy the process. Having a girl this time around is like being home after spending a considerable amount of time living in a war zone, and my brain is struggling to readjust to the ease of things.
My brain: It's ok, you can relax a little now, everything is going to be ok.
Also my brain: You can't relax. What if she runs into the store and destroys the beautifully stacked pyramid of apples? What if she flying kicks a random person in the shin while simulating a zombie battle? What if she wriggles out of my grasp and suddenly sprints onto the road right onto the path of an incoming vehicle??
My brain: She won't. She's a girl baby. That part of her brain that makes her do insane compulsive things doesn't exist.
My other brain: Okay fine I can do this. Just act normal. Stop fidgeting involuntarily. Do you even know how to relax??
I suppose I don't. It's been too long since I've been able to relax while being in the presence of a small human that I'm responsible for.
All this is to say that Hayley as a toddler is such a dream to have. After almost 15 months of being all high maintenance diva as an infant, she has made the jump to the adorable toddler phase. This is unquestionably my favorite baby age – from just over one to about three years old.
For starters, they stop being so needy. I don't have to hold her like a sack of rice and walk around all day. Sometimes I would try putting her on the baby mat and phone it in by being the sack of rice for a bit but she did not stand for it. Im glad to say that she can now entertain herself by trying to fix things that are not broken while I lie down beside her and say encouraging things like "Good job! Very nice fixing, sweetheart!!" every few minutes.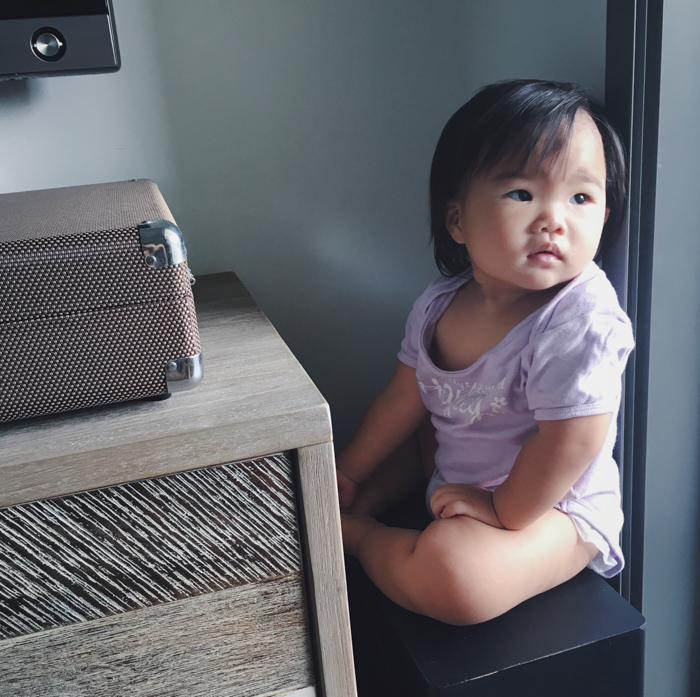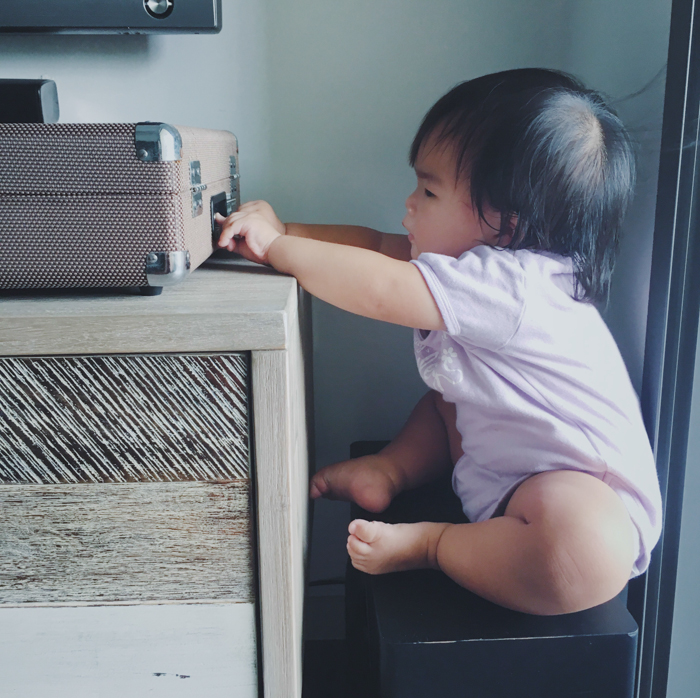 When she's not busy fixing things with screwdrivers and other tools, she's spending her time putting batteries into her shirt.
And you know what they say about communication being the key to a healthy relationship? It's true. Having only 6 words in her vocabulary has not stopped her from becoming an effective communicator. In fact, she's very good at nodding, pointing at stuff and making random sounds, which is the 3 things every person needs to communicate, really. It's basically what I do with the husband when I'm all out of words at the end of a long day.
Like when she poops in her diaper, she points at it and says mmffff. If she sees a millipede in the house (she hates them), she points at the offending bug and shouts ERHHHHH. When she wants food that her siblings are eating, all she needs to do is point and it magically makes its way into her mouth.
Okay guess what's baby Hayley's favorite thing to do? Cuddle. Which also happens to be MY favorite thing to do. That right there is one of the biggest perks of having your very own baby, to have cuddle time whenever you feel like it (and I always feel like it!).
*Unless you have one of those boy babies who prefer sending you a karate chop to the face instead of cuddling, then your mileage may vary on this.
I mean, I love my boys but this last baby has been a breath of sweet, girly, baby air. Now to enjoy whatever's left of her babyness for as long as I can.