I do a lot of online shopping, which is exactly like actual shopping except less tiring and I can do it with one finger.
Especially since so much of my time is now taken up by breastfeeding and expressing milk, I multitask by getting some retail therapy in the process. Every feeding session, I spend like the first 3 minutes making googly eyes at Finn and when he goes all milk comatose on me, I spend the next 25 minutes using my spare hand to do a bit of shopping.
I typically shop for kids' stuff, adult stuff (no, not that kind of adult stuff), home stuff – basically everything from bags to book to bra extender hooks (yes, it's a thing). Well, everything except for groceries because there just isn't an online grocery store that's compelling enough.
Until now, at least.
I just made my first purchase at RedMart and I'm really quite pleased with how convenient and fuss-free it is. Which makes me wonder why I haven't been doing this sooner. The range is extensive (with over 4,000 items in stock) and all the items are conveniently categorized for easy browsing. I like how clean the interface is, so all I need to do is add to cart –> checkout –> pay and I'm done with several clicks.
And making payment doesn't get any more convenient. You can pay via credit card or PayPal on site or by cash, cheque or credit card swipe upon delivery. That pretty much covers all the possible payment options, maybe except barter trade, which people don't do much of these days. They should though. I'd be all "good sir, I'll offer 2 chickens in exchange for a bottle of that fine dishwashing liquid and that pack of gum."
How about the prices, you ask? It's very competitive and I know because I take my bargain hunting very seriously. I've got auntie superpowers when it comes to grocery shopping – I cross check all the prices and make the husband detour to a different supermarket because the toilet paper is $0.75 cheaper. There's even a RedDealz section with all the latest promotions, which is where I recommend you start your browsing. You're welcome.
So after you're done shopping, you can arrange to have everything delivered to your doorstep within the same day (if you order before 10am). Delivery is free with a minimum spend of $75 and when you have a house full of hungry kids, hitting $75 on groceries is easy peasy. Free shipping means I no longer have to struggle with bags of groceries while herding the kids like a crazy person. Just click and everything appears at my house like magic.
I could totally get used to this.
Alright, since we haven't had a giveaway for a while, let's have a good one. There's a $75 credit (free shipping, yay!) at RedMart up for grabs and all you need to do is list down the 3 items you'd definitely get from the store.
Here's mine: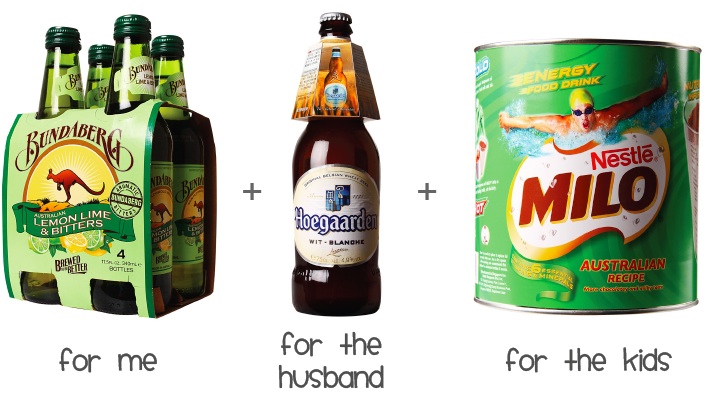 Leave a comment with your answer below and a winner will be randomly selected. Remember to fill in your email address so I can contact you. Contest closes on 5 October (Friday) 2359hrs. *Open to Singapore residents only.
And because we are all winners, everyone gets 10% off your entire purchase at RedMart (first time orders, not applicable to baby formula). Just key in the code  "motherinc" upon checkout to enjoy the discount.
Happy shopping!
*UPDATED: Congrats to Jaslyn, winner of the $75 Redmart store credit. An email is heading your way, do get back to me with your details to claim your prize. And thanks to everyone for joining the contest. Till next time!