This is part of a series of collaborative posts between Mother, Inc and Mothercare Singapore. All opinions and text are my own.
Next to breastfeeding, the other thing that parents of infants stress over most is sleeping.
How long the baby sleeps, where he sleeps, how he falls asleep, whether he's a heavy or light sleeper – these are all questions that can cause some frenzied arm-flailing distress, especially when we've forgotten what it's like to sleep 6 hours straight.
The holy grail of sleep training is to have a baby who falls asleep on his own and stays asleep for a sufficient period of time. To achieve this, some parents use a rocker, some comfort feed, some take the baby for a drive, some even use the washing machine to lull the baby to sleep. Whatever the method, the idea is to get the baby to feel as relaxed and comfy as possible.
I've probably already mentioned that Finn has been the easiest sleeper so far. He has his moments of fussiness but by and large, he falls asleep in the bassinet on his own when he's tired. After having some epic sleep battles with the other 2 kids (the most memorable one being Truett's legendary 6-hour long screaming session), I'm thankful for a baby who loves to sleep.
No doubt his temperament plays a big part but here are some of the things I find helpful in this sleep training journey.

I'm a big fan of swaddling. I swaddled Kirsten everyday right up till she was 6 months old and it kept her snug and happy during sleep time. Finn has gotten the swaddle treatment since birth and he loves it. Then again, who wouldn't, when it's with Aden & Anais bamboo swaddles?
These aren't your ordinary tiny muslin squares. They're supersized, measuring 47″ by 47″ and made of luxuriously soft bamboo. Seriously, they're so soft, it's ridiculous. It's like they're sewn by fairies or something. The next time you're in Mothercare, just run your fingers through it and you'll know what I mean.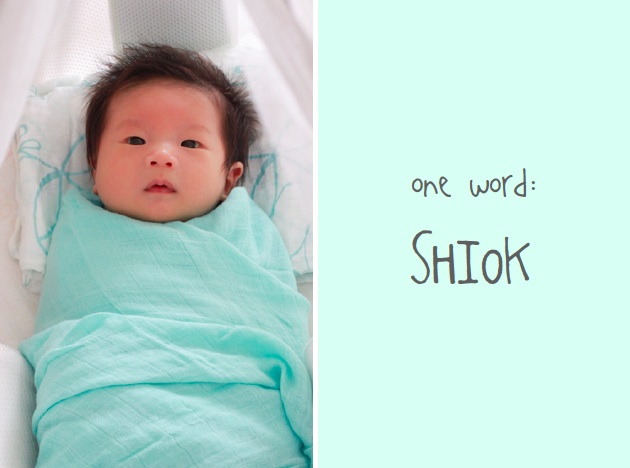 I only recently discovered the awesomeness that's the Clevamama ClevaSleep Positioner, a slightly inclined foam support that the baby sleeps on. It helps reduce the pressure on the baby's head while supporting the back and the slight elevation eases the discomfort caused by reflux, colic, and nasal congestion. If you're placing it on your bed to co-sleep with the baby, it reduces the risk of him getting accidentally squashed in the middle of the night.
This is Finn laughing in his sleep while lying on his sleep positioner. I'm fairly certain the sleep positioner has nothing to do with the laughing but it's a cute photo, aight.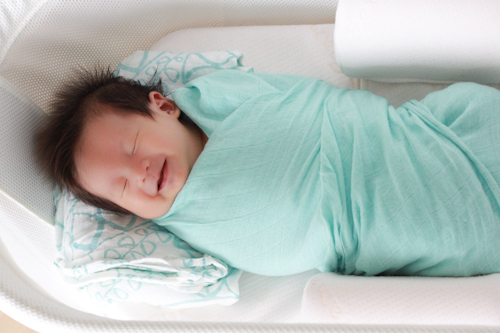 You know how babies love being rocked to sleep? I have friends who swear by those traditional sarong cloth rocking cradles but I've never been quite convinced by their safety or ability to provide proper support. But the problem with regular cribs is that 2 out of 3 times, the baby will wake up and want to be carried the moment you put him down.
I tried this BabyBjorn Bassinet Harmony with Finn and it's like having the best of both worlds.
It allows for a unique rocking action whenever he stretches and moves so it's like he's rocking himself back to sleep when he stirs. And it stops rocking the moment he goes back to sleep so he's not accustomed to constant motion while he's asleep. It's genius.
More importantly, it's designed with safety as the main priority. The airy mesh fabric makes it easy for baby to breathe through and unlike the traditional cradles that may get stuck at an angle which can be dangerous for the baby, this is designed to firmly on the floor and does not get stuck in one position. It's also a breeze to assemble, lightweight and easy to move around from room to room.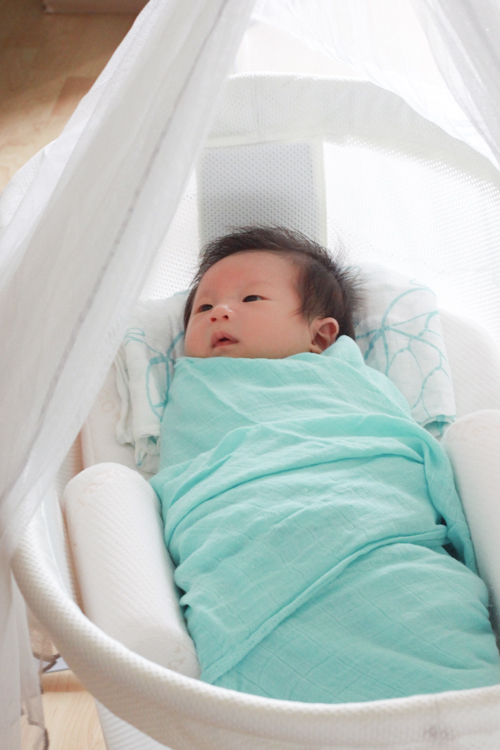 When all else fails, I let him bounce himself to sleep in the BabyBjorn Babysitter Balance. Yes, it breaks all the rules but on days when he's gassy, phlegmy, fussy or upset, it's our back up plan.
It's got 3 positions – play, rest and sleep. With the sleep mode, his own movements are transformed into a soothing rocking motion that helps to lull him to sleep while the ergonomic design provides the proper support for his head and back. Then when he's awake and in the mood for some play time, the seat can be raised for more bouncy action. Like when I'm cooking in the kitchen or busy on the laptop, I put him right next to me on the bouncer to keep him happy. It's fun for him and helps refine his balance and motor skills while keeping my hands free.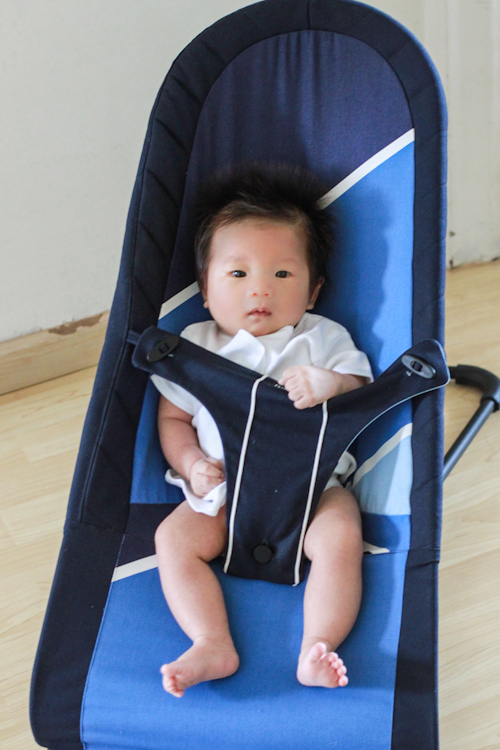 For my post on breastfeeding, read 'Boobs and Stuff.'