If you've been around Raffles Place area last week, you might have seen the Philips' Take Care installation. It's part of The '+' Project initiative by Philips that encourages people to improve their health and well-being.
Together with the artists of the Organisation of Illustrators Council, they came up with 7 really cute magnet designs that featured different themes to be given out to passers-by. The 3 I really liked were the Taking Care of Work Life Balance, Taking Care of Eyes and Taking Care of Young Children ones.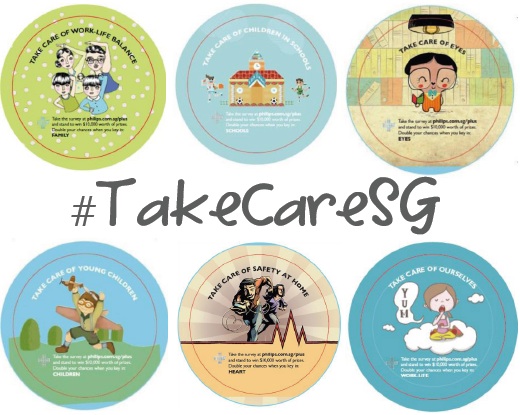 Because your views matter most, they have designed a survey to find out what are the key areas affecting Singaporeans' health and well-being. It's a quick 5-minute survey (maybe 2 if you've got lightning fingers) where you get to vote for your favorite initiatives. The initiative with the most votes gets funded by Philips and you also get a chance to win $10,000 in prizes.
I've voted for mine (Healthier School, Brighter Kids – no surprise there) and I'm really looking forward to seeing it happen.