Advertorial
When I was a kid, I didn't really pay much attention to protecting my eyes. I always figured that they'd be fine and the worst thing that could happen was myopia, which sort of wasn't a big deal because we have things called spectacles and contact lenses these days.
Looking back, I broke practically every eye-protecting rule in the book. I would hide under the covers with a torch to read late into the night, have the book far too close to my eyes and watch TV excessively. My mom used to tell me to read under a proper reading light but I hated it because the glare would be too distracting, so I'd end up reading in a variety of positions and under all kinds of bad lighting.
Which pretty much explains why I'm now practically blind without my glasses. This one time I broke my specs when Kirsten was a month old and I had to jab contact lenses into my eyes several times throughout the night to get through the night feeds.
After discovering first hand how annoying it is to have bad eyesight, I'm doing what I can to not abuse my eyes further.
And with my own kids, I find myself becoming very particular about protecting their eyes, just so that they don't become as myopic as I am. I'm now like an Eye Nazi, barking orders like "no watching the iPad while lying down" and "turn on the reading light guys, you're going to go blind".
So I was actually quite pleased to find out that 3M now has a range of 3MTM Polarizing Lights and even more pleased that they sent over a set to try.
What's a Polarizing Light, you say?
It's basically a reading light with a Polarizing Filter that illuminates better, reduces the glare and absorbs UV rays, thereby protecting the eyes. It got a very cool On/Off touch pad instead of a regular switch and it swivels easily so I can change reading positions and swivel the light accordingly. I know that's a lot of geek talk but my inner geek is feeling a lot of love for it.
The kids are also taking very well to it, so much so that they've staked claim to it for their reading corner.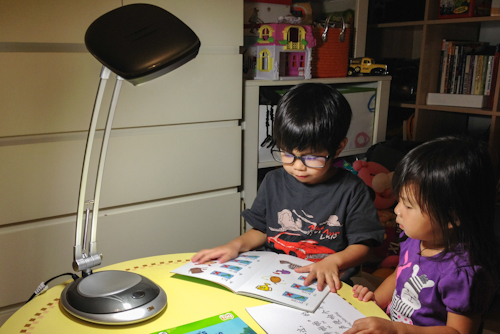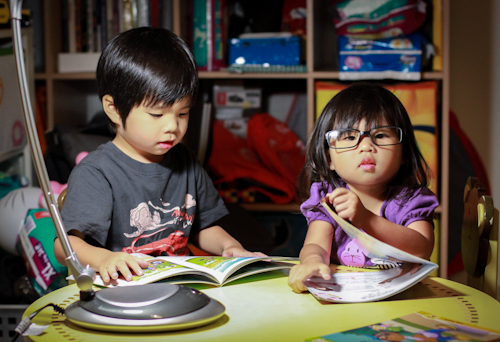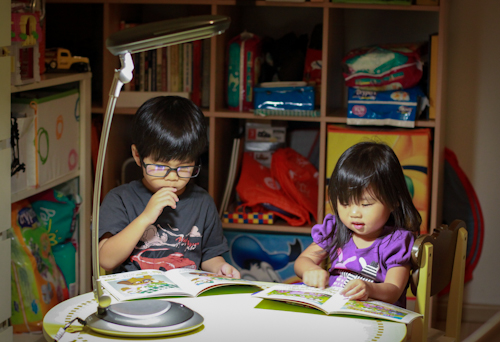 3M is now giving away 5 pieces of 3M Polarizing Light (BL 5100 Lamp) worth $189 each. To join the contest, all you need to do is tell us in 100 words or less, why you need a 3M Polarizing Light (BL 5100 Lamp). Send your answer, name, I/C number, mobile and email address with the title "3M Polarizing Light Contest – Mother, Inc" to officebiz@mmm.com by 17 June 2012 and winners will be announced on 29 Jun 2012.
*Open to Singapore citizens and PRs only.
This is a sponsored conversation written by me on behalf of 3M. All opinions and text are my own.