When I started Primary 1 many years ago, I was given a dollar a day as my pocket money. It was my introduction to the world of money and I loved it. The dollar was all mine to spend on anything I wanted. Candy! Snacks! Pretty Stationery! Little trinkets that were basically useless!
For a 7-year-old, being able to make financial decisions with my dollar was liberating and so much fun. I felt powerful and grown up. But as the days went by, let's just say I made enough dumb purchases to know that having my own money meant (gasp!)…responsibility.
Very quickly, I learnt that money management was a lot harder than I thought and I had to find a way to make the most of my $1. So I'd spend 50 cents on a bowl of noodles, another 20 cents on a drink/snack and save the remaining 30 cents. At the end of every week, I'd put whatever money I had left in a little piggy bank and when that got full, my parents would deposit all of it in my POSB savings account. It was strangely satisfying to see the account grow, even if it was just by a little at a time.
Now that I have kids, I realize how important it is to inculcate the habit of saving at a young age. Truett will be starting Primary 1 in a couple of months and we're starting to teach him about the concept of money. He knows the basics, like how daddy works really hard to earn money and that money is used to exchange for stuff in stores. He also knows that ATMs are AMAZING MONEY MACHINES THAT GIVE OUT FREE MONEY and that credit cards are better than money because you'll sometimes need many pieces of money but you'll always just need one tiny little card.
At this point, the kids still come to us with their shopping list when we're out and daddy's like the genie that magically makes toys appear. Well, that's going to change really soon. By the time he starts having his own money next year, it'll be farewell genie and hello save-your-own-money-to-buy-toys.
I've been doing some research on the market rate for P1 allowances and it seems like the average cost per meal is now $0.80 to $1. So we'll probably start him out at $1.50 a day.
At the same time, we'll also introduce some incentives to encourage saving.
1. Special lunchboxes
For starters, he'll have an option to request for a pre-packed lunchbox to bring along to school. If he wants to eat the food bought from school, that's cool, but if he decides to eat from his lunchbox, then that's $1.50 extra for the day that he gets to keep.
2. Daddy's dollar matching system
We thought of having a sticker system to motivate him but this kid is so over stickers so instead, we'll have a good old-fashioned dollar matching system where daddy will contribute an additional $1 for every $10 saved. So the more he saves, the more he'll accumulate.
3. Piggybank & POSB bank account
There's something about having their own piggybank and proper bank account that makes kids feel really grown up. We've already got him his first piggy bank to start putting his savings into and soon, we'll be bringing him to POSB to open his first savings account. I think he'll be so thrilled to have his own bank account like a big boy.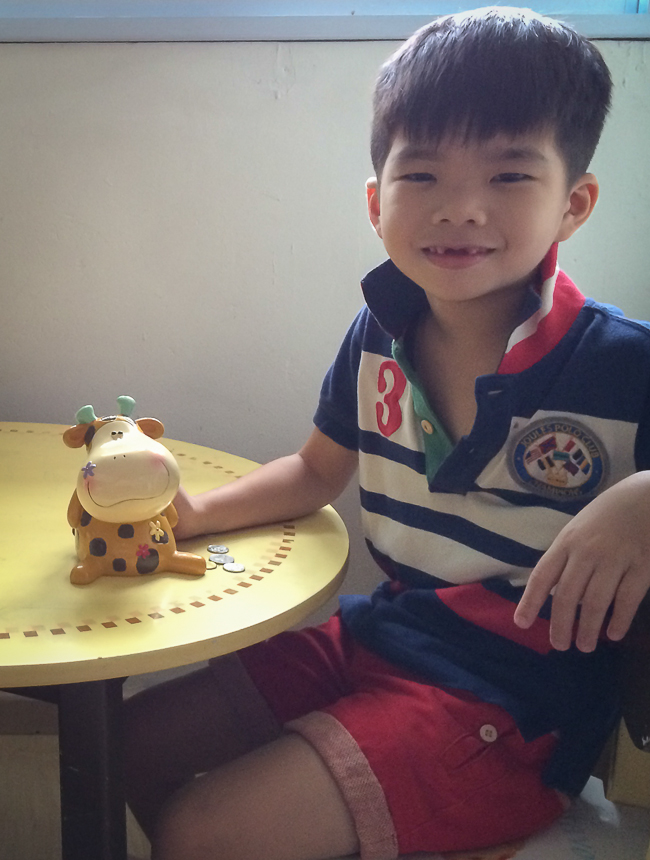 4. Buy his own toys
He'll get his first taste of financial freedom once he starts saving. Instead of having to depend on daddy and mommy to approve of any purchases, he'll be able to make his own decisions as long as he saves up for it. He's had his eye on a Marvel Lego set for a while – we'll bring him to the store and let him buy it himself once he saves enough for it.
We want to encourage him to start saving right from the point where he gets his first dollar and hopefully, saving will become a habit that stays with him for life.
//I'm curious, how much do your kids get for pocket money? Any tips to encourage them to save? Take it over to the comments! 
//Also, Head over here to participate in a short POSB survey about savings by 22 August and stand to win S$50 NTUC vouchers; there will be 10 sets of vouchers up for grabs.