I've been a fan of balance bikes since I found out about them several months ago. We even got Tru a super macho princess pink Kettler balance bike to help him acquire balancing skills.
Except that after a couple of tries, it fell on his toe once while struggling with it and he's hated it ever since. That was kind of a bummer because I really thought a non-pedal balance bike was a brilliant way to teach kids how to cycle without ever needing training wheels.
So I sold off the Kettler and that was the end of their bicycle balancing endeavors.
Well, right until CK from The Little Bike Shop offered to send over 2 Striders for the kids. I told him about our Kettler experience and how I wasn't sure if they would take to it but he said the Strider was different and he was confident the kids would love it.
Long story short, they really did love it.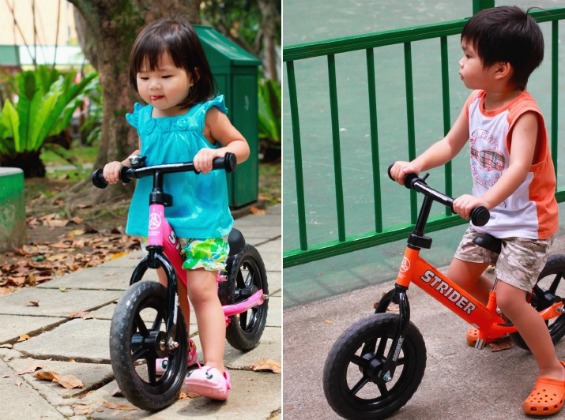 While both balance bikes did seem extremely similar, the Strider was great for 2 reasons. At 3.2 kg, it was extremely lightweight and easy to manoeuvre. Whenever it fell, they could pick it up quite easily on their own. Also, there are these very handy footrests that they could prop their legs on when they picked up enough speed to glide.
After a week, Truett was able to glide with both feet on the footrests looking all nonchalant. By the third week, he was trying to show off by swerving left and right downslope without falling. He's so fast now that I'm going to need my blades to catch up.
Kirsten is still picking it up slowly but she's confident enough to walk with the bike for moderately long distances.
On Saturday, we brought them to East Coast Park and unleashed them with their striders. Here's a look at how it went.
Here's your chance to win a Strider Balance Bike (choose any color) from The Little Bike Shop.
How to Enter
1) Go to My Little Bike Shop's Facebook page and "Like" it.
2) While you're at it, if you haven't already – go to Mother, Inc's Facebook page and "Like" that too.
3) Pick your favorite Strider Bike color and leave a comment below on which color you'd like. Remember to leave your email address (it will be kept confidential) and use your Facebook name (instead of your nick) while leaving the comment.
4) Well, actually, that's it!
Who can Enter
This giveaway is open to Singapore residents only.
Contest Duration
This giveaway ends on Sunday 4 September 2011, 11:59pm
The winner will be randomly selected by The Little Bike Shop and contacted via email. If the selected winner does not respond in 48 hours, then another winner will be selected.
***
WINNER ANNOUNCEMENT! Congrats to Cheryl You, you've won a bright yellow Strider Balance Bike. We'll be contacting you with details on how to pick up the bike. And a big thank you to everyone who joined the contest!