When Truett was first born, we didn't think of putting together a first aid kit. I mean, when you're already swamped with taking care of a small but needy human being, it's not the kind of thing you think about until an accident happens.
So the first time Tru fell and grazed his knees badly, we did the only thing we could think of – PANIC. He was scuh-reaming his head off in pain and we were scrambling around the house looking for some antiseptic cream and a bandage. Of course there was none to be found because we didn't buy any for an emergency like this.
The husband had to rush to the store and I was tasked to clean the wound while Tru shrieked and flailed like an angry bobcat. After washing, he refused to let me stop the bleeding with a cloth so he just sat on his little chair and bled everywhere while waiting for the husband to come back with supplies.
Ok, it might have just been a few drops of blood but when your baby is bleeding, all perspective goes out the window.
These days, we have a pretty decent first aid kit on hand because we ain't taking any chances the next time an accident happens. And now thanks to 3M Nexcare™, our first collection is quite impressive.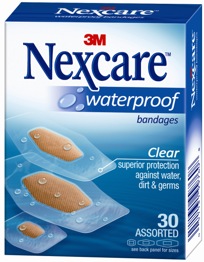 First of all, they have bandages and dressings in every size you can think of. Whether you have a tiny cut or your injury is shaped like the African continent, they have a solution for you. Unlike regular bandages, these come with a unique 360o diamond shaped seal for all-round protection. And it's ultra-thin and comfortable to wear so it's great for kids. Especially my kids, who have the itchy-finger syndrome and will scratch and peel off anything that's too uncomfortable.
But most importantly, it's waterproof yet breathable, providing excellent protection from water, dirt and germs. The kids have a special ability to seek out germs like a homing device so this gives us peace of mind that they'll be protected even when they're out at germ-infested areas like the beach or the playground. It also means that I won't have to tie up the infected area with a plastic bag when they bathe or change the bandage after every bath.
Speaking of dressing changes, the kids really hate it. They won't allow us to go near the bandage even when it's oozing with pus and they'll put up such a fight you'd think I was trying to amputate a limb. It's nice that these bandages are easy to apply and release with virtually no residue so they don't feel like we're yanking off their skin together with the bandage.
Nexcare™ has also just launched a range of large dressings that are great for the larger scrapes and cuts that kids sometimes get themselves into. What's interesting is the transparent film dressing that allows me to monitor healing of the wound without having to peel away at the sides for a peek. If there is something wrong with the wound, I'd be able to tell immediately and give my kids the medical care they need.
Obviously the best thing to do is be careful and try to prevent them from getting hurt but accidents do happen and when they do, it's always good to be prepared.
With that, it's time for a giveaway.
Nexcare™ is having a contest to give away 10 product hampers worth $20 each! All you have to do to take part is answer the following question.
3M Nexcare™ has the widest range of bandages and dressings. I can get superior protection against water, dirt and germs with Nexcare™ waterproof bandages and dressings.
a) Only the first statement is correct.
b) Only the second statement is correct.
c) Both statements are correct.
Send your answer (along with your full name, NRIC, mobile number and email address) with the subject title "Mother Inc: Nexcare Waterproof Bandages Contest" to consumer-healthcare.sg@mmm.com by 10 December 2012. Contest open to Singapore residents only.
* 3M Nexcare™ first aid solutions are available at Guardian, Watsons, Unity and other leading stores.