Day 2 of our Hong Kong Disneyland experience was possibly even better than the first day. Partly because we managed to recover somewhat from the exhaustion of having to hit the ground running on the first day.
Friday morning, we took a 5am flight and arrived in Hong Kong at about 10am, blitzed into the hotel for a quick check in, then went straight for lunch and into the park. Which meant that I was awake for the better part of 48 hours and even though the kids got pockets of sleep on the flight, they were surviving on pure adrenaline the entire first day.
After a nice deep sleep in our room at Disney's Hollywood Hotel, the kids were up and ready to go at 8am on Saturday morning.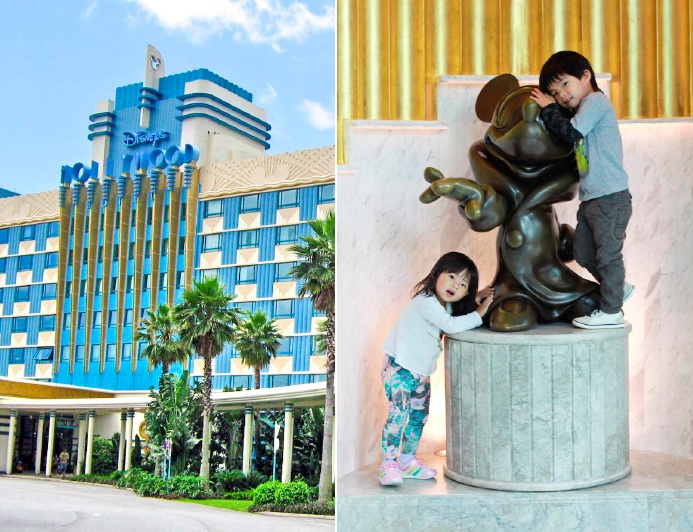 Breakfast was a character buffet meet and greet at the Enchanted Garden in the Hong Kong Disneyland Hotel next door. The food? Stunning both in terms of variety and quality. I still can't get over how good the food is in Hong Kong Disneyland because my brain has been programmed to associate Disneyland with fried chicken. But the best part was that Mickey, Goofy and Pluto came over to say hi while we were munching on dim sum.
Kirsten saw Mickey approaching from 3 tables away and started shouting "MICKEY! MICKEY I'M HERE!! SEE, IT'S MICKEY, MOMMY!!!" Naturally, everyone turned to look at the commotion but she got an extra hug from Mickey for her enthusiasm.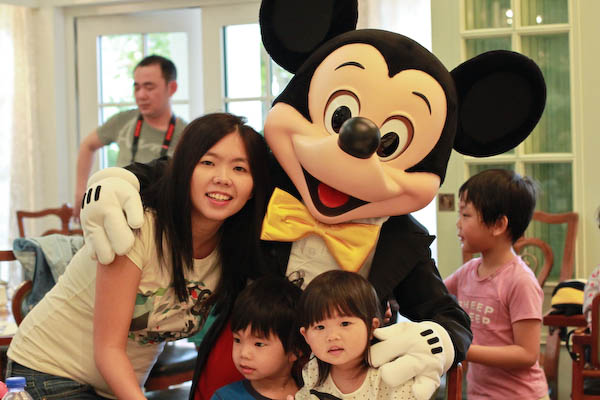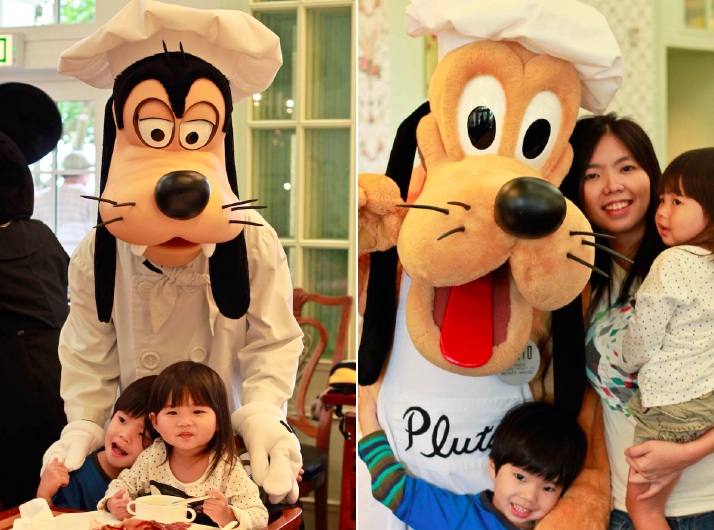 Once we were in the park, our first stop was Tomorrowland to get Fastpasses for Space Mountain. Since I was pregnant and Kirsten was too short, we did the baby rides while the 2 boys used our Fastpasses and went on Space Mountain 4 times. Yes you heard right, 4 times. Truett just made the height limit for the ride and he was in roller coaster heaven.
Hearing him rave about Space Mountain, I almost tried to sneak in once for old time's sake but I didn't because I'm pregnant and responsible.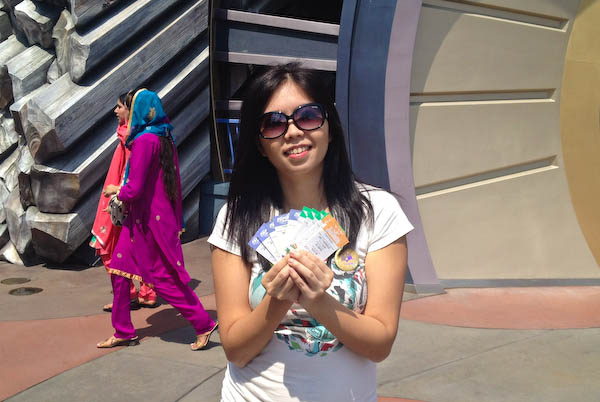 Another of their favorite rides was Autopia, a race car ride that they could steer and drive along a track all on their own. They weren't very good at steering so the ride got a little bumpy but all that bumping made it all the more fun for them.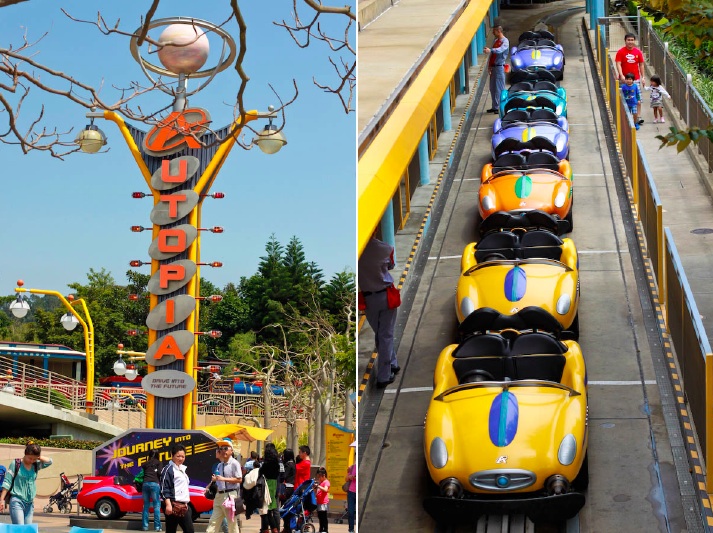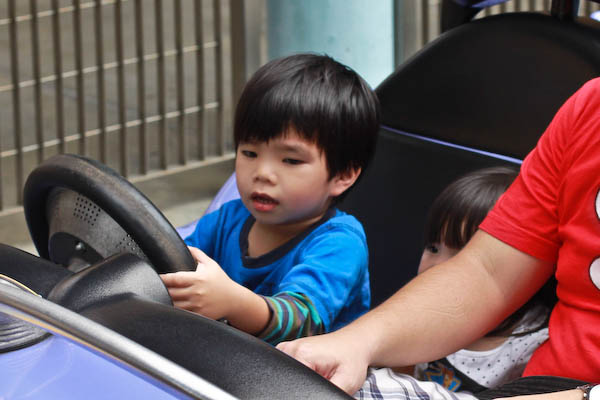 Here's a video of Truett showing off his driving skills. By the second ride, he actually got pretty good.
While queueing for the Jungle Cruise boat ride, they were picked by one of the cast members to be little helpers to the skipper on board. They were given special safari vests and allowed to help the captain steer the boat.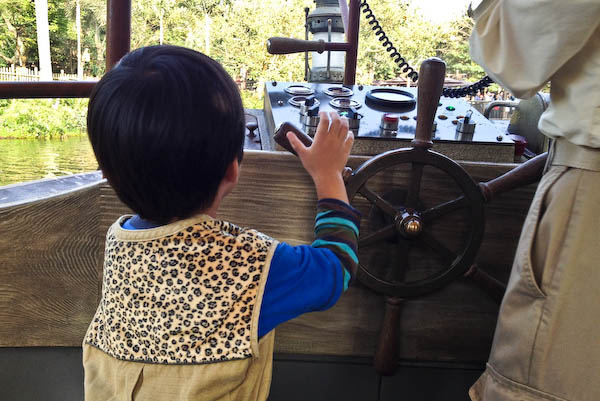 The last land we visited was the bright and cheery Toy Story Land, the park's latest addition which opened in November last year. It is also Asia Exclusive, so you'll only be able to experience it here. There were 3 rides here – the Slinky Dog Spin, the Toy Soldier Parachute Drop and the RC Racer. Unfortunately, Kirsten was too short and I was too pregnant for all the rides here so we walked around and took pictures while the boys got their adrenaline fix.
Baby girl is on a mission to grow taller and I'm on a mission to give birth so when we do that, we'll be back to try them out.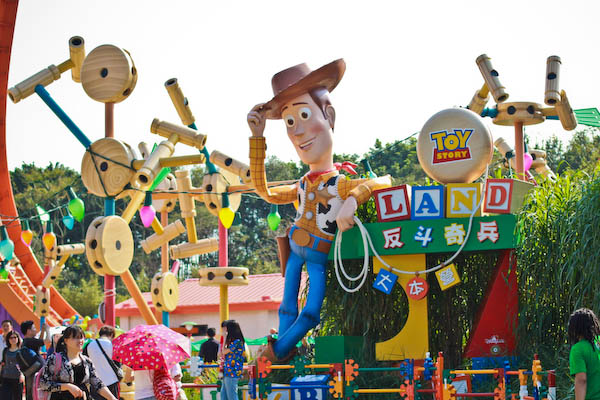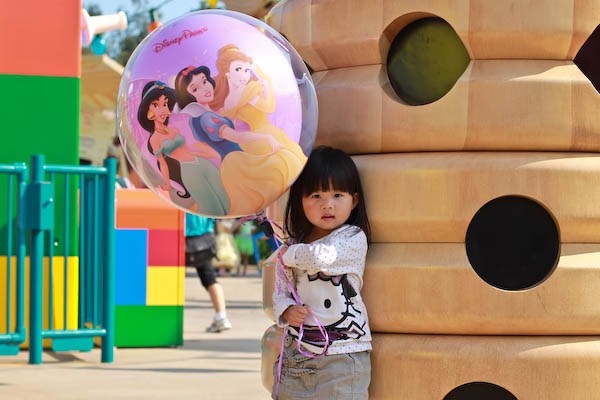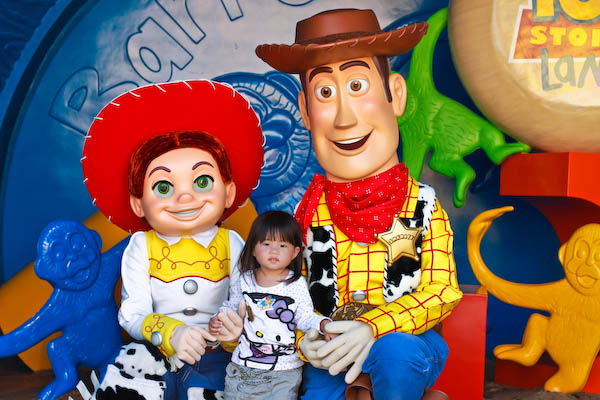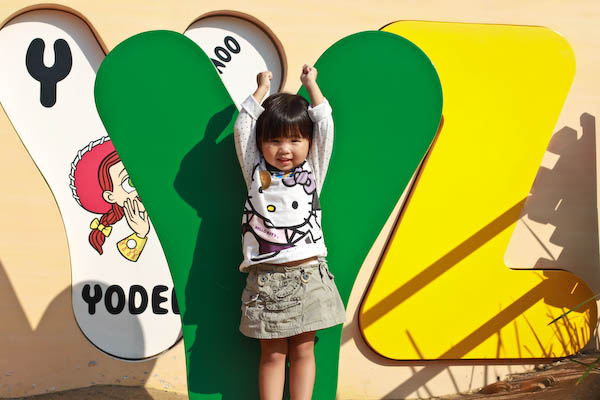 By late afternoon, we managed to try most of the rides but we couldn't possibly leave without doing the meet and greets, so we spent the rest of the time waiting to meet characters.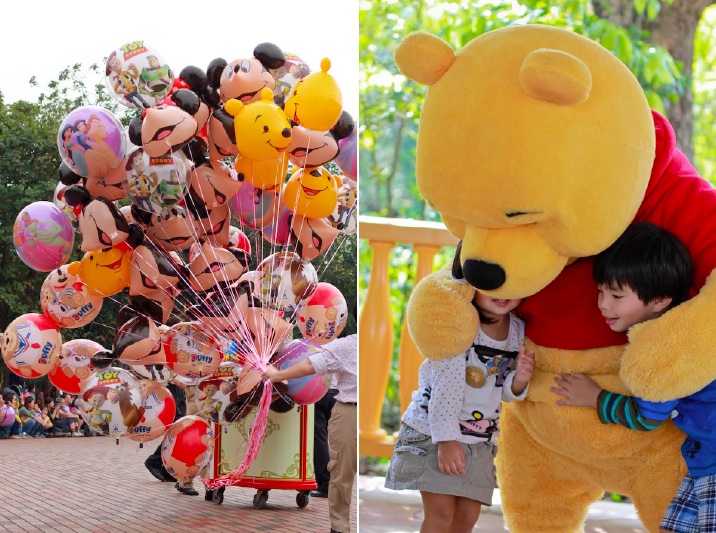 Truett wasn't big on queueing to take pictures so after spending 20 minutes in line to meet Pooh, he decided his time was better spent on one of the rides. Kirsten, however, was intent to meet Minnie. I told her the queue to meet Minnie would take 25 minutes and she was all "I will be patient…I want to give Minnie a big hug."
So she did. And that hug meant the world to her.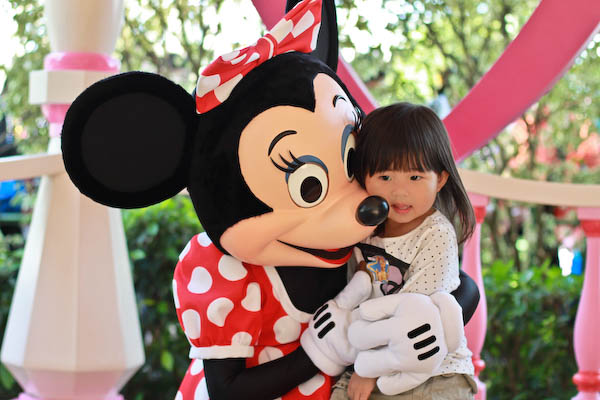 That pretty much wraps up our 2-day Hong Kong Disneyland experience. Just as we were walking out of the park and waving goodbye to the happiest place in the world, Tru turned to us and said "I like Disneyland. We need to come back again, ok?"
My sentiments exactly.